Note: This is the second in the series of our "Top Dividend Stocks for 2012." Over the course of the next several weeks, we will be providing a detailed analysis for each our top picks for 2012. Click on the links for our analysis on Altria [MO] and Wal-Mart [WM].
General Macro View
Parsimony believes that 2012 will be riddled with volatility and uncertainty for equity market investors. Interest rates will remain low due to over indebted balance sheets. Equity market investors should seek equities with stable earnings (and dividends) that will hold up in an uncertain and weak economic environment.
Lakshman Achuthan, the co-founder of ECRI (video) was on Bloomberg recently updating viewers on his recession call. The ECRI continues to call for a recession in the first half of 2012. Due to the strong track record of the ECRI, we think that investors should remain defensive in 2012.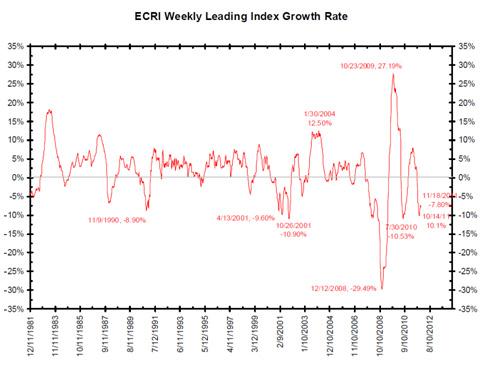 Company Overview: Verizon Communications (NYSE:VZ)
Verizon provides communication services. The company operates through two segments, Domestic Wireless and Wireline. The Domestic Wireless segment offers wireless voice and data services; and sells equipment in the United States. The Wireline segment provides voice, Internet access, broadband video and data, Internet protocol network, network access, long distance, and other services in the United States and internationally. The company serves consumer, business, and government customers, as well as carriers. Its network covers a population of approximately 292 million and provides service to a customer base of approximately 94 million. The company was formerly known as Bell Atlantic Corporation and changed its name to Verizon Communications Inc. in June 2000. Verizon Communications Inc. was founded in 1983 and is based in New York, New York.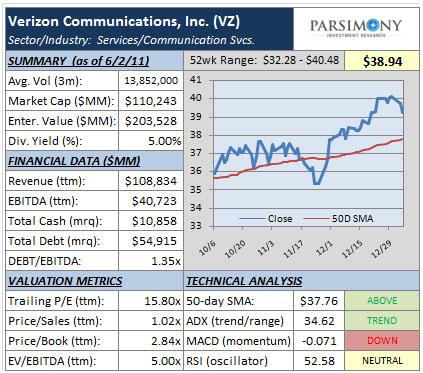 Investment Thesis
Our investment thesis for VZ is simple ... Americans are addicted to their smart phones and other forms of electronic communication which leads to a highly visible and recurring revenue stream for Verizon. That said, we think that telecom companies like Verizon will continue to generate a steady stream of dividends for income investors.
The wireless business should remain strong in 2012, driven by several new phone launches (including Apple's (NASDAQ:AAPL) new iPhone). In addition, Verizon should continue to gain traction with FiOS, which will drive wireline margins higher and will likely offset declines in its legacy wireline business.
As shown in the table below, Verizon has had stable revenue and EBITDA growth throughout the recession and the company has incredible EBITDA margins (37%). In addition, VZ has maintained a strong balance sheet and a very conservative leverage profile (1.35x debt/EBITDA).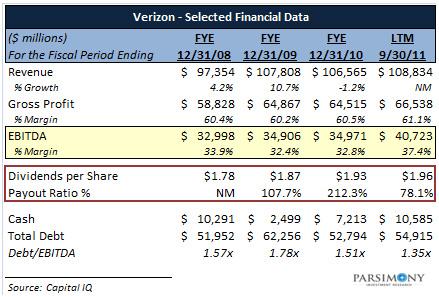 Valuation
As shown in the chart below, Verizon currently trades around 5.0x LTM EBITDA, which is a slight discount to its historical average of 5.4x. We think that this is an attractive valuation multiple for the company.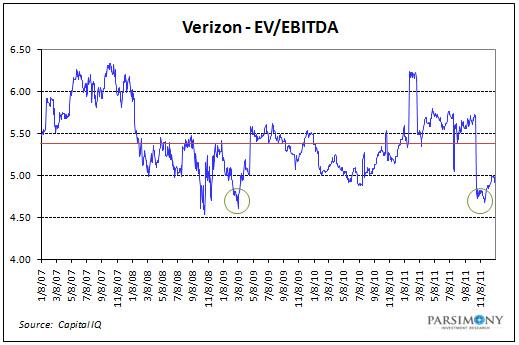 Click to enlarge
(Click to enlarge)
For comparison purposes, AT&T (NYSE:T) and Sprint (NYSE:S) currently trade around 6.2x and 5.5x, respectively.
Technical Take
Verizon has a very nice uptrend in place. The stock should find near-term support around the 50-day ($37.80) and 200-day ($36.32) moving averages. We think that $36.00-$38.00 would be a great near-term entry point for VZ.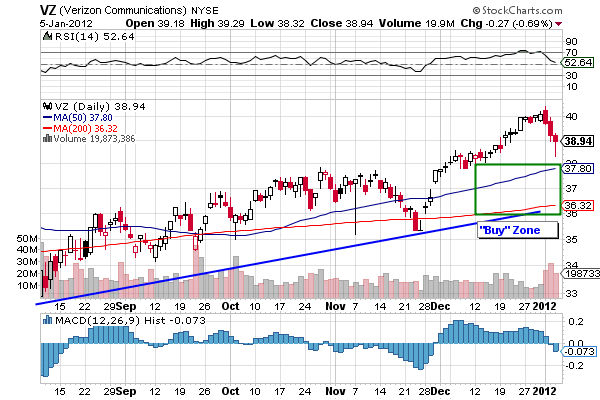 Click to enlarge
(Click to enlarge)
Risk to Consider
Accelerating access line losses
Increasing competition in the consumer wireline market
Execution risk on fiber to the premises deployment
Slowing economy and wireless growth
Disclosure: I am long VZ.