Freeport-McMoRan Copper & Gold's (NYSE:FCX) stock has struggled in the past six months after trading in the $50 range in the first half of 2011. A lot of investors are screaming buy as some analysts and valuation metrics suggest. I thought it would be worth it to take a closer look at Freeport at these levels that it hasn't seen in 18 months.
Here are seven points to consider when looking into Freeport as an investment opportunity.
Valuation: Freeport's trailing valuation metrics suggest that Freeport may be undervalued. Freeport's current P/S ratio is 1.7 and it has averaged 2.1 over the past 5 years with a high of 3.6 and a low of 0.5. The company's current P/B ratio is 2.1 and it has averaged 2.9 over the past 5 years with a low of 1.4 and a high of 4.4. Freeport's current P/E ratio is 6.9. That is towards the lower end of the 5-year valuation range. Freeport had a low P/E of 5.3 and high P/E of 15.1.
Price Target: The consensus price target for the analysts who follow Freeport is $53. That is upside of 34% from Freeport's current stock price.
Forward Valuation: Freeport is trading at 8.4 times FY12 EPS. This is in the middle of what other miners trade for. The closest comp is Southern Copper (NYSE:SCCO) and it is trading at 11.4 times FY12 EPS. Sterlite Industries (SLT), another copper miner, trades for 6.5 times FY12 EPS. Newmont Mining (NYSE:NEM), a gold miner, is trading for 10.4 times FY12 EPS. Barrick Gold (NYSE:ABX), a gold miner, is trading for 8.1 times FY12 EPS. Freeport saw a decline in total sales last quarter due to lower copper sales and strikes in Indonesia. In my opinion, this was a short-term blip in terms of long-run earnings.
Shareholder Friendly: Freeport has been using its free cash flow for debt repayment and dividends. The company has reduced debt by over $3.8 billion since 2008. Over the same time period, Freeport has distributed nearly $2.8 billion in dividends to common shareholders. The stock's current dividend yield is at 2.7%.
Earnings Estimates: Despite the stock struggling this year, Freeport has beat earnings estimates by a wide margin the past 4 times. The earnings beat was as high as 32 cents. The lowest earnings beat was 8 cents in the September quarter.
Assets: The company's estimated reserves include 102.0 billion pounds of copper, 40.0 million ounces of gold, 2.48 billion pounds of molybdenum, 266.6 million ounces of silver and 0.7 billion pounds of cobalt. The company has a number of assets in its portfolio but the most impressive is the Grasberg mining complex, the world's largest recoverable copper reserve and the largest gold reserve. The company expects to produce more than 4 billion pounds of copper per year for the next several years.
Price Action: The stock was trading as high as $57 in April but then fell nearly 50% to below $30 in early October. However, it has since recovered and is now trading in the $40 range. The stock is currently just above its 50 day moving average.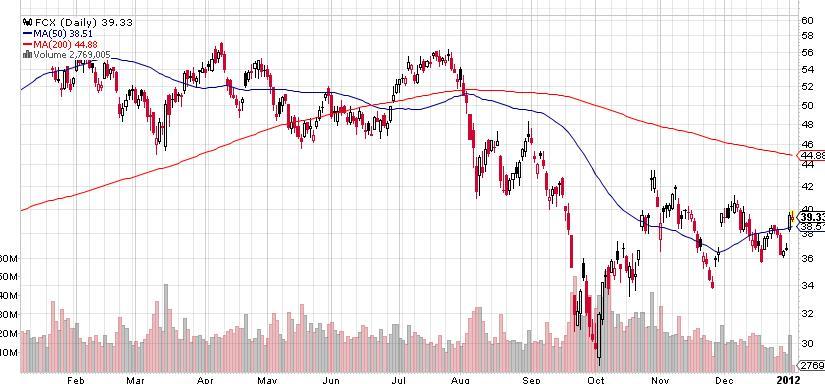 Click to enlarge
(Click to enlarge)
Conclusion: It seems like Freeport is undervalued but the undervaluation isn't significant enough for Freeport to make sense as an investment at these levels. However, if one feels strongly about the economy and in turn metals, then the stock may be worth a shot here. Especially with the fact that it has a 2.7% yield that will at least bring in some income while a shareholders waits for share price appreciation.
Disclosure: I have no positions in any stocks mentioned, and no plans to initiate any positions within the next 72 hours.