Investors in small-cap med-tech not only expect growth, they demand growth. When a company delivers, like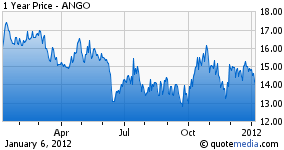 Abiomed (NASDAQ:ABMD) or Intuitive Surgical (NASDAQ:ISRG), investors happily bid the shares up to rich valuations. Where growth is lacking, so too are attractive multiples. Accordingly, any investor who approaches AngioDynamics (NASDAQ:ANGO) with the thought that it is seriously undervalued needs to understand that this company absolutely has to start executing on growth initiatives.
Ups And Downs In Fiscal Q2
Revenue growth of nearly 9% in the fiscal second quarter actually puts AngioDynamics in pretty good shape relative to most interventional product companies, as procedure counts have yet to recover from the recession. U.S. growth was 6%, while international sales rose 27%. Looking at the segments, vascular continues to be weak (up just 2%) as a decent result in peripheral therapy offset declines in access. The company's oncology/surgery business continues to be a growth driver as NanoKnife sales doubled to over $3 million and overall segment sales rose 25%.
Unfortunately, the company didn't really see the full benefit of this growth. Reported gross margin slid almost two points, due almost entirely to the impact of the NeverTouch recall – absent the recall, gross margin would have improved about 70 basis points.
The company has arguably been under-spending on sales and marketing lately and this has been creating some opportunities for rivals like C.R. Bard (NYSE:BCR), Covidien (COV), and Baxter (NYSE:BAX) to expand their market leadership. AngioDynamics boosted spending on S&M by 14% this quarter and that, coupled with restructuring costs, pushed operating income down 28% and operating margins down more than three points.
Guidance Suggests No Big Turnaround
AngioDynamic's malaise didn't start yesterday and won't end tomorrow. To that end, management's guidance was not especially robust. The midpoint of sales growth stayed flat at 2%, with the company shaving off some of the low and high end range. Margin guidance was a fair bit lower, however. AngioDynamics is going to be paying for the loss of its LC Beads distribution agreement, as well as ongoing investments in sales and R&D spending on the NanoKnife.
NanoKnife – What's The Opportunity?
The brightest crown jewel at AngioDynamics today is the NanoKnife system; a system that essentially disrupts tissue (including cancerous tissue) with electroporation. Early results have been very encouraging and though not a risk-free approach (healthy tissue can be damaged as well), the NanoKnife could offer hope to cancer patients and doctors in hard-to-treat cancers like pancreatic cancer.
Although the NanoKnife is technically approved by the FDA, that 510(k) approval was for soft tissue ablation and the company cannot make specific cancer-fighting claims. The FDA (as well as the DOJ) have recently gotten a great deal more strict about policing off-label usage and subsequent billing; a not-insignificant factor in the lagging growth of companies like Medtronic (NYSE:MDT) and Johnson & Johnson (NYSE:JNJ) recently.
What this all means is that the company has to conduct investigational studies and provide the FDA with proof that it's an effective cancer fighter. Although the company has talked about applications in areas like prostate, lung, and kidney cancer, these could be challenging targets given the advent of exciting new pharmacological agents from the likes of JNJ and Dendreon (NASDAQ:DNDN).
Where NanoKnife is arguably more likely to be successful is in hard-to-treat indications like pancreatic cancer and head-and-neck cancer. There are about 44,000 new cases of pancreatic cancer in the U.S. each year and at about $5,000 per NanoKnife procedure (2.5 needles at $2,000), that means a market opportunity of more than $200 million (or roughly double the company's current revenue base). There are a similar number of new head/neck cases each year as well, and though NanoKnife will never capture 100% share, it's a significant opportunity.
Time To Tuck And Run
AngioDynamics has a very good salesforce, but the company needs more product to sell. This company is #1 in many peripheral angiographic lines, #4 in PICCs, a top three in various dialysis access products, and #2 in varicose vein treatments. That's all well and good, but rivals like Bard, Covidien, Baxter, and Cook spend a great deal more on R&D and often enjoy considerable market shares themselves (Bard has about 70% of the PICC market, for instance).
What AngioDynamics really needs is to get more product in front of more docs. R&D is not a near-term solution, so the company needs to start pursuing distribution agreements or, better still, select acquisitions. A deal for a company like LeMaitre Vascular (NASDAQ:LMAT) or Cardiovascular Systems (NASDAQ:CSII) would arguably be a bit too ambitious, but AngioDynamics needs to identify some peripheral vascular companies to bring into the fold and fill out the bags of the sales force.
The Bottom Line
NanoKnife really could make a major difference, though investors expecting great things here should take a lesson from the experience of Accuray (NASDAQ:ARAY) and its challenges in making a winner of the CyberKnife system. They're different approaches, but the CyberKnife highlights just how hard it can be for a small company to launch a new product – even when it's a great product.
Based both on discounted free cash flow and recent sector M&A, AngioDynamics shares look to be worth something in the neighborhood of $17.50 today. That's not a bad potential return for shareholders and clinical success with the NanoKnife could really set these shares off. Although AngioDynamics has ample room to do better, investors should realize that many of its larger rivals like Covidien and Bard offer similar near-term upside with less risk.
Disclosure: I am long ARAY.