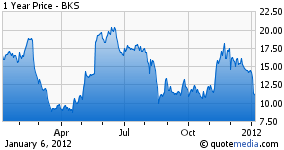 Investors jeered Barnes and Noble's (NYSE:BKS) attempt to realize value from their Nook eBook reader by giving the stock a 29% haircut as the market essentially voted down the corporate action before everyone had a chance to give a closer look.
Barnes and Noble has not had a lot of success with spinoffs as shown by their ill-fated venture letting go of their online site in 2000 although buying it back after crash could be considered a smart move.
Upon further review, Barnes & Noble may be a buy for investors right now if they begin to realize the value between their existing brick and mortar business and the Nook.
Let's face it, the brick and mortar booksellers have been destroyed by Amazon (NASDAQ:AMZN) over the past decade as they move on and extend their retail dominance into new sectors. But Barnes & Noble has an ace up their sleeves, the cozy relationships with colleges.
For years the college bookstores were a money pit for universities but Barnes & Noble jumped in and has successfully managed the business gaining some incremental market share and clout operating bookstores at more than 600 US colleges and universities.
Where Barnes & Noble has failed has been extracting the value between the Nook and brick and mortar stores. While having a Starbucks is nice the ability to move the large, bulky, and expensive textbooks onto a Nook or Nook tablet would allow Barnes & Noble to carve out more space for higher traffic items and put the Nook's into the hands of college students who increasingly favor the iPad.
By creating a viable tablet for college students and porting the textbooks it creates a technological leap that would make Apple (NASDAQ:AAPL) or Google (NASDAQ:GOOG) proud.
The value in the Nook is not its use as an eBook reader but the potential to counter the iPad at the collegiate level gaining new customers and then pushing out additional content through the device.
A student using a Nook in the school library to study could easily call home or chat with friends asking questions about a homework assignment or paper.
By getting in at the collegiate level Barnes & Noble can build a foundation for future sales enhancing the value of the Nook.
Investors looking to add some risk to their portfolios should take a closer look at Barnes & Noble as the potential to unlock value at the collegiate level through a combination of the collegiate stores and Nook should draw some buyout interest.
Disclosure: I am long AAPL.