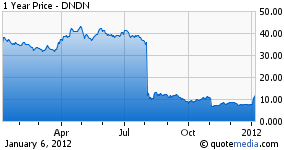 Dendreon Corporation (DNDN) issued a press release Thursday January 5 in which it reported that 4Q, 2011 gross revenues of Provenge reached $82 million, which represented a 24% sequential increase from 3Q gross revenues of $66 million. I think that the highest Street estimates were $72 million for the 4Q so that this was a significant upside surprise. For the full year 2011, Provenge revenues were $228 million. In my last report published in November 2011, I estimated that 4Q gross revenues at $68.4 million. For reasons that I discussed in my earlier report, I had not expected much in the way of sequential quarterly sales increases until mid-2012. This was in-line with management guidance. Having been burned very badly last year for being overly optimistic, management now seems to be erring on the side of caution.
The Street became very bearish on Dendreon last year as a number of prominent analysts downgraded their expectations and some even went to a sell on the stock after the price had plunged. I think that Street sales estimates will have to increase. I had been estimating gross sales of $350 million in 2012 based on a quarterly progression of $77.7 million in 1Q, 2012; $82.5 million in 2Q; $92.5 million in 3Q; and $97.5 million in 4Q. As it has done for some time, management is still projecting modest quarterly increases, whatever that means. I am increasing my 2012 sales estimate to $427.5 million based on quarterly sales of $90.0 million in 1Q; $97.5 million in 2Q; $115.0 million in 3Q; and $125.0 million in 4Q. I believe that my numbers could be conservative. The Street consensus for Provenge sales in 2012 had been $372 million and this will very likely go up meaningfully.
I think that the Street was significantly surprised on the upside by this report although not as much as it was surprised on the downside when Dendreon withdrew sales guidance in July 2011. I think that 2012 has the potential to see a steady stream of upward projections in sales and earnings forecasts for Dendreon which bodes well for the stock. This presents a quandary to many analysts who turned from positive to negative last year. The bear argument would appear to have to shift from projecting disappointing sales in 2012 and competition potential from Johnson & Johnson's (JNJ) Xytiga and Medivation's (MDVN) MDV 3100 to just focusing on competitive issues. This takes some wind out of the bears' sales.
I would continue to buy the stock and I am not as concerned about competition as are the bears. As I discussed at length in my November 2011 report, I think that physicians will find ways to use all three of these agents either in sequence or in combination to extend the lives of their patients. I don't see this as an either or game.
The press release also reported the following highlights:
At the end of the fourth quarter, the company completed in-servicing for more than 840 total sites, of which more than 590 sites have infused Provenge, which represents the greatest sequential growth in infusing sites quarter over quarter,
Approximately 615 sites have either infused the product or have their patients scheduled for their first Provenge regimen,
Reported average time to payment is less than 30 days for physicians, which is better than industry standard, reflecting an improved reimbursement landscape due to a national coverage decision and activation of a Q-code that accelerates electronic adjudication of claims, and
The Centers for Medicare and Medicaid Services (CMS) updated their coverage policy to now cover the infusion costs associated with the administration of Provenge. With this decision, the coverage of Provenge is now consistent with all other infused biologics,
A recent analysis suggests that approximately 75% of patients had minimal or no out-of-pocket costs for Provenge.