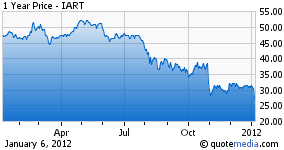 When last I wrote on Integra LifeSciences (NASDAQ:IART), I was worried about what looked liked slowing momentum in the company's orthopedics business, excessively optimistic guidance, and some issues with the FDA. Both of these concerns fell to earth with a "thud" Thursday night as the company announced a very poor performance for the fourth quarter and a formal warning letter from the FDA concerning its Plainsboro facility.
Bad To Worse In Q4
Integra LifeSciences is hardly alone in seeing weaker trends lately in markets like orthopedics and neurology. Much larger companies like Johnson & Johnson (NYSE:JNJ), Medtronic (NYSE:MDT), and Stryker (NYSE:SYK) have been reporting the same sort of malaise as hospitals and distributors pare down inventory in the face of low patient volumes and a less certain reimbursement environment.
While some companies seem to be suggesting that the worst may be over, that was clearly not the case for Integra in the fourth quarter. According to management's announcement, revenue is going to come in around $202 million to $203 million, some 5% below the midpoint of the range but also below even the lowest published estimate. Integra is also seeing some worrisome operational trends as the underperformance in EPS relative to expectations will be even worse (about 15%).
Has Organic Gone Negative?
Management did not go into specific detail, but this result has to be looked at in context with the recent acquisitions of Ascension Orthopedics (extremities) and Sea Spine (spinal care). It seems very possible, then, that the company actually saw organic revenue declines in orthopedics in the fourth quarter.
The proximate causes are not all that surprising given the industry backdrop. Management blamed inventory reductions at distributions, weakness outside the US, and weakness in the domestic extremities business. That middle point is an interesting one; Integra is not all that strong in foreign markets and companies with solid overseas exposure like Abbott (NYSE:ABT), Becton Dickinson (NYSE:BDX), and JNJ have been doing relatively better because of their OUS exposure.
A Warning Letter In Hand
Given the nature of the issues at Integra's Plainsboro facility, an FDA warning letter was arguably inevitable. Management believes it has already addressed many of the specified issues and the letter currently does not preclude sales from that facility. Odds are good that this will not become a larger issue. Warning letters are relatively common and though Integra will have to spend a little more to get back into compliance, it should be dealt with promptly. Still, investors cannot rest completely easy until its resolved, as more than a few warning letters have ultimately turned out to be much bigger deals that originally believed.
Going To Extremities
Right now the operating environment in orthopedics is rotten. That's true whether it's JNJ, Stryker, Integra, or smaller peers like Wright Medical (NASDAQ:WMGI), Tornier (NASDAQ:TRNX), and Nuvasive (NASDAQ:NUVA). This increasing weakness in extremities is definitely more of a threat for the triumvirate of Wright, Tornier, and Integra, though, as they have largely built their businesses around this somewhat niche-y but relatively faster-growing segment. If hospitals are indeed now pushing back across the board (and not just in hips and knees), that's definitely going to limit near-term growth.
The Bottom Line
The performance of these companies' stocks may have investors thinking it is time to go bargain-hunting. To be sure, there's definitely more M&A on the way in this sector and extremities would offer logical, high-margin bolt-on prospects for many larger ortho players like JNJ, Stryker, and Zimmer (ZMH). What's more, with its positions in markets like spine and neurosurgery, Integra would look like a potential natural fit with the always-acquisitive Stryker.
Still, there are really no signs that ortho is getting better and Integra's disappointing guidance suggests extremities (and maybe spine) are getting substantially worse. That means that investors today are swimming against the tide and have to accept that the Street is just not going to want to like these names for the next three to six months at least.
Even after reducing revenue and margin assumptions, Integra is undervalued. Tempting as it is, though, I'd be more inclined to recommend investors go with Stryker than Integra. There will be a time to buy Integra again, but this feels a little early on risk/reward basis relative to Stryker.
Disclosure: I have no positions in any stocks mentioned, and no plans to initiate any positions within the next 72 hours.