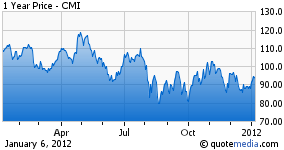 Founded in 1919 by a mechanic with an eighth-grade education, Cummins Inc. (NYSE:CMI) is now the largest independent maker of diesel engines and related products in the world. Headquartered in Columbus, Indiana, the company sells its engines in 190 countries through a network of 600 company-owned and independent distributor facilities. More than 65% of sales today are international, and the company anticipates that number to grow to 75% by 2020, thanks in large part to escalating demand from emerging markets. Known for its high-performing low-emission engine technology, Cummins was among the first companies to meet the Environmental Protection Agency's rigorous diesel emission standards in 2002, 2007, and 2010, establishing technology and environmental leadership that are the hallmarks of its global products today.
The growth of emerging markets, particularly China and India will be beneficial for the success of Cummins. Those countries are building infrastructure, especially highways, to support greater truck travel to meet the demands of an exploding middle class. Generators are also needed, especially in newer markets like Africa, which is ripe for growth but lacks power in some areas. There are lucrative opportunities in emerging markets for a company that has a competitive edge in truck and power generation businesses, as Cummins does.
Cummins has a well-established presence in emerging markets, dating back to India in the early 1960s, and Brazil and China in the 1970s. As already mentioned International sales are now 65%, where they were 40% ten years ago. Emerging markets have been growing at a rate of 40 to 70% – three times faster than developed markets. In 2009 and 2010, they represented the lion's share of the company's profits.
China, India, and Brazil, along with South East Asia, the Middle East, Russia, and Africa, will all continue to grow much faster than the United States, Europe, and Japan. The international growth is fundamental to Cummins' success.
Today, Cummins has 56 partnerships around the world, and they are a critical component of the company's success and future strategy. The value of their partnership is more than just a contract to build engines. The company's successful joint ventures have resulted in the creation of technical centers, letting design work be done close to the manufacturing source to accommodate local customers. Eventually the business relationship can lead to low-cost sourcing, the development of additional joint ventures for component products and the shared design of new products, as well as substantially greater participation in the local market.
Part of Cummin's mission is to work towards a cleaner, healthier, safer environment in everything we do. In North America and Europe the company has reduced particulate emissions, or engine soot, and NOx emissions, a contributor to air pollution, from the company's engines by 98%.
Their newest focus is on greenhouse gases and climate change. The 25% reduction in greenhouse gas emissions the company achieved was from operations and facility management and has become a global standard for the them. Cummins has been working on it since 2006. Along with benefiting the environment, internal energy-saving activities have resulted in a USD 20 million a year savings for the company.
The company also extended their greenhouse gas efforts to the public policy debate taking place in the United States. For example, Cummins' technical and policy leaders wrote a white paper for the National Academy of Sciences in August 2009 about the regulation of greenhouse gases in commercial vehicles. The ideas generated from this paper culminated in the first-ever U.S. commercial vehicle rule to regulate greenhouse gas emissions and establish fuel efficiency in medium- and heavy-duty commercial vehicles. It was finalized in August last year.
Cummins has realized that tougher regulations are better for the company because they have the know-how to meet these new standards. As emerging markets develop stricter emission requirements, the company will have the technology in place or the capability to develop new technologies, which will add value to them but also to local partners.
Cummins has been a good investment for long term investors. The company had a shareholder return of 1300% in the last ten years. The company deserves a higher multiple, that is in line with their growth rate. At a P/E multiple below 11 and a historic level of around 14, a stock price between 120-140 is more realistic.
Disclosure: I have no positions in any stocks mentioned, but may initiate a long position in CMI over the next 72 hours.