By Tim Plaehn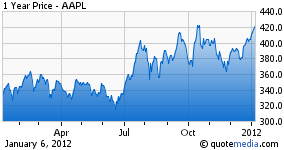 Apple (NASDAQ:AAPL) is scheduled to report the company's 2012 first quarter financial results on January 24. This will be the first full quarter for Apple with new CEO Tim Cook at the helm. Even though there was not much he could do to impact the results during those three short months, many Apple watchers and investors will use the report to gauge how Mr. Cook stacks up as the new boss.
Prior to being announced as the new CEO in August, 2011, Tim Cook was the Chief Operating Officer – COO – for Apple, "responsible for all of the company's worldwide sales and operations, including end-to-end management of Apple's supply chain, sales activities, and service and support in all markets and countries." (Apple press release). CEO Cook has been with Apple for over 13 years.
The fourth quarter earnings result will be interesting for several reasons:
Calendar Q4 – Apple's Q1 – is the holiday quarter when many retail companies earn half or more of their net profits for the year. Apple is not as holiday season dependent, but the fourth quarter will be the biggest of the year and contribute almost one-third of the company's annual earnings.
For the fiscal fourth quarter results, Apple missed the Wall Street consensus estimate for the first time in what seems to be modern memory. The indications are many are expecting an estimate blow out to the positive side with the fourth quarter results. Will a smaller estimate beat end up being a disappointment? At the time of publication, the Wall Street consensus estimate for Apple's Q1 earnings was $9.83 per share, compared to $6.43 a year earlier. The high estimate is $10.74 per share.
Increased competition vs. limited new Apple products. Apple launched the iPhone 4S in October in the U.S. but competitor phones using the Android operating system have been coming fast and furious. The Australian courts also allowed Samsung (OTC:SSNLF) to start selling is tablet computers in the country just before Christmas. The launch and availability of the Kindle Tablet from Amazon.com (NASDAQ:AMZN) may be the biggest threat to Apple to date. Amazon will also report earnings on January 24.
As the year rolls deeper into 2012, investors will be on the lookout for plans from Cook concerning new products such as Apple TV and a smaller iPad plus what plans he has to do different, financially. One point of discussion is the Apple cash hoard, now in the neighborhood of $80 billion. Speculation includes a share buyback program, a one-time dividend such as Microsoft (NASDAQ:MSFT) paid in 2004 or an ongoing dividend policy. It is possible an announcement could be made in conjunction with the first quarter earnings report.
As an investment Apple is an interesting dilemma. The company has been growing at a 50% per year clip and has been able to bring out enough new and exciting products to keep the growth rates going. Even if earnings growth settled to 25% per year, Apple would still be a great growth company. On the other hand, how big can a company get, market value wise? At a $390 billion market cap, the shares are trading at less than 11 times projected 2012 earnings. Can the share price grow to a 15 multiple and make Apple a $730 billion company in 2012? It appears that is a number currently too big for the market to accept.
2012 will be the most interesting year in Apple's history since Steve Jobs came back to re-take the reins of the company. Does CEO Tim Cook have any products or new business ideas waiting in the wings which could get AAPL investors excited all over again?
Disclosure: I have no positions in any stocks mentioned, and no plans to initiate any positions within the next 72 hours.