Considering the global economic background, oil prices continue to hold the $100 mark. In mid December Reuters reported that "OPEC, IEA agree on balanced oil market ahead."
Healthy production levels by OPEC will help balance oil markets next year as demand growth slows, the West's energy watchdog and OPEC said on Tuesday, a day ahead of a policy-setting meeting by the producer group.
In addition, the OPEC statement from the 160th Meeting, added another point.
The Conference noted, further, that, although world oil demand is forecast to increase slightly during the year 2012, this rise is expected to be partially offset by a projected increase in non-OPEC supply.
On Wednesday Reuters reported that "EU agrees to embargo on Iranian crude," which would support prices on the surface. But the timing couldn't be better from a political perspective because demand is shrinking, and if there's a way to hit Iran below the belt is to lower the country's oil revenue. It sounds like an oxymoron, but in due time the market will forget about the embargo, and price the commodity accordingly.
European governments have agreed in principle to ban imports of Iranian oil, EU diplomats said on Wednesday, dealing a blow to Tehran that crowns new Western sanctions months before an Iranian election.
Iran knows quite well how precarious the oil market truly is, and how the slightest decrease in demand combined with a higher dollar will spell trouble for the regime. Thus the saber-rattling widely covered by every news outlet is just noise, and while Iran can disrupt the Strait of Hormuz, it will be short lived. The Fifth Fleet is correct in treating the threat as just another Kardashian Twitter message without engaging in an exchange of words, reminiscent of a quarrel in middle school. Certainly the clerical establishment understands that declaring war is not in their best interest.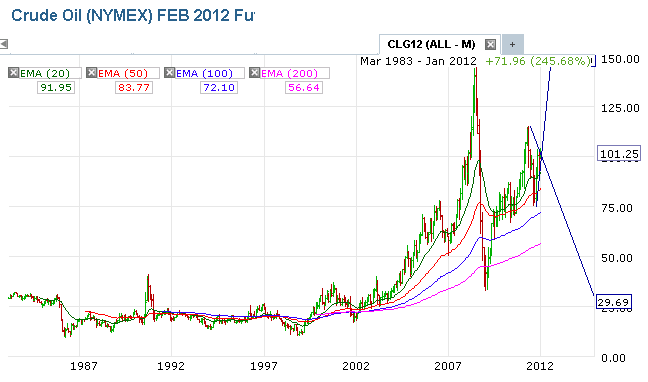 Click to enlarge
As expected, "OPEC's price hawks, all of whom already pump at full capacity, want to keep prices above $100," as reported by Reuters, and as retribution for the planned European embargo, and to deliver a hint of what the future may hold, the Tehran Times reported that prices were increased.
Iran raised its January official selling price (OSPs) to Northwest Europe and the Mediterranean moderately while hiking the price to Asia to record highs on Monday, as the EU works on a potential embargo on Iranian crude.
But it's part of the big game to keep the "status quo" and to increase or maintain much needed revenue. Bloomberg Businessweek looked into the issue.
Its near-total reliance on energy sales is a vulnerability—if oil prices crash. So far they haven't, and Iran continues to have steady customers in China, Japan, India, and South Korea. Surprisingly, it has European customers, too: Italy, Greece, and Spain are especially important. With prices around $100 a barrel, Iran has, by some estimates, foreign reserves of $60 billion.
But with a European embargo in the works, Iran's Asian customers would have to pick up the slack, as highlighted by Bloomberg.
Should Europe adopt more formal restrictions on Iranian crude, the Persian Gulf nation would likely be forced to offer oil more cheaply to refiners in Asia, its biggest market, Olivier Jakob, managing director at Oberwil, Switzerland-based Petromatrix GmbH, said in a Nov. 28 note to investors. By targeting financial transactions and stopping short of sanctioning international trade in Iranian oil, the U.S. aims to pressure Iran without risking a surge in crude prices at a time of global economic fragility, said Mills of Manaar Energy.
However, Asian countries are presented with the opportunity to demand lower prices, although Iran does have room in its balance sheet and can live with a lower price, as reported by Reuters. But the price of oil can quickly turn into a slippery slope, and Iran needs a margin of comfort.
A populous nation with high social costs, Iran needs a stronger oil price than its wealthier Gulf neighbors to avoid racking up a deficit. Its budget reckons on oil at $65 -- below current prices of around $90 a barrel, although roughly in line with some analysts' calculations of the level Tehran needs to balance its books. IHS Global Insight, for instance, assumes export volumes of just over 2 million barrels per day (bpd) from Iran, which means it would need oil at only $60-$70 for a balanced budget.
And very much like China and other undemocratic regimes, social unrest is an ongoing concern. As of now the Iranian people have not taken to the streets due to higher gasoline prices as a result of government-set prices rising seven-fold last month when state subsidies were cut, but it's only a matter of time if social programs are affected.
Although China has never been aligned with the West as far as Iranian affairs are concerned, it appears to be doing so this time around, as reported by Reuters.
Iran faced the prospect on Thursday of cutbacks in its oil sales to China and Japan as new measures to cut off Tehran's crude exports appeared to be driving its economy to the wall. China, Iran's biggest trade partner, has already cut its purchases of Iranian oil by more than half this month and will extend the cuts to February, a Beijing-based trader who deals with Iranian oil said.
But the cynic in me believes that China's move relates to the opportunity to extract lower prices, rather than an alignment with the usual western suspects.

Disclosure: I have no positions in any stocks mentioned, and no plans to initiate any positions within the next 72 hours.