So week one is down and only 51 weeks of trading to trade left in 2012. After running scans throughout the week a few interesting patterns developed which were supported by heavy options activity and volume. This article is dedicated to those who are looking for trading ideas both long and short.
2 bearish stocks where options and technical events are supporting more pain ahead.
My first bearish stock for this list is Jones Group (NYSE:JNY). JNY is a global designer, marketer and wholesaler of over 35 brands across five divisions: apparel, footwear, jeans wear, jewelry and handbags. JNY currently has P/E ratio north of 24 and a PEG ratio of more than 2.25. This is very expensive in comparison to peers currently holding P/E and PEG ratios of 19.5 and 1.41 respectively. The first week of the year has been great for equities and risk assets in general however JNY had severe underperformance. In contrast on a very positive week, JNY has instead entered into a bearish pattern referred to Symmetrical Continuation Triangle, which can be understood more here.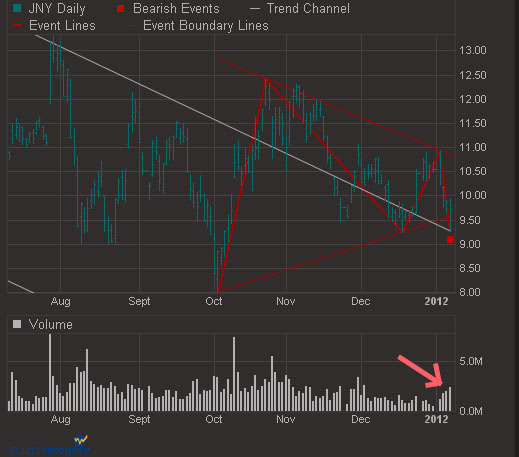 Charts provided by Trademonster Inc.
Anyone who reads my daily volatility and option recap articles (found here) knows I always look to the options market for direction and confirmation. This chart and technical analysis above is confirmed big time when you look into the options market. Friday, with JNY already having heavy volume, saw almost 6,400 put options trade with 86% of those puts bought at the ask. The majority of these puts crossed just as JNY crossed that triangle to the downside. In this case traders believe this will continue prior to January expiration. Traditionally this type of cross has a 10-15% continuation move and thus could see the 7.50 to 8.00 range or lower in the next 30-45 days. I joined in on this Friday buying the 10/9 January put spread for .60 as I agree with these traders JNY is headed lower.
My second bearish stock is in the sector everyone loves to hate: Deutsche Bank (NYSE:DB). DB has been trading horribly in comparison to the run that has occurred in financials over the last week. DB is currently trading at a P/E of 5.65 and a price to book of only .47, which seems amazingly cheap. However, price action and option sentiment tells a completely different story. Just like Jones Group, DB on Friday entered a bearish symmetrical continuation triangle.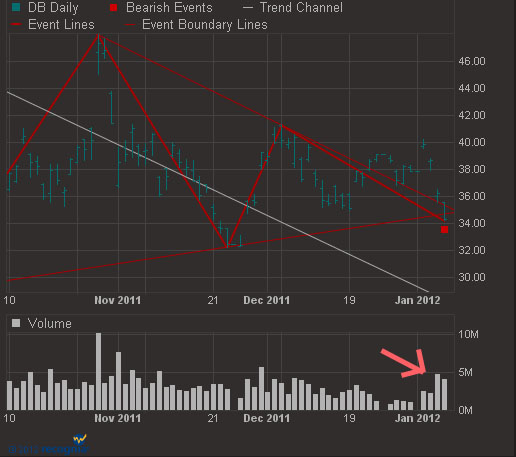 This chart shows DB could easily test 32 and then continue the downtrend. However, if we look to the options market puts have outnumbered calls in every trading session but 3 since the December 1st timeframe. Combine the recent Europe woes, bearish options activity, which technical such as MACD crosses and DB could easily test the 30 level in my opinion. I currently have no position in DB but will continue to look for opportunities to profit as the Eurozone continues to deteriorate.
2 bullish stocks where options and technical events are supporting a potential breakout.
Sara Lee (SLE) is a global manufacturer and marketer of brand-name products for consumers globally focused primarily on the meats, bakery, beverage and household products categories. SLE has been flying high since the beginning of November. Recently SLE had an interesting moving average cross known as a Double Moving Average Crossover.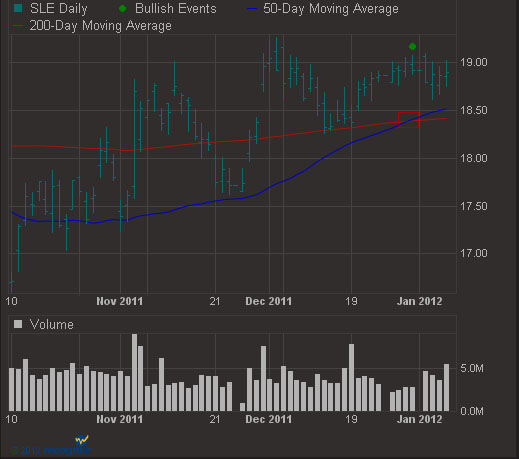 Of course this signal means nothing to me unless we have some type of options activity to support a potential move. On Friday SLE, already trading on decent volume, saw some serious call activity. SLE which normally only sees just over 2,300 call options trade saw a flurry of calls cross the wire Friday. SLE July 20 calls were bought more than 10,000 times for .80 apiece. This 800K bet is large mostly because SLE has not traded over 20.00 since 2005. If you combine the technical events, improving fundamentals, options activity, and low European exposure this stock may just be poised to run.
My last stock, another bullish play, is on a long time personally hated stock: Bank of America (NYSE:BAC). BAC is a bank holding and a financial holding company. It is a financial institution, serving individual consumers, small and middle market businesses, corporations and governments with a range of banking, investing, asset management and other financial and risk management products and services. Now I want to make it very clear I do not like financials in any way shape or form. I believe loan growth at this point is anemic and I do not know where future profit growth will come from. BAC trades at a ridiculously low price to book value of .3 and this is after the recent run. BAC has been trading like a company going out of business but recent strength has completely reversed. The point I'm highlighting today is that BAC recently saw the Commodity Channel Index go bullish.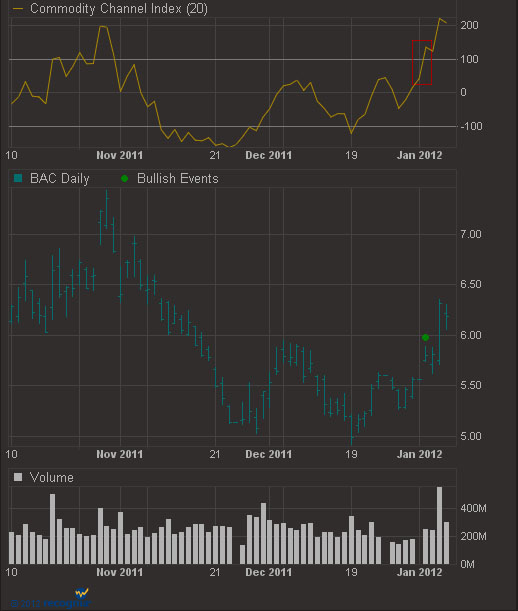 Okay, so we have our bullish technical event and yes, other events are out there such as crossing and closing above the 50 day moving average. Now let us look into the options market. The calls have been outnumbering the puts in extreme fashion as shown below.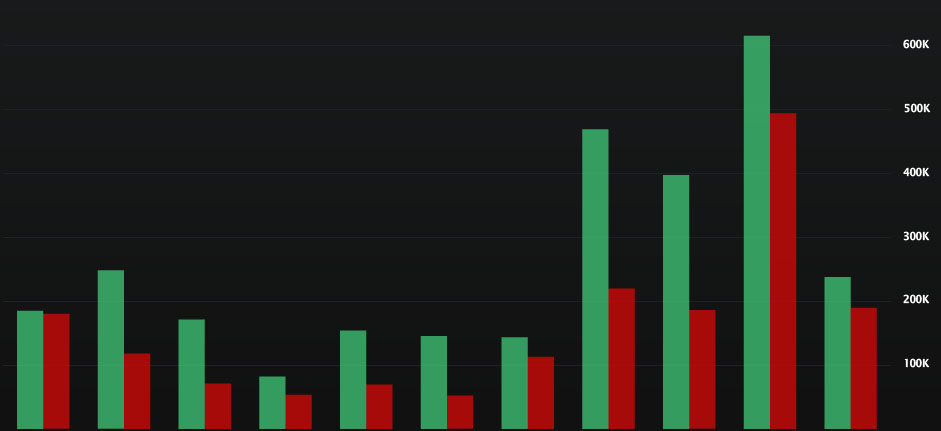 The real interesting part here is 44% of these call options were bought at the ask while only 32% were sold on the bid. The majority of the big block trades in BAC were bought further out in both time and price but is bullish nonetheless.
In summary, the market is a complex and always shifting environment. No one method works all the time and this is why I try to have the stars align before I put on my trades. I do believe the market is overbought and believe the short ideas are much better here than the long.
I appreciate any comments on my article and feel free to ask any questions you may have.
Disclosure: I am long AGNC, NLY, SDS, APC. I am short: SIAL, RAX, LNKD, FINL, AMZN, TMO, JNY.
Disclaimer: The opinions in this document are for informational and educational purposes only and should not be construed as a recommendation to buy or sell the stocks mentioned or to solicit transactions or clients. Past performance of the companies discussed may not continue and the companies may not achieve the earnings growth as predicted. The information in this document is believed to be accurate, but under no circumstances should a person act upon the information contained within. I do not recommend that anyone act upon any investment information without first consulting an investment professional as to the suitability of such investments for his or her specific situation.


Disclosure: I have no positions in any stocks mentioned, and no plans to initiate any positions within the next 72 hours.