After I made the top 10 on the leader board, competing against about a million other portfolios, in the most recent CNBC Million Dollar Portfolio Challenge just a couple of days before the challenge was cancelled due to participants gaming the system (I never made it past 39th place when the challenge was restarted),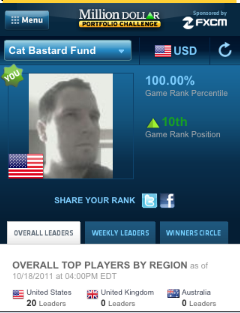 I was challenged - well, harassed actually - by a close colleague to publicly turn $50k into $53.75k in a week's time using equities with no known catalysts such as FDA decisions, etc. Also, no shorting of individual equities is allowed, but I can use ETFs and ETNs. Lastly, I cannot allocate more than 25% of the total original investment amount to any individual stock, ETF or ETN. In other words, he wants me to generate a 7.5% return in one week with one arm tied behind my back. No easy task, but one that we both accomplish somewhat regularly.
After much consideration, I have reluctantly decided to accept the challenge and subsequently opened a new trading account on Thursday for the purposes of using roughly $48k of my personal cash reserves to create and execute a simple week-long strategy, using a combination of just 7 equities and 5 ETF and ETNs. I will buy 10 tickers sometime on Monday, some of them quite possibly during the pre-market session, and have any and all positions closed out with at least $51,600 back in cash by the end of the after-hours trading session on Friday the 13th. The reason for keeping it simple is also quite simple: Time constraints. I have other responsibilities that take priority over this exhibition.
I plan to detail buys and sells using the stock talk feature here at Seeking Alpha within minutes of execution throughout the week, and will do a follow up piece on it next weekend, for better or worse (hopefully the former). This is an incredibly risky endeavor, and I strongly discourage anyone from following my picks or moves.
On Monday, I intend to acquire:
100 shares of American Water Works Company (NYSE:AWK) at or around $32
700 shares of Tenet Healthcare (NYSE:THC) at or around $5
100 shares of VirnetX Holding Corporation (NYSEMKT:VHC) at or around $27
750 shares of Exelixis, Inc. (NASDAQ:EXEL) at or around $4.80
100 shares of Walgreen Co. (WAG) at or around $33
1,500 shares of Avanir Pharmaceuticals (NASDAQ:AVNR) at or around $2.20
100 shares of Target Corporation (NYSE:TGT) at or around $49
250 shares of Direxion Daily Small Cap Bull 3X Shares (NYSEARCA:TNA) at or around $46.50
100 shares of (NYSEARCA:FAS) at or around $69.50
150 shares of iPath S&P 500 VIX Short-Term Futures (NYSEARCA:VXX) at or around $31.75 as a very weak hedge for what I believe will be a generally bull-controlled week.
Again, it all comes out to be about $48k.
I may buy and sell any of these stocks, ETFs and ETNs any number of times throughout the week and plan to work Direxion Daily Small Cap Bear 3X Shares (NYSEARCA:TZA) and Direxion Daily Finan. Bull 3X Shares (NYSEARCA:FAZ) heavily, when it strikes me, along with TNA and FAS.
I have several months of commission-free trading on the account, so that won't be a factor at all. Being that the goal here is to generate a 7.5% return by Friday, I may make some impromptu and timely additions or changes to the above equities with profit taken from any sell(s).
The success of this venture somewhat depends on how the markets roll next week, but if I fall short of my goal, I will make no excuse. In any case, "game on", as they say, and we'll see how it goes.
For daily updates on the $50K challenge click here.

Disclosure: I have no positions in any stocks mentioned, but may initiate a long position in AWK, THC, VHC, EXEL, WAG, AVNR, TGT, TNA, FAS, VXX, TZA, FAZ over the next 72 hours.