Yahoo's (NASDAQ:YHOO) stock has been dead money ever since it dropped below $20 in the depths of the recession. Google (NASDAQ:GOOG) has taken over the search engine game and Yahoo hasn't been able to catch up. The company has some great assets though, that would make the stock a great investment if management ever decided to split up the company. Here are seven points to look at while researching the company:
Valuation: Yahoo's 5-year trailing valuation metrics suggest that the company is slightly undervalued to fairly valued. Yahoo's current P/S ratio is 3.8 and it has averaged 3.9 over the past 5 years with a high of 6.5 and a low of 2.4. Yahoo's current P/B ratio is 1.6 and it has averaged 2.3 over the past 5 years with a low of 1.3 and a high of 4.8.
Price Target: The consensus price target for the analysts who follow Yahoo is $18. That is upside of 14% from Yahoo's current stock price. That doesn't seem like a lot of upside particularly since it incorporates the possibility of a buyout.
Forward Valuation: Analysts forecast that Yahoo will earn $0.89 next year. With a current stock price of $15.64, that is a forward P/E multiple of 17.6. Google is trading at a forward P/E multiple of 15.0. Yahoo's EPS is projected to grow 10% next year while revenue is projected to grow 3.4%. Google is forecast to post 19% EPS growth and 22.9% revenue growth. Based on Google's valuation, Yahoo seems to be trading at a very rich multiple considering its expected growth is nowhere near Google's.
CEO: On Wednesday, January 4, Yahoo announced the appointment of Scott Thompson as Chief Executive Officer, effective January 9, 2012, at which time Tim Morse will resume his role as Chief Financial Officer. Thompson served most recently as President of PayPal, a division of eBay (NASDAQ:EBAY), where he continued his established track record of growing businesses by driving customer engagement built on strong technology platforms.
The market wasn't impressed and the stock dropped over 3% in light of the announcement. Although he has a good resume, it seems like the market was disappointed that there was no announcement of the selling or spinning off some of its Asian assets or Yahoo itself. Investors have been waiting for Yahoo to announce something ever since it was rumored to be looking at monetizing its Asian assets. Maybe Thompson will be a more shareholder friendly CEO and try that, but that is still up in the air.
Earnings Estimates: After beating earnings estimates for 4Q10 and 1Q11, the company just met 2Q11 estimates. Yahoo then returned to its old ways and beat 3Q11 estimates by reporting EPS of $0.23 versus a $0.17 consensus.
Free Cash Flow: Yahoo generates a significant amount of free cash flow and has been using it to return capital to shareholders. In 2010, the company spent over $1.7 billion on repurchasing stock. In the first 9 months of 2011, the company spent another $1.2 billion on repurchasing stock.
Price Action: Yahoo's stock has struggled this year as it fell from the high teens to the low teens in August. However, since then it has recovered, rallying about 50% to over $16.50 a share before pulling back to its current price level of about $15.50. It is currently sitting just under its 50 day moving average and just above its 200 day moving average. There was a bullish moving day average cross over recently as the 50 day moving average crossed over the 200 day moving average in later November.
Click to enlarge: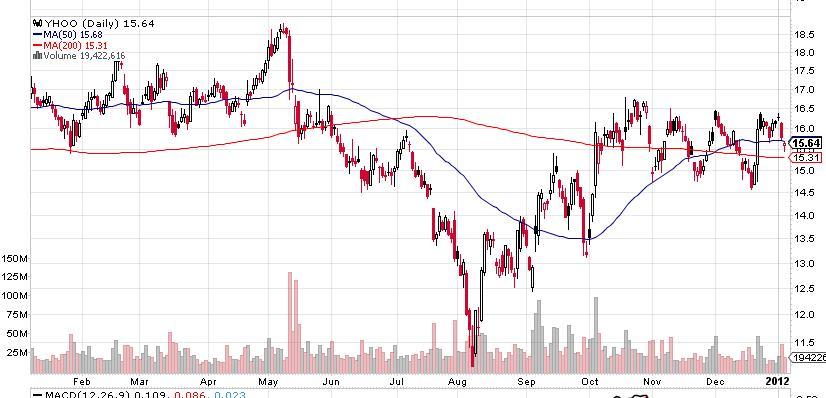 Click to enlarge
Conclusion: The company's valuation is not that cheap and compared to Google, it is expensive. The basic thesis of investing in Yahoo now is either the sale of the company or the monetization of some of its Asian assets. However, that has been the premise of investing in Yahoo for a while and it doesn't seem like anything is changing. The board is still trying to turn the company around, now with another new CEO. I would avoid Yahoo for now.
Disclosure: I have no positions in any stocks mentioned, and no plans to initiate any positions within the next 72 hours.