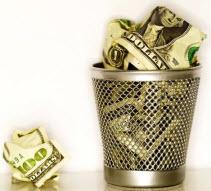 One man's trash is another man's treasure. Something that one person considers worthless may be considered valuable by someone else. I posit these out of favor stocks are undervalued, primed to rebound and have significant upside potential. Are these stocks trash or treasure? Don't take my word for it. Read the article, do your own due diligence and decide for yourself.
The stocks covered are buying opportunities trading significantly below their 52-week highs. These stocks are technology sector plays that have major upside potential based on great stories. Once the geopolitical and macroeconomic issues of the eurozone, U.S. and the world fade from the forefront of investors' minds, and a renewed focus on fundamentals and company specific catalysts emerges, I expect these stocks to provide significant capital gains.
In this article, we will discuss the following stocks: AMD (NYSE:AMD), Sprint Nextel Corporation (NYSE:S), Frontier Communications Company (NYSE:FTR), MetroPCS Communications, Inc. (PCS), JDS Uniphase Corporation (JDSU), Corning Incorporated (NYSE:GLW) and NVIDIA Corporation (NASDAQ:NVDA).
Please review the following macro-economic positive highlights followed by company specific catalysts and charts detailing current summary, performance and fundamental information regarding these buying opportunities.
2012 Macro-Economic Positive Highlights
2012 began on a strong note by recording its preeminent single-session percentage gain in weeks, closing at a two-month high on Tuesday. There were a multitude of positives spurring the advance. Please review the following highlights of macro-economic positive indicators.
The manufacturing reading from China advocated activity expanded after contracting the prior month.
India reported its best manufacturing reading in six months.
Manufacturing data from Europe was comparatively inspiring.
Recent manufacturing activity in the United Kingdom was better than expected.
Eurozone manufacturing activity was somewhat in-line with outlooks.
Progress by the Euro proved positive for stocks.
The December ISM Manufacturing Index improved to 53.9 from 52.7 in November, exceeding expectations of 53.4.
November construction spending increased by 1.2%, besting analyst estimates of 0.5%.
The FOMC meeting minutes specified that domestic economic activity grew temperately notwithstanding seeming deceleration in growth of overseas economies and continuing monetary complications in the eurozone. The FOMC largely remains sure that the speed of economic activity will increase in the coming years. Nevertheless, many members specified present and future circumstances may well merit further policy accommodation.
Company-Specific Catalysts and Statistics
Summary Statistics (Click to Enlarge)
Performance Statistics
Fundamental Statistics
Charts provided by Finviz.com
AMD recently updated its A-Series line-up of desktop and notebook Accelerated Processing Units (APUs), further improving its top-performing family of dual- and quad-core APUs. Along with speed and performance improvements, AMD's Steady Video update make this unique feature more compelling than ever. For desktop users, AMD extends its overclocking pedigree to the APU. For the first time users can tune both x86 and graphics settings in a single processor for boosted performance.
Chart
Sprint CEO Dan Hesse recently announced at the annual Citigroup Entertainment, Media and Telecommunications Conference that customers in Dallas, Atlanta, Houston and San Antonio are expected to be among the first to benefit from 4G LTE and improved 3G coverage in the first half of 2012.
Bob Azzi, senior vice president - Network, Sprint said:
Within the first half of 2012, Sprint customers should experience first-hand the wide-reaching improvements we have made in terms of boosting voice and data quality. With advanced smartphones and sophisticated wireless modems, our customers are using more and more mobile data, and one of our top priorities is to provide the best technology possible to improve our customers' experience.
Chart
Frontier Communications Corporation's Custom Value Pricing lets small business customers cost-effectively build and bundle business-class broadband with Internet speeds up to 10 Mbps, web hosting, data security and backup, anti-virus protection, unlimited local and long-distance calling, and unlimited calling features like Caller ID and Call Forwarding, all with local technical support.
Leona Linder, Frontier's Vice President of Commercial Marketing stated:
There's a real economic incentive for small businesses to build their own service bundle. Frontier's already low prices are discounted even further -- up to 15 percent - to reward the customer as the product bundle size increases. It isn't a promotion - it's everyday low pricing!
Chart
MetroPCS Communications, Inc., the nation's leading provider of no annual contract, unlimited, flat-rate wireless communications service, recently announced selected subscriber information for the quarter and year ended December 31, 2011.
In the fourth quarter of 2011, MetroPCS reported gross additions of approximately 1.22 million subscribers, which represents a 7% increase over the fourth quarter of 2010. The Company ended the fourth quarter of 2011 with over 9.3 million subscribers, which includes net additions during the quarter of 197 thousand subscribers.
Roger D. Linquist, Chairman and Chief Executive Officer of MetroPCS said:
We reported solid subscriber growth in the fourth quarter, adding 197 thousand net subscriber additions, marking the sixth consecutive year in which we have added over 1 million net subscriber additions. We were also pleased with our fourth quarter churn of 3.7% representing a significant sequential decrease.
Chart
JDSU recently announced that its LTE Network Trial Solution received the 2011 Mobility Tech Zone Wireless Backhaul Distinction Award, the third annual award presented by TMC and Crossfire Media. JDSU's LTE solution was declared a winner for offering unique insight into the characteristics, performance and overall behavior of next-generation LTE networks, enabling service providers to deliver quality mobile services to their subscribers.
Rich Tehrani, CEO, TMC said:
JDSU is deserving of the 2011 Mobility Tech Zone Wireless Backhaul Distinction Award for its achievements in advancing the deployment of advanced wireless technologies. JDSU's LTE Network Trial Solution is an innovative solution for enabling service providers to quickly and cost-effectively deploy LTE networks with high quality.
Chart
Corning Incorporated recently announced its plans for the International Consumer Electronics Show (CES) in Las Vegas next week. The Corning booth, #12642 Central Hall, will showcase the critical role of highly engineered specialty glass in addressing emerging trends highlighted at CES 2012, including: increased functionality from smaller form factors; touch technology; connected devices in new application spaces; and sleek, durable large-format design aesthetics.
James R. Steiner, senior vice president and general manager, Corning Specialty Materials said:
Corning Gorilla Glass has been a tremendous success for Corning, enjoying excellent market acceptance across mobile device industries. Handset and tablet device manufacturers are clearly driving toward higher functionality from thinner designs. Corning's latest innovation in Gorilla Glass technology is very well positioned to meet these challenges and enable broader touch technology penetration.
Product details will be included in an announcement planned for Monday, Jan. 9.
Chart
NVIDIA recently ushered in the era of quad-core mobile computing with the introduction of the NVIDIA® Tegra® 3 processor, bringing PC-class performance levels, better battery life and improved mobile experiences to tablets and phones. The world's first quad-core tablet with the Tegra 3 processor is the ASUS Eee Pad Transformer Prime.
Nathan Brookwood, Research Fellow at Insight 64 said:
NVIDIA's fifth core is ingenious. Tegra 3's vSMP technology extends the battery life of next-generation mobile devices by using less power when they're handling undemanding tasks and then ratcheting up performance when it's really needed.
Chart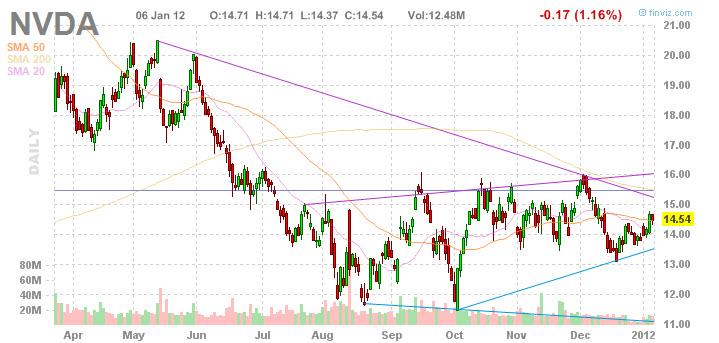 Click to enlarge
Conclusion
The 'crowd' is most enthusiastic and optimistic when it should be cautious and prudent, and is most fearful when it should be bold.

When everybody thinks alike, everyone is likely to be wrong.
The quotes above from Humphrey B. Neill, author of "Art of Contrary Thinking," are a compelling case behind the economic booms and busts that mar the markets. In the years immediately following the close of World War II, ominous popular forecasts of business recession turned out to be wrong. What actually happened was a business boom, not a business bust-- exactly the opposite of popular opinion.
Our innate instincts encourage us to depart a sinking ship. This survival tactic impacts the way we invest. When market panic creates opportunities to buy stock in solid companies with sound prospects, hopefully you have powder dry and take advantage. The market is clearly at an inflection point. To open a position you must have courage in your convictions-- just remember, fortune favors the bold. A market correction provides opportunity to buy great names at a discount price.
I believe Neill's quotes and contrarian way of thinking are quite apropos at this juncture regarding these out of favor names. I posit this is an inflection point. Myself and a select few believe they are about to make a major comeback in 2012.
Nonetheless, this is only the first step in finding winners for your portfolio. Don't take my word for it, do your own homework. Use this information as a starting point for your own due diligence and research methods before determining whether or not to buy or sell a security.

Disclosure: I have no positions in any stocks mentioned, but may initiate a long position in S, FTR, PCS, AMD, JDSU, GLW, NVDA over the next 72 hours.