The first week of trading in 2012 has now officially come and gone, and investors are starting to get the sense that (just maybe) they were right in their optimism for all of the hope that comes with each New Year. Although there were some concerns along the way regarding Europe and its debt situation, the indices netted modest gains as investors are starting to realize that there should be a separation between domestic concerns and those abroad.
For the week, the Dow rose a modest 1.2 percent -- the Nasdaq added 2.7 percent, while the S&P closed the trading day on Friday after adding 1.6 percent. Early data shows that the majority of the gains for the week came from cyclical stocks that are tied to growth aided by positive data from the U.S. Department of labor regarding the jobless rate, which is now near a three-year low.
I guess you can say that there were many catalysts on the new year, and last week in particular. As bad as 2011 was on many key metrics, early data reported the week suggested a brighter outlook for things to come in the retail markets, labor and the all critical housing market. Not to be outdone, on Friday, a report on non-farm payroll jobs for December was released, and supported many earlier indicators that 2012 will yield much stronger numbers than previously anticipated.
As we discussed previously, there is no moving forward without reminding ourselves where we've come from. On that note, let's take another glance at where equities left off at the end of 2011. So with all of this good news, optimism should remain intact, and there are yet many equities to consider that stand to benefit from this sudden shift in consumer confidence.
Click to enlarge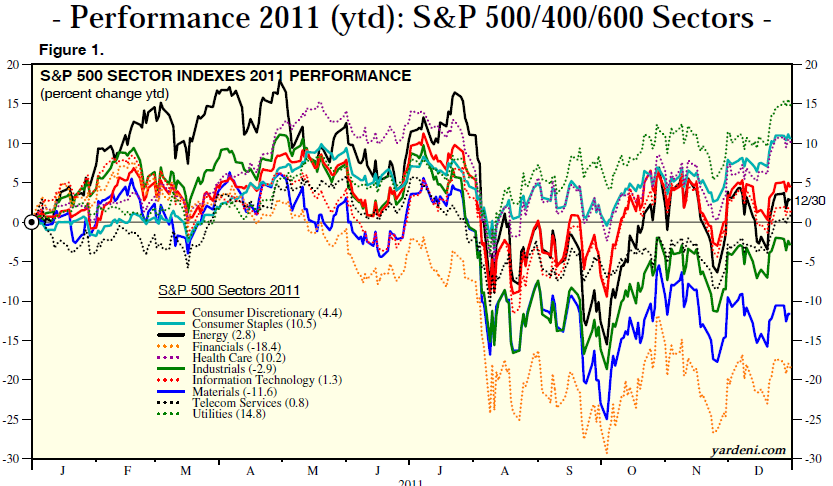 Click to enlarge
So far, it seems there continues to be a slight shift in the sector race. Amazon (NASDAQ:AMZN) and Netflix (NASDAQ:NFLX) provided a boost to the S&P500's discretionary spending sector as well as helping the Nasdaq. Both firms added 3 percent and 9 percent for the week respectively. But is this a trend that stands to continue. Using both Amazon and Netflix as a gauge, let's take a look at how some of the other stocks might perform and determine if they are worthy of long consideration.
| | | | | |
| --- | --- | --- | --- | --- |
| Company | Ticker | Start Price | Current Price | Percentage Gain |
| Sirius XM | | $1.82 | $2.00 | 9.89% |
| Research in Motion | | $14.50 | $15.34 | 5.79% |
| Apple | | $405 | $422.40 | 4.2% |
| Microsoft | | $25.96 | $28.11 | 8.28% |
| Oracle | | $25.65 | $26.93 | 5% |
| Netflix | | $69.29 | $86.29 | 24.5% |
Sirius XM (NASDAQ:SIRI) – Target $2.50
Sirius XM ended a very exciting week closing at $2.00 per share on Friday. During the week I called the company its own worst enemy, and then followed it up with suggesting that it could reach $3.00 at some point this year. To top it all off, it appeared that the company has now done just enough to convince a renowned bear that it might be time to give the stock a long look. On Friday, I told investors that it was time to start planning for their next move. The fact of the matter is, whether you plan to hold or if you plan to trade, the smart thing is just to have a plan. The stock has a tendency to move with lightning speed in any direction before anyone has had a chance to assess what has just occurred.
As noted previously, with the volatile nature of the stock there will be many opportunities to trade in and out and profit off of its wild swings. What investors have to remember is that just as easily as the stock shot up 11% on Thursday, it has shown a remarkable ability to relinquish those gains in a matter of minutes. As noted previously, when the stock reached the $2.20 level, or even the $2.30 level last spring on its way toward its 52-week high of $2.44, it was caused by an influx of new buyers. These same buyers have been holding the stock with the hope of (one day) breaking even.
While there were many defections in the stock when it plummeted to $1.27 late last year, there are many whom are now waiting on pins and needles to get out. On that note, we should expect a rash of selling at anything above $2.10 to $2.15. The reason being that $2.20 continues to be the consensus target for those who cover the stock on a regular basis. When coupled with the fact that Sirius typically demonstrates a "sell the news" type of effect, there are many who will immediately sell the stock just before it announces that which is already known.
Research in Motion (RIMM) - Undecided
2011 was a very tumultuous year for RIM, and so far, 2012 has shown no indication that anyone covering the company will be lacking in topics to discuss. On the heels of having learned that both of its co-CEOs have lost the title of co-Chairmen, speculation has resurfaced as investors begin to wonder what's next. The stock surged several percentage points on the news of the demotion, and now sits comfortably at $15. Some suggest that it might trail higher, but we will just have to wait and see. I expect both current co-CEOs to be ousted in short fashion, and the company to be acquired some time in 2012. If either event fails to happen, it will be the surprise of the year.
The company has been the constant topic of M&A since it dropped below $30 this summer. A couple of weeks ago RIM saw its stock surge as much as 10% on these speculations alone. After reaching another 52-week low of $12.45, the stock surged past $14 when analyst Mark McKechnie of ThinkEquity raised his rating on the stock to buy from hold, and hinted that Amazon may be targeting RIM.
Mark suggested that RIM's current price undervalues the company's $5 billion worth of patents, $3 in cash per share, and its BlackBerry messaging service. It is hard to imagine that RIM will be acquired soon, but by the same token, I don't see any other way for it to survive. It has become time for this once-proud company to be put out of its misery. The real tragedy in all of this is its diehard investors, who refuse to accept the company's current reality.
Apple (NASDAQ:AAPL) – Target $520
Okay, I'm going to put it out there -- Apple is still cheap at current levels. Although I have placed a $520 target on the stock, I continue to feel that I am low-balling its growth potential. The success of Apple is widely known – to the extent of where it came from to where it currently is. But many are unable to grasp where it might be going. This is where money can be made.
Apple has its iPad tablet, iPhone, iTunes, iCloud, iTV - it owns virtually "i-everything." The stock is owned by 71 percent institutional investors with a host retail investors scrambling to pick up whatever shares they can afford. So the logical question is, how can its stock still be cheap when it comes with such popularity? The answer is simple -- investors have not fully appreciated the company's long term growth potential.
If Apple can achieve roughly 12 to 15 percent annual revenue growth for the next couple of years, the company will be able to generate almost $180 billion in annual revenue. Just imagine what that means for a second. Assuming a declining ratio of free cash flow conversion, Apple could end 2015 with nearly $39 billion in free cash flow. Assuming 6 percent cash flow growth beyond that, a market-matching discount rate, and adding in the cash on the balance sheet, suggests a target upwards of $600.
Microsoft (MSFT) – Target $32
Microsoft ended the week up 8 a stunning percent to a price on $28.11. I am starting to think that my $32 price target was too conservative and should be raised. But by the same token, I have to think that it is yet too early for any type of revision-- particularly given its recent history of disappointing performances, many of which have caused me to become highly critical of its management.
Microsoft has the ability to become this year's Cinderella story. Its major challenge continues to be overcoming the many doubters and skeptics that have grown frustrated of its recent lack of innovation. The reality is, Microsoft is no longer a growth story. I realize that this is not breaking news, but it needs to be appreciated for what it is – and I know this is easier said than done.
The smartphone and tablet market have replaced what the PC market used to be, and as a result, the company has fallen behind Apple and Google (GOOG) on the dominant scale. Making matters worse is the fact that cloud computing has also taken a big chunk out of its enterprise leverage. But in spite of all of that, the company is heavily embedded in thousands of other companies and not easily replaced.
Microsoft will most likely never grow again in a way that resembles the mid to late 90s, but that does not mean it does not have life. It has been considered the sleeping giant and remains only one good idea away from being awakened-- and when it does, $32 will be a realistic destination.
Oracle (NASDAQ:ORCL) – Target $30
For the week, Oracle climbed 5 percent to a price of $26.93. This was a pleasant surprise since the stock has flirted with new 52 week lows for the past several weeks. It seems that investors are now willing to give it a second chance after having been disappointed by the company's recent poor earnings results – an event that prompted several analysts, as well as Jim Cramer, to recommend it as a sell. I flatly disagree and think this is the time to be buying more.
I think what Cramer and Wall Street are overlooking is the fact that Oracle has anticipated weakness in certain segments of its business and has positioned itself for the technological shift within the cloud that will allow it to maintain its dominance in the corporate enterprise sector. We have seen recent evidence of this strategy when it acquired RightNow, the cloud-based customer experience suite designed to help organizations deliver customer experiences across the web and social networks.
The bullish case for Oracle is simple – businesses want and need to grow, and as they do, they will get more complicated. Oracle's expertise is in managing these complications and bringing efficiency to the enterprise. Indeed, its results were disappointing, but one has to wonder if it will profit when IT expenditures return. For this reason, I expect the stock to reach a new 52 week high this year and a target of $38.
Netflix (NFLX) - Undecided
The best performer of the group was Netflix, which surged a remarkable 24 percent to a price of $86.29. This was after many analysts left it for dead. But the question is, will it hold? When rumor surfaced a few weeks ago that Verizon (VZ) was considering acquiring Netflix, the stock surged 6 percent only to lose all of its gains when the idea was dissected a bit further and discovered to not have made much sense. But I have to wonder that this will not be the end of this sort of speculation.
Aside from the tough competition, what has hurt Netflix is the public relations disaster it caused surrounding its recent price increase during the summer of last year – an event that prompted many faithful subscribers to cancel and ultimately led to the company offering an apology. I think once the subscriber defections stabilize, so will the stock price. I'm not suggesting that it will go higher, only that it may not go much lower. As heated as the competitive landscape is for its business, Netflix has the benefit of having a great lead in that market – something that any acquirer will not be able to immediately duplicate. For this reason, Netflix remains one of the top acquisition targets of 2012.