MasterCard (NYSE:MA) has had a strong run since its IPO at about $50 a share in 2006, since then rising more than 600% to today's share price of $352. It is easy to understand why everyone was excited about it; even Warren Buffett jumped on board. However, at these prices it seems extended and is due for a technical pullback after its strong 2011. Here are 6 points I looked while researching MasterCard and its close competitor Visa (NYSE:V):
Valuation: MasterCard's current P/B ratio is 7.5 and it has averaged 8.4 over the past 5 years with a low of 5.5 and a high of 17.0. MasterCard's current P/S ratio is 7.0 and it has averaged 5.6 over the past 5 years with a low of 3.7 and a high of 7.6. Visa's current P/B ratio is 3.2 and its current P/S ratio is 9.1. The trailing valuation metrics do not have a clear bias about MasterCard's current valuation metrics and when compared to Visa.
Price Target: The consensus price target for the analysts who follow MasterCard is $400. That is upside of just 12% from MA's current stock price; this very limited upside given to MasterCard by Wall Street analysts suggests that it is close to fair value.
Forward Valuation: Analysts project that MasterCard will earn $21.72 a share in 2012. The stock's current price is about $352 which leads to a forward multiple of 16.2. Its close competitor is trading at a forward P/E multiple of 17.4. EPS growth expected is 16.5% for MasterCard and 17.2% for Visa. Visa's revenue is projected to jump 9.7% while MasterCard's revenue is projected to grow 12.6%. It looks like Visa has a lot more operating leverage while MasterCard has more growth opportunities. Overall, though, the valuation metric is about the same for both companies, suggesting that there is no market mispricing based on market comps.
EV/EBITDA: Another good multiple to look at in order to take the full capital structure into consideration is EV/EBITDA . MasterCard is trading at an 11.6 multiple while Visa is at 11.5.
Earnings Estimates: Mastercard has beat EPS estimates handily its last 4 reports. The smallest beat was 12 cents while the largest was 81 cents. This bodes well as it shows that Wall Street hasn't caught up to the company's earnings power.
Price Action: MasterCard has been on a tear and has risen almost 100% over the past year. Short term, it looks like it has run into some resistance in the $380 area as after it set a new high in early December, it wasn't able to eclipse that at the end of the month and has tumbled all the way to the $352 area. It is sitting just below its 50 day moving average right now, which has proven to be good support over the past year.
click to enlarge image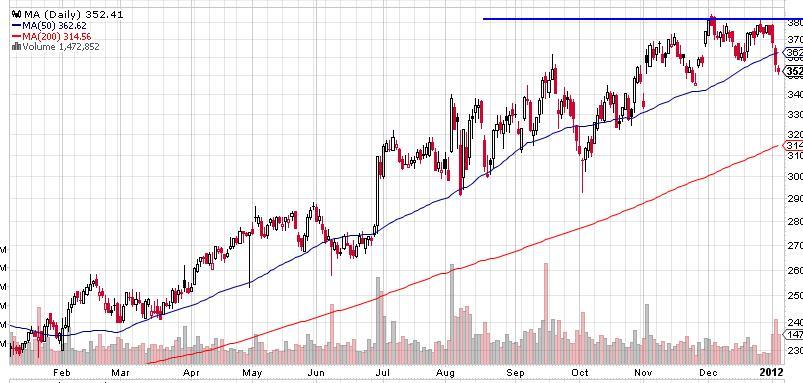 Click to enlarge
Conclusion: The metrics suggest that MasterCard is fairly valued. With the run it has had over the past year, it is probably worth waiting for a drop in the stock. An entry price closer to $300, where there is strong support, would provide a better entry price. A cheaper earnings multiple will provide a bigger margin of safety. The growth still looks like it is there but it is slowing down.
Disclosure: I have no positions in any stocks mentioned, and no plans to initiate any positions within the next 72 hours.