There have been numerous articles written regarding the importance of dividends and their impact on a retirement portfolio. Most of the information on dividends as it relates to retirees pertains to dividends as income. I believe that this narrow focus does not tell the true story of the long- term value of dividends.
Dividend-yielding stocks build wealth in both up and down markets. It's always fun to see wealth increase as prices climb in up markets but unless the shares are sold it's not a realized increase.
The true and under-appreciated value of owning dividend stocks is the increase in share ownership over an extended time period. As dividends are paid out and reinvested, the share quantity increases and over time, this is the real wealth builder. This mechanism also lets the retired or conservative investor relax during down markets since you are effectively buying low priced shares in a company you have conviction in. Unless it's an expense-driven requirement, dividends should always be reinvested.
Intel (NASDAQ:INTC) is an example of a stock that matches this strategy well. Intel engages in the design, manufacture, and sale of integrated circuits for computing and communications industries worldwide. It offers microprocessor products used in notebooks, netbooks, desktops, servers, workstations, storage products, embedded applications, communications products, consumer electronics devices, and handhelds. Intel trades in a 52-week range of $19 to $25.78. It currently yields 3.30% and pays out $.82. The company posted $2.31 per share and outperformed the S&P 500 in 2011.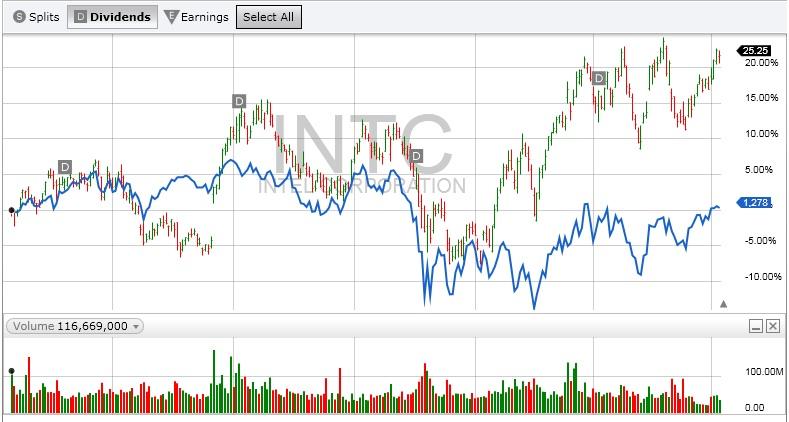 The price range illustrates the power of reinvesting. In essence, dividends offer the ability to buy shares while the prices are down thus adding to your portfolio in an otherwise uncertain market. As the share value increases, you will earn fewer shares through reinvestment but realize the wealth-building potential of both share price and greater share ownership. This is important for the retired investor and critical for young investors. It works as a dollar cost averaging system working in the background of your portfolio.
The dividend yielding power of share repurchasing also means that it is best to sell non-dividend stocks first if there is a need to raise cash. This depends on the status of the company and your assessment of the market, company fundamentals and future opportunities.
To build long-term wealth, it's a mistake to think of dividends and yield as income and to consider them over the longer term. Over time, the increase of share ownership adds significantly to a portfolios value and allows you to relax a bit through volatility and down markets. Sometimes it's of great emotional value to understand that you can make progress in down markets.
Disclosure: I am long INTC.