McDonald's (NYSE:MCD) commercial campaigns continue to impress me. Not only are they clever, but they are developing. In the past, they have been targeted toward children – nothing wrong with that: children have an uncanny knack of manipulating the spending habits of their parents. The latest round of commercials, however, is firmly focused on adults and highlights the bargain basement range of McDonald's products.
One illustrative commercial features a pregnant woman in hospital for a scan. She is asked where the father is, and she replies, angrily that she doesn't know. Then he turns up to find his wife extremely unhappy at his tardiness. He holds up a McDonald's bag, and says "McDonald's chicken sandwich for 99 cents". Her mood changes from one of indignity to acceptance. Humor used perfectly to get the message of quality and value across to potential customers. But do MCD shares exhibit the same quality and value, or are they loaded with humor?
Shares are currently trading around $100, and the mean 12 month price target from analysts researching the stock is $103.81 (3.81% upside potential). This stock is trading above its 50-day exponential moving average of $95.67 and its 200-day exponential moving average of $87.89. The stock has improved almost unhindered since hitting its 52-week low of $72.14 in March of last year.
Earnings per share for the last 12 months are $5.10, and these are expected to reach to $5.73 in its next fiscal year (ending Dec 2012). These numbers place the shares on a trailing price to earnings ratio of 19.60, and a forward multiple of 17.45.
Competitor Yum! Brands (NYSE:YUM) trades on a forward price to earnings ratio of 18.36 and yields 1.90%. Starbucks (NASDAQ:SBUX) trades on a forward price to earnings ratio of 20.86 and yields 1.50%. Coffee has become one of McDonald's strong plays lately, and, in my opinion, the company continues to hold up well against coffee upstarts like Caribou (NASDAQ:CBOU).
McDonald's has followed the fashion for more health conscious foods. Happy Meals now have fewer calories and include a side of fruit. Its nuggets are now lower in sodium. The dividend is also healthy. Last year, shares paid a dividend of $2.80 (current yield 2.80%), which was covered 1.82 times by earnings. Its dividend has been increased for 35 years straight.
Its business model continues to produce solid progress. In its last earnings report (December 2011), McDonald's reported same store sales had increased by 7.4%. Customers, enticed in by the lower price items, are spending more, and the company has managed to increase average product price by 3%. It also stated that Europe is its biggest market (40% of company sales). The Asian region currently makes up 22% of its revenues. Compare this to Yum! Brands, where more than 50% of revenues are derived from sales in China alone. China is a major target market for McDonald's, so the growth potential there is clear to see.
click to enlarge image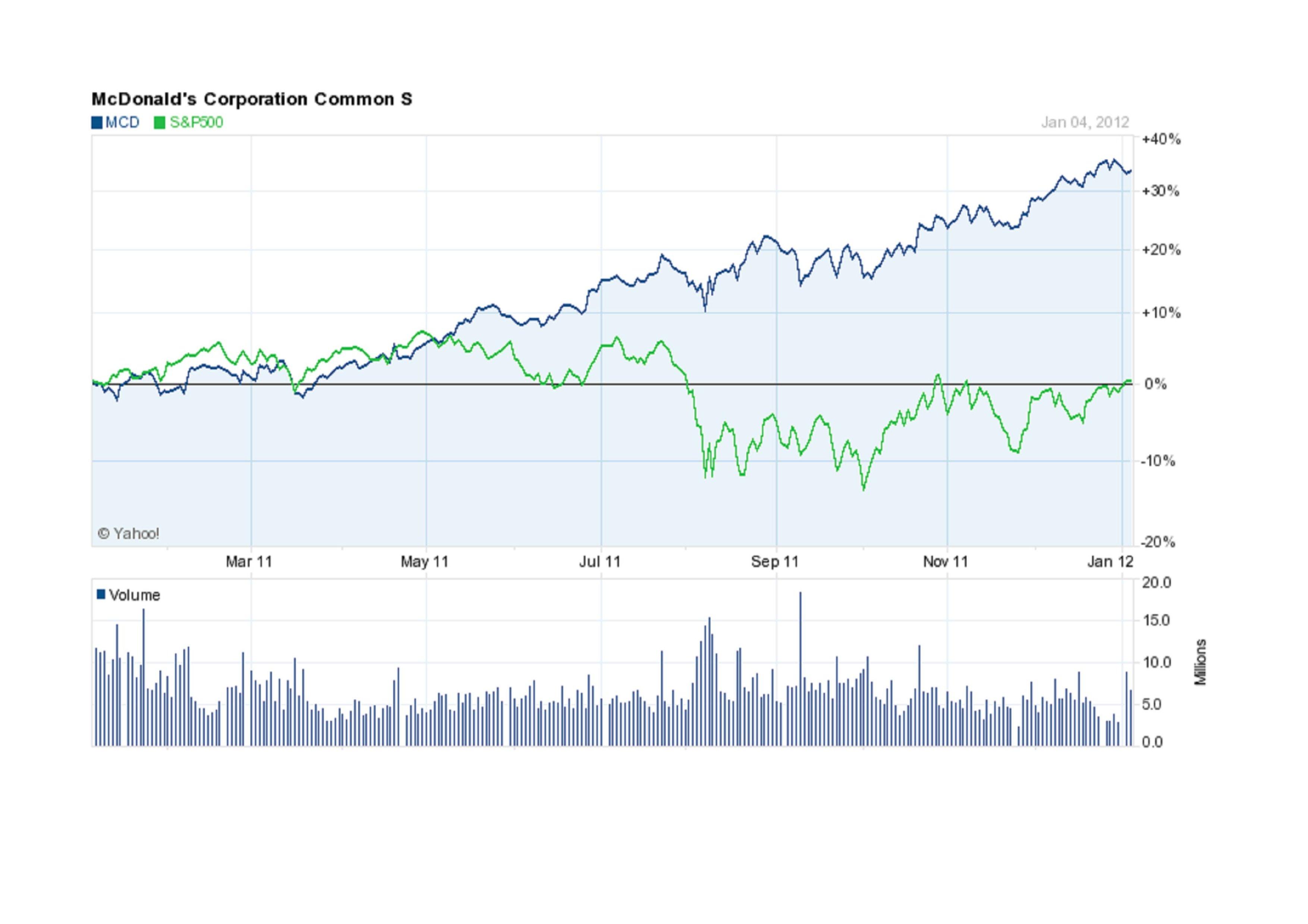 Click to enlarge
Looking at the 12-month chart, McDonald's shareholders have had a great return with both income and capital gains. Share price performance has outstripped the broader S&P 500 Index, and I see no reason why the shares should not continue to do so over the next twelve months. I think analysts' share price targets are on the low side and rate the shares as a buy. McDonald's: I'm loving it!
Disclosure: I have no positions in any stocks mentioned, and no plans to initiate any positions within the next 72 hours.