Universal Health (NYSE:UHS) fell more than 9% in 2011, though as the chart below shows, the stock is more dramatically off 30% from its May high. This move is mostly in line with other hospital names, but Universal has two unique attributes: the company receives nearly 20% of its revenue in the state of Nevada and it completed the biggest of recent hospital acquisitions at the end of 2010 with its purchase of behavioral health company Psychiatric Solutions.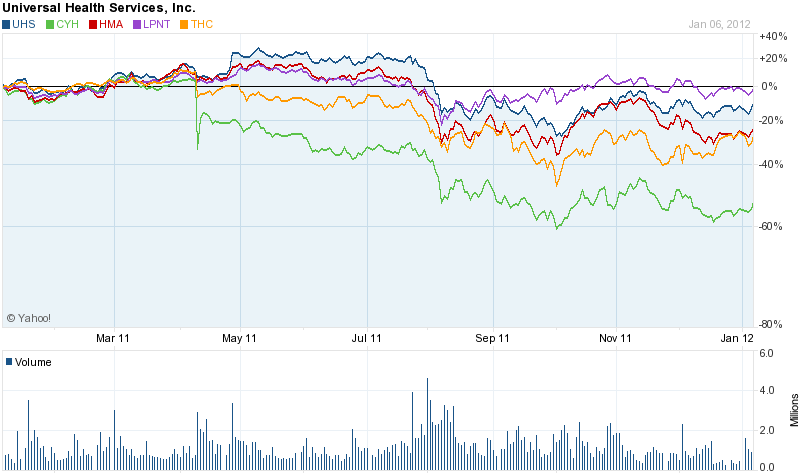 Universal's high concentration in Nevada has been seen by investors as one of the most significant risks since the recession started in 2008. From April of 2008-March of 2009, unemployment in the state nearly doubled from 5.5% to 10.9%. Since March of 2009, while the national unemployment level has dropped marginally, unemployment in Nevada is up to 13%.
One reason for the high unemployment rate is that home construction was a major industry in Nevada with the run up in housing. Much of the buildup in the Nevada market was speculative and has left the region with excess housing inventory. This has put new construction at a standstill. Another reason for the rise in unemployment was the dramatic fall of Las Vegas. Las Vegas was hit by a multitude of challenges in the same time period. The recession simply took going to Vegas off the table for many Americans as it was seen as a highly discretionary activity.
Additionally, with the stock market falling off a cliff in 2008, those people that were still coming to Vegas weren't gambling with nearly the amount of money they were before the recession started. While occupancy rates were plummeting across the strip, new hotels were in the process of being built, making competition for visitors more intense.
Also, over the past decade, a growing number of casinos have been going up across America, with many starting to offer table games. In the middle of a recession, a limited number of people are willing to pay airfare and occupancy to gamble when they can drive to a local casino.
Unemployment rate (click to enlarge image):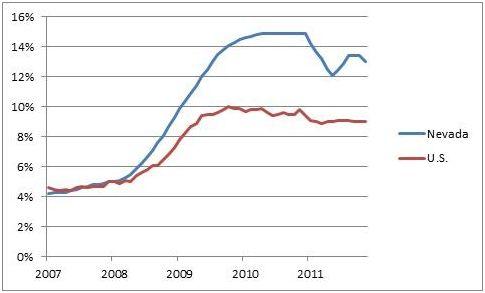 Now, it's clear to see why Nevada has the highest unemployment rate in the country. We think this begins to turnaround in 2012 and become a more prevalent theme in 2013. The housing recession started in 2007 and is on its fifth year. We see that inventories have been drastically reduced, affordability is at a record high and for the first time since data has been recorded, growth in the number of families outpaced home construction in 2011. We think that the signs are present for a housing recovery even though Nevada may lag somewhat due to its higher relative amount of inventory. If the economy continues to improve in 2012, and unemployment continues to decline, we anticipate people heading back out to Las Vegas and spending once again. A recovering economy should help shape a better payer mix and stronger admissions in UHS's facilities in Nevada, which should result in upside to analyst EPS estimates, as well as a higher PE multiple.
The company's acquisition of Psychiatric Solutions in 2010 is what got me to start looking at shares of UHS. The price of the acquisition at the time was fair and the amount of debt the company took on to make the acquisition was reasonable. Additionally, admissions at behavioral health facilities have been stronger than general hospital admissions, a trend which continues today. As important as the fundamentals of the acquired assets are the synergies between the two companies.
Another large deal done in the space was Community Health's (NYSE:CYH) purchase of Triad in 2007. Since the time of the acquisition, a significant portion of CYH's EPS growth has been attributable to synergies between the two companies. While UHS completed its acquisition in 2010, many synergies take at least 24 months to bear fruit as managers take time to see what synergies arise once the two companies have been merged. For the full year 2011, EPS is projected to increase 36% and the company has paid down nearly $250 million of debt associated with the acquisition. EPS is projected to grow more than 10% in 2012 and the company is anticipated to continue paying down merger related debt, which will bring down interest expense over time and be highly accretive.
In conclusion, we see Universal Health as one of the better positioned hospitals to benefit from a rebound in the economy.