Many investors look at dividend stocks as a source of income. While they do pay a stream of cash, this is not the primary reason to invest in dividend paying stocks. Investing in dividend paying stocks is a total returns strategy. In other words, the reason to invest in dividend stocks is because they theoretically have a higher total return than non-dividend paying stocks.
Before we continue, allow me to address a major misconception about dividend investing that is repeatedly presented by the marketing departments of many investment companies. I'm sure you've seen the classic line chart comparing the growth of a price index with the growth of a total returns index. The 'outperformance' of the total returns line, because of the addition of dividends, is impressive.
Unfortunately, this type of comparison is misleading because dividends and price appreciation are the two components that make up any equity investment. If you take a whole (total returns) and strip away a portion of that whole (dividends) the remaining portion (price returns) will always be smaller than the whole. Using the gap between total and price returns to illustrate the benefit of dividends is like pointing to a tree and saying it is taller than it would be if it had no trunk.
The correct way to evaluate the viability of a dividend investing strategy is to compare the total returns of dividend paying companies with the total returns of non-dividend paying companies. This provides a fair comparison to see if holding dividend stocks actually yields higher returns.
Research indicates that investment strategies that buy dividend paying stocks provide higher total returns. So, despite the tendency to equate dividend stocks with the need for cash flow, they may be ideal investments for the investor solely concerned about returns.
For example, as shown in the chart below, investing in dividend paying companies significantly outperformed non-dividend paying companies in 2011: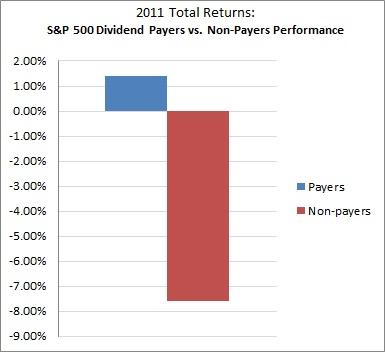 At a high level, dividend paying companies tend to outperform over the long run because they are often cheap, mature, stable and cash flow positive companies. Moreover, when management is bound by a quarterly dividend they tend to think more carefully about how they spend the company's money, thereby avoiding fruitless expansion efforts.
The relative outperformance of dividend payers in 2011 was almost 1000bps. Given 2011 was a particularly temultuous year, the desire for boring investments was understandable. If 2012 is anything like it's predecessor, dividend paying stocks may once again outperform.
With this said, simply throwing darts at a few dividend paying companies could be treacherous. I prefer to invest in a diversified basket of dividend paying stocks through an ETF:
The strategy can even be applied overseas:
WisdomTree Emerging Markets High-Yielding Equity Fund DEM
Middle East Dividend Fund GULF
iShares Dow Jones International Select Dividend Index Fund IDV
Disclosure: I have no positions in any stocks mentioned, and no plans to initiate any positions within the next 72 hours.
Disclaimer: This is not advice. While Plan B Economics makes every effort to provide high quality information, the information is not guaranteed to be accurate and should not be relied on. Investing involves risk and you could lose all your money. Consult a professional advisor before making any investing decisions.