By Kay Fitzpatrick
It looks like it's lights out for Eastman Kodak (EK). The 131-year old company appears to be about to file for Chapter 11 bankruptcy. Once considered a titan of technology that drew engineering talent to its Rochester, NY headquarters, the company has failed to keep up with the disruptive digital technologies of the 21st century and associated new business models. What was once a solid monopoly on photographic film began eroding by foreign competition in the 1980s.
Kodak seems to have followed the same trajectory of other photography giant, Polaroid, which filed for bankruptcy in 2008. Ironically, it was Kodak that invented the first digital camera in 1975 but never really leveraged that technology to be a market leader.
The company began a "digital makeover" in 2004, a late start in the race. This happened the same year that it got bumped from the Dow Jones industrial average. CEO Antonio Perez, who had been head of Hewlett-Packard's (NYSE:HPQ) printer business, took the helm in the 2005. Not surprisingly, Kodak turned its focus at that time to digital printers for consumers and commercial printers. But its products never caught up with industry leaders like HP, and Kodak remained just an also-ran in the middle of the pack.
Kodak has lost money every year but one since 2005. The company has remained steadfast in pinning its hopes on printers, which helped raise revenues by 13% in Q3 2011. Kodak projected that the printer, software and packaging business would at least double by 2013, and would generate about $2 billion in revenue, accounting for 25% of revenues overall.
The past year saw significant reductions in expectations though, with Q3 cash reserves dwindling to $862 million from $957 in June. Cash targets were also lowered from $1.6 – 1.7 billion down to $1.3 – 1.4 billion at year's end. The company's value has slumped 98% from a market value of $30 billion in the 1990s. At the same time, Kodak is saddled with substantial debt burdens, especially millions of dollars owed in pensions and retirement health plans.
On the other hand, Kodak holds valuable digital imaging patents, estimated to be worth up to $3 billion. A few months ago, we predicted that Kodak could monetize its intellectual property. The patents create a scenario where selling off parts of the company could be worth more that the company as a whole. As a last ditch effort to raise revenue in 2011, Kodak turned to mining its past innovations by putting its valuable 1,100 digital imaging patents up for sale. The patent sale fell flat though, most probably because many of the patents have been mired in copyright lawsuits. Over the last several years, Kodak has tried to leverage its intellectual property assets by pursuing patent infringement claims, but has not had much success.
Most recently, Kodak had to fend off a patent lawsuit by Apple (NASDAQ:AAPL). A U.S. International Trade Commission judge ruled against Apple. However, this initial determination could be overturned if the full commission decides to hear the case. In 2010, Kodak had filed suit against Apple and Research in Motion (RIMM) claiming that the two infringed on Kodak's digital imaging patents for mobile devices. The ruling went against Kodak. This ruling is not final either, and the patent case most likely will be continued in 2012.
In September, Kodak hired a law firm well-known for bankruptcy and corporate re-structuring. Three members of the board of directors resigned in December. On January 3rd, Kodak announced that it had received a listing notice from the New York Stock Exchange because the average price of the stock was less than one dollar for 30 consecutive trading days.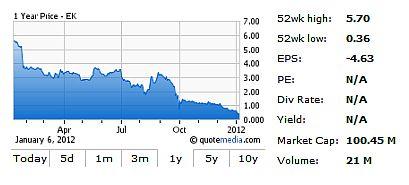 When the Wall Street Journal reported on Wednesday January 4 that Kodak appears ready to file for Chapter 11, the company's stock slid 28% to 47 cents.
The question now is whether Kodak will file or will it be a takeover target for its valuable patents. If the patents are indeed worth $3 billion, then stock shares could be valued at $10 or more. Wall St. pundits speculate that Kodak's patents make it an attractive buy for many high tech companies, including Google (NASDAQ:GOOG), Samsung (OTC:SSNLF), and Microsoft (NASDAQ:MSFT), since Kodak holds many patents related to capturing and transporting images essential for mobile devices.
Kodak is still counting on those patents to bring in revenues. In its Q4, the company forecast that licensing agreements would bring in as much as $1.4 billion in cash for 2011. Its printer business is ranked as #5 worldwide with an abysmal market share estimated to be about 2.6%. As the company heads toward cliff's edge, it's doubtful that the printer business is of any real value to continue supporting or to any prospective buyers. It appears that patents are really Kodak's only real assets.
The company plans to announce its Q4 earnings on January 26, 2012. Meanwhile, shareholders can only wonder if the stock will continue in a downward spiral along with the business or if a possible acquisition could bump up the stock which is now less than 10% of its 52-week high.
Disclosure: I have no positions in any stocks mentioned, and no plans to initiate any positions within the next 72 hours.