Verizon has been on a roll since August, posting a strong rally, especially for a company with that size. However, it seems like the stock is properly valued and purchasing it now may not be the best idea for someone looking for share appreciation.
Valuation: Verizon's 5-year trailing valuation metrics suggest that the stock is fairly to slight undervalued. Verizon's current P/B ratio is 1.3 and it has averaged 1.5 over the past 5 years with a low of 0.9 and a high of 2.6. Verizon's current P/S ratio is 1.0 and it has averaged 1.0 over the past 5 years, with a low of 0.7 and a high of 1.4. I forecast the $3.6 billion deal with Spectrum Co for additional spectrum licenses to be accreditive to earnings in two years. However, in the next quarters, costs associated to the deal could dampen earnings.
Price Target: The consensus price target for the analysts who follow Verizon is $40. That is upside of just 2% from Verizon's current stock price. That is very limited upside and suggests that the stock is fairly valued.
Forward Valuation: Analysts project Verizon to earn $2.55 per share in 2012. The stock's current price is $39.19 which leads to a forward multiple of 15.4. Revenues are projected to grow 4.1% next year. The multiple seems a bit high for a company that will grow at around the GDP levels. The closest comps are Sprint (NYSE:S) and AT&T (NYSE:T). Sprint is not profitable so the P/E comparison is useless. AT&T is trading at a forward P/E multiple of 12.4. Revenues are projected to grow 1.3% for AT&T. The forward P/E valuation suggests that Verizon is slightly overvalued.
EV/EBITDA: Since Sprint is not profitable, a better comparable valuation metric may be EV/EBITDA as it takes out the effect of interest and depreciation expenses on earnings. Verizon is trading for 3.8 times trailing twelve month EBITDA. Sprint is trading for 3.8 times trailing twelve month EBITDA. AT&T is trading for 6.2 times trailing twelve month EBITDA. EV/EBITDA suggests that Verizon is trading at a cheap multiple as it is trading at a multiple that a Sprint, which has struggled for a while, is trading at. And Verizon's multiple is way short of the multiple that the other profitable large telecom is trading at.
Free Cash Flow: Verizon has been busy repaying its debts and paying a dividend to shareholders with its free cash flow. Verizon has paid out $5 billion in dividends each of the past three fully reported fiscal years and repaid a total of $18 billion of debt in 2009 and 2010.
Verizon has a strong history of paying dividends. It has paid a dividend since 1984 and it has increased by 150% over 28 years to a quarterly payout of 50 cents per share. The stock is currently yielding 5.0%.
Earnings Estimates: Verizon beat earnings estimates by a slim margin over the past 3 quarters. It did miss earnings estimates for December 2010's results.
Click to enlarge: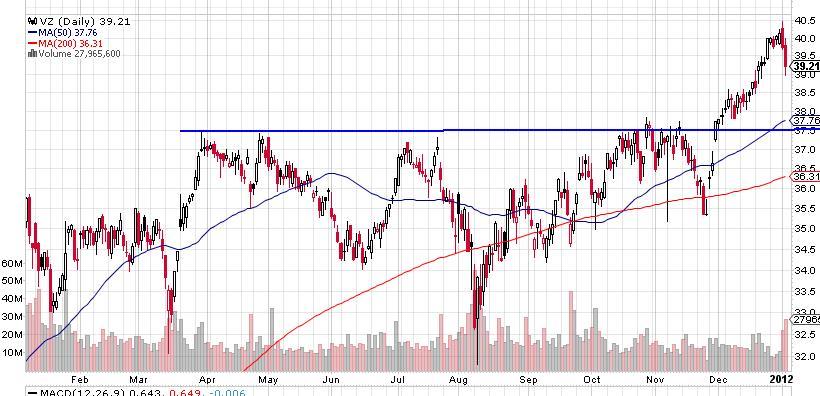 Click to enlarge
Price Action: Verizon's stock has been strong, rallying 25% from summer lows of $32 to December highs of over $40 a share. It seems to be extended right now as it has had another strong rally since late December, which tacked on 20% to the stock. There does seem to be support in the $37 range, so waiting for that may be beneficial if you want to enter the stock.
Conclusion: Similar to AT&T, Verizon makes sense for an income investor who is really counting on the 5% dividend. Other than that, there seems to be little upside here in light of slow growth, Verizon's size, and most of the valuation metrics, are not suggesting a significant opportunity.
Disclosure: I have no positions in any stocks mentioned, and no plans to initiate any positions within the next 72 hours.