Dendreon Corp. (NASDAQ:DNDN) announced last Thursday Q4 revenues and an update on commercialization. And what an update it was! In what turned out to be a great new year's gift for DNDN shareholders, the stock is up a massive 62.5% in the last two trading days since the update was announced. A quick look at an intra-day chart makes clear the massive buying that is catapulting shares higher.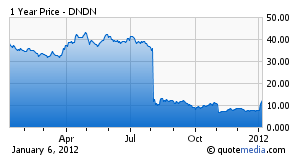 The buying has been driven by the company reporting strong sequential and year-over-year growth to $82 million in revenue in Q4, bolstered also by an improvement in the reimbursement landscape that saw average time to payment drop to less than 30 days and minimal to no out-of-pocket costs to patients for PROVENGE. The reimbursement was a major concern that in combination with the "cost density" of PROVENGE, due to its high $93,000 treatment over three treatments over the course of a month, was often cited by bears as an argument that would impact sales due to doctor resistance in stocking the drug.
The company's update last week addresses the reimbursement issue, and will also raise the projected revenue trajectory for PROVENGE to above the $381.4 million currently projected by analysts for FY 2012. However, the trajectory will still be significantly lower than what was projected before the debacle in August and November of last year. We believe that DNDN shares have appropriately reacted to the positive news. As we noted in our review of DNDN earlier, the stock prior to Thursday's news was bouncing around at the lows, forming a technical bottom, and a disappointment was a risky short due to the risk of an upside surprise.
Earlier, we also noted that both insiders and institutions have been accumulating DNDN shares since last August. Furthermore, an astounding 31.3 million, or 21.4%, of outstanding shares of the stock were short at the time of the last report, leading to the possibility that last week's sharp rally was heavily influenced by short covering as nervous shorts covered their positions in a hurry. Also, the concerns over competitive and margin issues with respect to PROVENGE have not abated with the announcement last week.
While PROVENGE is a breakthrough drug that has significantly altered the landscape for many prostate cancer patients, and perhaps even more importantly blazed the way for hormonal therapy for cancer, its commercial success as a multi-billion dollar drug still remains under question due to competitive issues. Competing treatments for prostate cancer, such as the successful phase 3 results announced in early November from Medivation Inc.'s (NASDAQ:MDVN) experimental prostate cancer drug MDV3100, are narrowing the window that DNDN has to attain commercial success.
Besides MDVN, Johnson & Johnson's (NYSE:JNJ) Zytiga was approved by the FDA in April for castration-resistant prostate cancer, and there are also others in development. These include Exelixis Inc.'s (NASDAQ:EXEL) cabozantinib and Oncogenex Pharma's (NASDAQ:OGXI) custirsen sodium or OGX-011 that it is developing in collaboration with Teva Pharmaceuticals (NYSE:TEVA).
OGX-011 works by inhibiting the production of clusterin, a protein that is associated with treatment resistance in a number of solid tumors, including prostate, breast, non-small cell lung, ovarian and bladder cancers, and the drug is currently in phase 3 trials. EXEL's cabozantinib is also in phase 3 trials, and works as a potent dual inhibitor of the MET and VEGF pathways designed to block MET driven tumor escape, and thereby prevent and shrink bone metastases. Also, as we noted in an earlier article, DNDN's 10% gross margins are an outstanding issue, and it remains to be seen what margins the company made on the strong Q4 sales when the company reports its quarter results next month.
Analysts are almost equally divided on DNDN, as of the 26 analysts that cover the company; eight rate it at buy/strong buy, thirteen at hold, and the remaining five at underperform/sell; and they have a price target of $11 on the stock. Also, in our review of the investing activities of legendary or guru fund managers and the world's largest or mega fund managers in the latest reported Q3, we found that both fund manager groups were bearish on DNDN in Q3. However, it is important to note that the fund manager activities in Q3 are a lagging indicator as the landscape for DNDN has changed considerably since then, especially with the announcement last week.
We believe that DNDN shares are over-done on the upside in the interim, and are likely to consolidate here as they approach recent highs near $14, as investors take a wait-and-see attitude to what Q4 earnings come out to be, and their projections for the next year going forward. However, the risk-to-reward argument has definitely shifted in favor of the bulls with last week's announcement and we would be buyers on any dip below $10.
Credit: Fundamental data in this article were based on SEC filings, I-Metrix® by Edgar Online®, Zacks Investment Research, Thomson Reuters and Briefing.com. The information and data is believed to be accurate, but no guarantees or representations are made.
Disclosure: I have no positions in any stocks mentioned, and no plans to initiate any positions within the next 72 hours.
Disclaimer: Material presented here is for informational purposes only. Nothing in this article should be taken as a solicitation to purchase or sell securities. Before buying or selling any stock you should do your own research and reach your own conclusion. Further, these are our 'opinions' and we may be wrong. We may have positions in securities mentioned in this article. You should take this into consideration before acting on any advice given in this article. If this makes you uncomfortable, then do not listen to our thoughts and opinions. The contents of this article do not take into consideration your individual investment objectives so consult with your own financial adviser before making an investment decision. Investing includes certain risks including loss of principal.