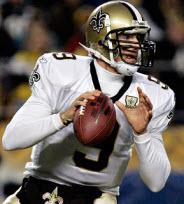 The New Orleans Saints formerly known as the "Aints" have gone from being zeros to heroes. A majority of the stocks discussed in this article were big losers in 2011, nevertheless, are at the top of the leaderboard regarding 2012 performance. These stocks are the top seven performing S&P 500 large cap or better stocks trading under twenty dollars for 2012. The stocks are: SunTrust Banks, Inc. (NYSE:STI), Bank of America Corporation (NYSE:BAC), Ford Motor Company (NYSE:F), Charles Schwab Corporation (NYSE:SCHW), Fifth Third Bancorp (NASDAQ:FITB), Morgan Stanley (NYSE:MS) and Dell Inc. (NASDAQ:DELL). Have these stocks gone from being zeros to heroes? Don't take my word for it. Read the article, do your own due diligence and decide for yourself.
Most of the stocks on the list were significant underperformers in 2012 with the exception of Dell which was up 7.57% for 2011 and is up 4.85% for 2012. Topping this list are SunTrust with an 11.58% gain since the start of the year and Bank of America at 11.15%, both banks were down significantly in 2011 at 30.63% and 56.99%, respectively. The others were down in 2011 significantly as well and are up from 5 to 9% for 2012 already. This may be due to a phenomenon known as the January effect. The most common theory explaining this phenomenon is that individual investors, who are income tax-sensitive, sell stocks for tax reasons at year end (such as to claim a capital loss) and reinvest after the first of the year. Another cause is the payment of year-end bonuses in January. Some of this bonus money is used to purchase stocks, driving up prices.
Five of the stocks are banking related, the worst performing sector for 2011. It seems some big money is betting there will be a turnaround for the banks in 2012. Bespoke Investment Group sees banks as the surprise sector next year. Siting historical data comparing the performance of the 2000 tech sector to the current financial sector, Bespoke sees a correlation in the numbers and feels the banks could be poised for a significant run in 2012. U.S. banks have improving fundamentals and EPS growth projections. U.S. bank earnings are up 40% this year and EPS growth rates are expected to come in at 20% next year. U.S. banks are trading at low price to earnings multiples even with taking into account lower earnings expectations and are trading at approximately five multiples below normal.
I posit the stocks covered are buying opportunities. These stocks have major upside potential based on great stories and fundamentals. Once the geopolitical and macroeconomic issues of the eurozone, U.S. and the world fade from the forefront of investors' minds, and a renewed focus on fundamentals and company specific catalysts emerges, I expect these stocks to provide significant capital gains.
Please review the following macro-economic positive highlights followed by company specific catalysts and charts detailing current summary, performance and fundamental information regarding these buying opportunities.
2012 Macro-Economic Positive Highlights
2012 began on a strong note by recording its preeminent single-session percentage gain in weeks, closing at a two-month high on the first day of trading. There were a multitude of positives spurring the advance. Please review the following highlights of macro-economic positive indicators.
The manufacturing reading from China advocated activity expanded after contracting the prior month.
India reported its best manufacturing reading in six months.
Manufacturing data from Europe was comparatively inspiring.
Recent manufacturing activity in the United Kingdom was better than expected.
Eurozone manufacturing activity was somewhat in-line with outlooks.
Progress by the euro proved positive for stocks.
The December ISM Manufacturing Index improved to 53.9 from 52.7 in November, exceeding expectations of 53.4.
November construction spending increased by 1.2%, besting analyst estimates of 0.5%.
The FOMC meeting minutes specified that domestic economic activity grew temperately, notwithstanding seeming deceleration in growth of overseas economies and continuing monetary complications in the eurozone. The FOMC largely remains sure that the speed of economic activity will increase in the coming years. Nevertheless, many members specified present and future circumstances may well merit further policy accommodation.
Company-Specific Catalysts and Statistics
Summary Statistics

Performance Statistics

Fundamental Statistics

Charts provided by Finviz.com
SunTrust Mortgage, Inc. ranked second highest overall in customer satisfaction according to the 2011 J.D. Power and Associates U.S. Primary Mortgage Origination Satisfaction Study (SM). The study evaluated the nation's top primary mortgage lenders on their origination process for mortgage origination. Customers rated lenders on four key factors: application/approval process; loan representative; closing; and contact.
Jerome Lienhard, President and CEO, SunTrust Mortgage, Inc. said:
We are especially proud of this distinction from J.D. Power and Associates. Our focus has always been on building positive relationships and offering superior service to help our clients responsibly realize their dreams of home ownership. We are honored to know our clients believe we are meeting and exceeding their expectations.
Chart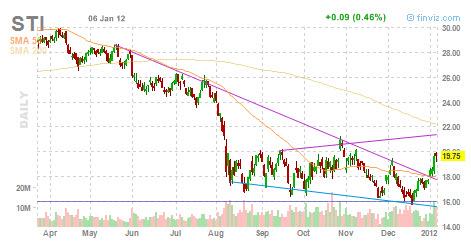 Bank of America Merchant Services, a leader in payments processing, and Money Network®, a First Data Company and premier provider of electronic payroll distribution solutions, recently announced the launch of the Money Network® Payroll Distribution Service sponsored by Bank of America. The program enables employers to comply with complex payroll distribution laws, such as the need to offer a paper paycheck and free check cashing locations, while providing a safe and convenient pay alternative for employees who do not have access to a deposit or checking account.
Tom Bell, chief executive officer, Bank of America Merchant Services said:
Employee acceptance and enthusiasm are necessary before employers can realize the benefits of a completely electronic payroll distribution. The Bank of America-branded Money Network® Paycard and the Money Network™ Check enable employers to introduce a payroll distribution program with immediate appeal and recognition for all of their employees.
Chart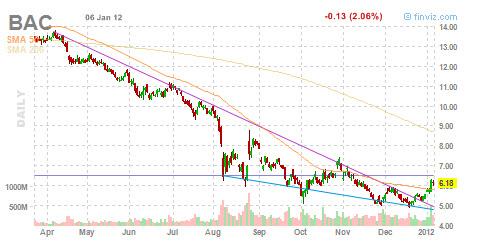 Ford brand 2011 U.S. sales increased 17 percent, totaling 2,062,915 vehicles, sealing the brand's first three-point market share gain over three consecutive years since 1970. Total Ford Motor Company sales for the year increased to 2,148,806 vehicles, up 11 percent for the year.
Ken Czubay, Ford vice president, U.S. Marketing, Sales and Service said:
The year finished on a high note, with industry sales momentum strengthening as the year came to a close. We saw Ford sales strengthen as well, posting our best December retail sales month since 2005 and closing the year as America's best-selling brand.
Chart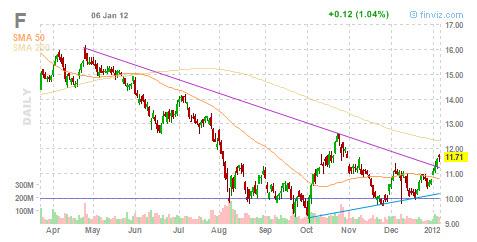 Expanding its suite of integrated banking and brokerage mobile services for investors, Charles Schwab recently announced that a new Schwab app for the iPad is now available for download. iPad users will now be able to transfer funds between Schwab Bank and brokerage accounts, manage their trades and keep up with market information with automatically updating quotes and the latest financial news through their Schwab app.
Diane Russell, Charles Schwab senior vice president of platform services said:
Our approach to mobile is to benefit as many of our clients as possible in a way that's complementary to how our clients already engage with us, whether that's by phone, online or in person.
Chart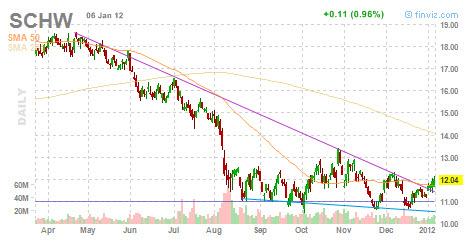 Fifth Third Bank recently announced the launch of new mobile banking capabilities including the availability of a banking app for Apple, and app launchers for Android and BlackBerry smartphones. Additionally, Fifth Third has introduced text banking, giving customers access to account information and the ability to initiate transfers by sending a text message to the Bank.
Larry McClanahan, vice president and director of Digital Delivery for Fifth Third Bank said:
We understand the importance of providing our customers with options when it comes to accessing and servicing their accounts. More and more, we see customers opting toward alternative service channels such as mobile when it comes to interacting with the Bank and managing their finances. We are pleased to enhance our mobile banking functionality and provide this added convenience to customers.
Chart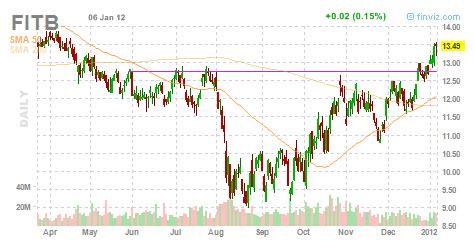 Morgan Stanley recently announces a comprehensive settlement with MBIA that better positions the Firm for Basel III by resolving outstanding legacy exposures and releases capital to reinvest in our client-focused businesses.
James P. Gorman, President and Chief Executive Officer, said:
It's critical that we reposition for the new regulatory environment and do so quickly. A top priority for 2011 was to address this large outstanding legacy exposure and this settlement is consistent with our efforts to build capital and de-risk the balance sheet. Putting this behind us removes earnings volatility and meaningfully improves our pro forma Tier 1 Common ratio under Basel III.
Chart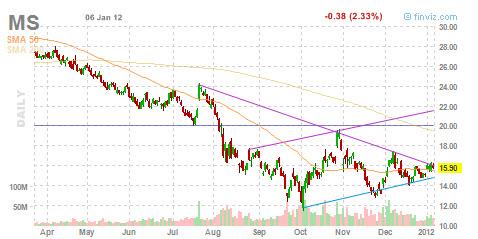 Dell recently announced that it will move all of its customer business segments (Public, Large Enterprise, Small Medium Business and Consumer) under Steve Felice, who has been named President and Chief Commercial Officer. Paul Bell, president Public & Large Enterprise, recently announced his intention to retire from Dell, effective March 30, 2012. With Mr. Bell's departure, Dell is accelerating the evolution of its go-to-market organization, further simplifying the company's customer-facing activities.
Michael Dell, chairman and chief executive officer said:
These changes will enhance our sales and marketing efforts, bringing us even closer to our customers and increasing the speed, agility and responsiveness of every aspect of our business. Steve has been a trusted colleague for more than 12 years and shares my passion to serve our customers. Under his leadership of Dell's sales and marketing organization, I am excited about the many opportunities ahead of us.
Chart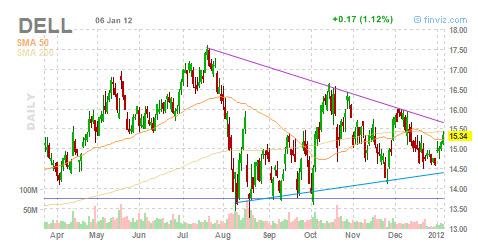 Conclusion
The constant negative headlines out of the eurozone have ground most of these fundamentally sound U.S. stocks down significantly and most are trading at vastly less than their tangible book values. Ironically, U.S. economic indicators are actually fairly good right now and many of these stocks have significant projected EPS rates for 2012. I have been around long enough to know macro headline risk provides great opportunities to buy sound companies at discount prices. Market sentiment can and will turn on a dime, what's more, it seems it has.
As we all know, in life, timing is everything, and the time is now to buy the following stocks. This could be your last chance to pick up these stocks at this level once the world realizes that things aren't as bad as they seem. Nonetheless, this is only the first step in finding winners for your portfolio. Use this information as a starting point for your own due diligence and research methods before determining whether or not to buy or sell a security.
Disclosure: I have no positions in any stocks mentioned, but may initiate a long position in F, BAC, MS, DELL, STI, SCHW, FITB over the next 72 hours.