A Dividend Aristocrat is a company within the S&P 500 that has followed a policy of increasing dividends every year for at least 25 consecutive years. Aristocrats must also have a market capitalization of at least $3 billion and an average daily trading volume of at least $5 million for the first six months prior to the rebalancing date.
Not all members have huge dividends. In fact, most of the higher yielding equities are not aristocrats, though some are. Currently, though there are now 51 Dividend Aristocrats, only six of them offer a yield of at least four percent: Consolidated Edison (NYSE:ED), HCP (NYSE:HCP), Leggett & Platt (NYSE:LEG), Cincinnati Financial (NASDAQ:CINF), AT&T (NYSE:T) and Pitney Bowes (NYSE:PBI).
Below, I have listed the recent performance review for these six highest yielding Dividend Aristocrats, offering yields between 4 and 7.8 percent. Each of these equities has appreciated between forty and sixty-seven percent. In addition to their present dividend yields, I have also provided their 3-month and 1-year performance rates, and how much each equity appreciated from their 52-week low.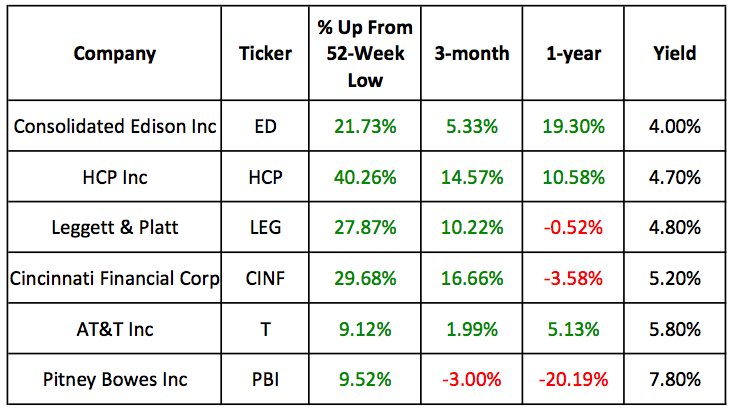 These companies have all appreciated between nine and forty-one percent from their 52-week lows. The only one that was down compared to three months ago is PBI, which is also the highest yielding Dividend Aristocrat.
S&P has also created a Dividend Aristocrats ETF (NYSEARCA:SDY), which now has a yield of 3.2 percent. Below is a chart of its recent market performance: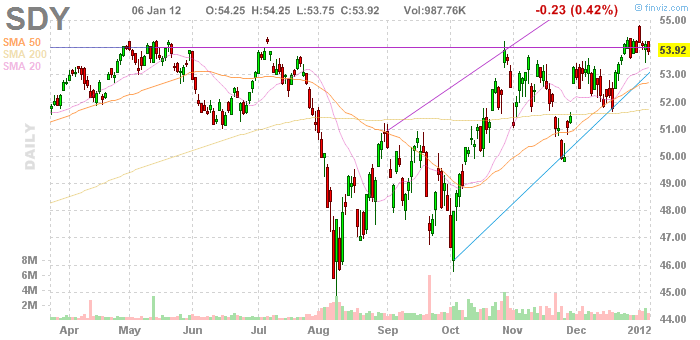 The Dividend Aristocrats do not all yield above the S&P average or the broader market, as one can become an aristocrat by maintaining and regularly increasing a below-average dividend. Many investors still prefer those lower dividends due to management's maintenance and consistent growth of them.