A Dividend Aristocrat is a company within the S&P 500 that has followed a policy of increasing dividends every year for at least 25 consecutive years. Aristocrats must also have a market capitalization of at least $3 billion and an average daily trading volume of at least $5 million for the first six months prior to the rebalancing date.
Not all members have huge dividends, but they do have long-term records of consistently growing them. The S&P Dividend Aristocrat Index went through its annual rebalancing on December 16, 2011. There are now 51 Dividend Aristocrats, or just over 10 percent of S&P stocks are Aristocrats. There were 42 Aristocrats last year and 41 of them are still in the index. Several of these Aristocrats are performing exceedingly well, as investors seek out stable businesses and dividends.
Below, I have listed the seven Dividend Aristocrats that are up the most from their 52-week lows: HCP Inc (NYSE:HCP), Cintas Corp (NASDAQ:CTAS), AFLAC Inc (NYSE:AFL), Lowe's Cos Inc (NYSE:LOW), Stanley Black & Decker (NYSE:SWK), Grainger, W.W. Inc (NYSE:GWW) and VF Corp (NYSE:VFC). Each of these equities has appreciated between forty and sixty-seven percent. I have also provided the present yield, P/E and how far each has fallen from their 52-week high.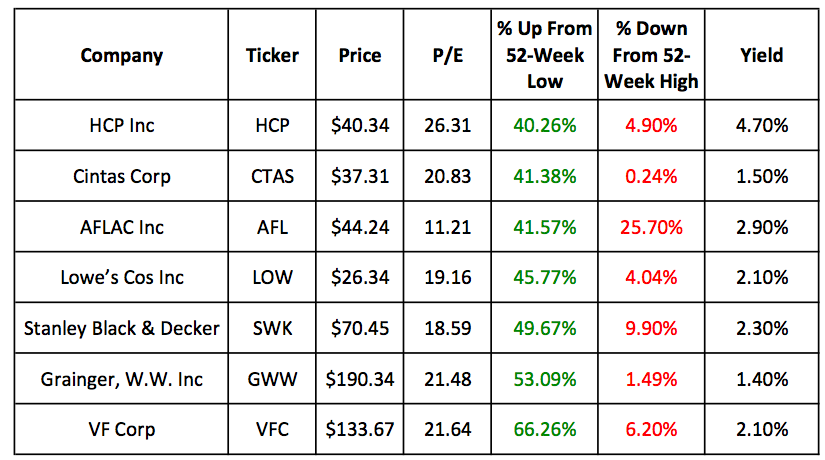 Click to enlarge
These companies have all appreciated substantially from their recent lows, and most are also within striking distance of their highs. Four of the seven are less than five percent down from their 52-week highs. Of the seven, AFL is furthest from its recent high, down 25.7 percent, though it is up 41.57 percent from its recent bottom.
AFL is also the only listed equity to be down over the last three months, while the others are up significantly. In the same three months, CTAS is up 33.61 percent, GWW is up 43.53 percent and VFC is up 62.78 percent.
The Dividend Aristocrats do not all yield above the S&P average or the broader market, as one can become an aristocrat by maintaining and regularly increasing a below-average dividend. Many investors still prefer those lower dividends due to management's maintenance and consistent growth of them.
Disclosure: I have no positions in any stocks mentioned, and no plans to initiate any positions within the next 72 hours.

Disclaimer: This article is intended to be informative and should not be construed as personalized advice as it does not take into account your specific situation or objectives.