Citigroup, Inc. (C) is a global financial services company that provides consumers, corporations, governments and institutions with a range of financial products and services. The company operates through two segments, Citicorp and Citi Holdings. The Citicorp segment operates as a global bank for businesses and consumers with two primary businesses, Regional Consumer Banking and Institutional Clients Group. The Regional Consumer Banking business provides traditional banking services, including retail banking, and branded cards in North America, Asia, Latin America, Europe, the Middle East, and Africa.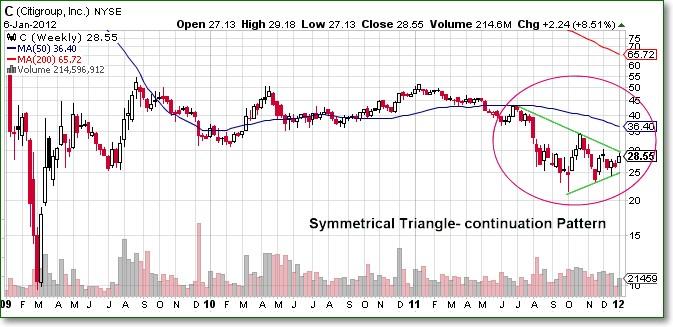 Since January of 2011, Citigroup has lost almost 50% of its value. Presently, from a charter's perspective, if we look at a long-term weekly chart, Citigroup is consolidating in a symmetrical triangular pattern. This is a very common and reliable continuation pattern. From the looks of it, Citigroup should continue its bearish trend for the near future. For this reason, we would not recommend it as a financial stock to consider as a long-term investment right now.
There are other financial stocks out there that look like a better investment at this time. US Bancorp (USB) is one: It is healthy and in a nice bullish trend. Even larger companies like JP Morgan Chase (JPM) and Bank of America (BAC) look like they have built better foundations and have more potential for a turnaround this year. With that being said, Citi still offers opportunity to make money with a neutral options play for those who are interested in investing short term with options.
Earnings: 1-17-2012

Consensus Estimates: $0.71

Earnings Whisper: n/a

Revenue Growth: December 2011- 2.40% March 2012- 2.20%

Analysts Recommendations: Buy

Median Target: $44.00
Using Options to make Money with Citigroup
Since Citi is consolidating presently, it is basically in a neutral pattern. As it consolidates and continues to trade in a tighter range, this may be a perfect opportunity to look for a neutral trade pattern that has the ability to capitalize on a move (especially since earnings is coming up soon). Citi may have a long-term downtrend, but since we are trading short tem options and using earnings as a springboard, we would suggest trading directionally as the markets are moving.
Since the markets are bullish in flavor presently, we would consider a short term bullish play with limited risk. One good strategy that has these traits is a Bull Call Spread. If you are new to these types of plays, a Bull Call Spread is a vertical spread strategy that creates a debit with limited risk and potentially great returns. If we were to make a play on Citigroup, we would suggest buying a call just out of the money and selling the next call out. As an example, Citigroup is presently trading around $28.55. If the play were to be executed today, we would buy a January 29 call (presently selling for $.90) and sell the 30 call (presently selling for $.52).
Net Debit: $.40

Profit Potential: $1.45 (on a mere 1.45 move)

Realized Profit: $1.05
This is one example of anticipating a move by Citigroup if it continues moving in the same direction as the markets through earnings. For those who would like to consider a neutral trade, Kevin O'Brien also has a nice one out there for Citigroup. He suggests a reverse iron condor. You can read more about his trade here. Citigroup offers opportunity to the investor looking to make money, just by focusing on options strategies for the short term.