The Dogs of the Dow theory presumes that investing in the 10 Dow Industrial components that enter a calendar year with the highest yields is a prudent investing strategy. The strategy presumes the lagging dogs might provide capital appreciation as well as an above-average income stream, and that the investments will be made in large, relatively stable businesses.
Dog theorists note that the components will all be relatively strong businesses and liquid equities. In 2011, the Dogs of the Dow outperformed the broader market as defined by the DJIA and S&P 500. The 2011 Dogs combined to appreciate 12.08 percent, above a 5.37% appreciation by the Dow 30 and a -0.20% loss for the S&P 500. Moreover, the 2011 dogs provided an average yield of 3.87 percent, which was well above either index.
Nonetheless, like the broader market, many of the 2012 Dogs have recently performed exceedingly well during the last few months. See the one-month and three-month performance rates, below:
| | | |
| --- | --- | --- |
| COMPANY | 1-Month | 3-Month |
| AT&T (NYSE:T) | 0.95% | 4.36% |
| Dupont (NYSE:DD) | -4.24% | 9.88% |
| General Electric (NYSE:GE) | 11.41% | 20.32% |
| Intel (NASDAQ:INTC) | -1.60% | 13.27% |
| Johnson & Johnson (NYSE:JNJ) | 0.59% | 2.69% |
| Kraft (KFT) | 3.29% | 7.75% |
| Merck (NYSE:MRK) | 8.02% | 21.69% |
| Pfizer (NYSE:PFE) | 5.37% | 14.98% |
| Procter & Gamble (NYSE:PG) | 1.73% | 3.83% |
| Verizon (NYSE:VZ) | 0.05% | 6.00% |
| AVG: | 2.56% | 10.48% |
Like many other equities within the broader market, several of these Dogs are near their 52-week highs. Five of them are down less than 2.1 percent from their 52-week highs, and the whole group is down 5.89 percent. This compares to an average price increase of 22.94 percent from their 52-week lows, most of which were reached during the second half of 2011. See the performance chart, below: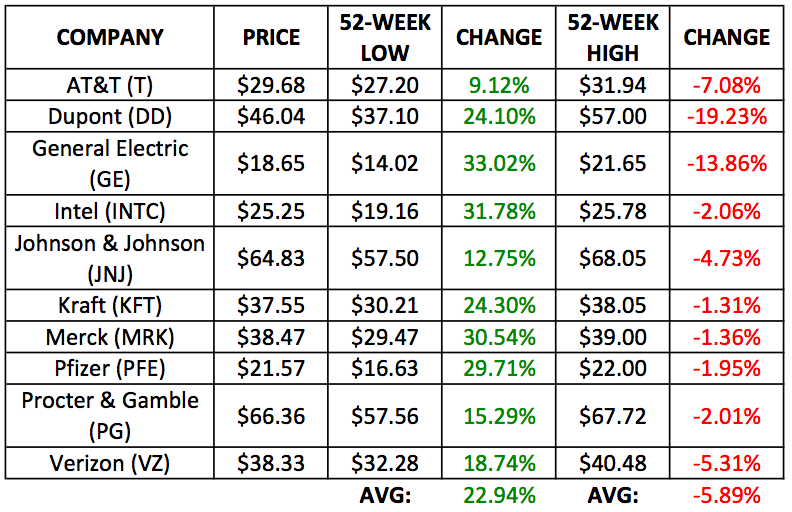 With so many companies at or re-approaching 52-week highs, it appears the market is likely due for a short-term correction. Additionally, many dividend paying equities were purchased in 2011 and investors may now be cycling elsewhere. If that does not occur, alternatively, several of these companies may begin a breakout from what has been a 2-year or longer trading range for many.
Other than GE and DD, most of the other equities are down less than 10% from their highs. INTC, KFT, MRK and PFE have all appreciated about thirty percent from their recent lows, and are now all about one or two percent off their highs. Those four, PG and possibly JNJ and VZ are capable of making new 52-week highs this coming week and through this earnings season, if it is positive and momentum continues upwards.
Dupont was the worst performing 2011 Dog, while GE was just added. General Electric is also the 2012 Dog that is up the most from its 52-week low. GE's above-average volatility is linked to GE's financial exposure.


Disclosure: I am long INTC, KFT, GE. This article is intended to be informative and should not be construed as personalized advice as it does not take into account your specific situation or objectives.