Shipping is a sector that took one of the largest beatings since the 2008 credit crisis, and also one of those that never recovered from the beating. Hopes have been high and many clutched to the low forward multiples to justify holding onto deeply troubled positions.
But the recovery never came. The long lead times on ship production have meant that even though shipping rates never recovered much, the market kept getting flooded with new capacity.
Click images to enlarge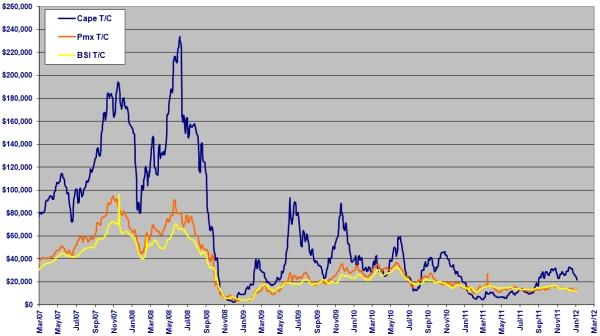 Even in 2011, in the face of shipping rates far from their previous highs and means, as seen in the chart above, this is what happened (source: Intermodal):
In the first eleven months of 2011, 1,050 bulkers of a cumulative 88.5mdwt have entered service, according to data compiled by Clarksons.

"This is the first time that more than 1,000 dry bulk vessels have been delivered in a single year, and already in the year to the end of November, deliveries are 8.5m dwt higher than in the full year 2010," said analyst Jonathan Key.

He adds that deliveries for the full year are projected to reach 95.5mdwt, which would represent a year-on-year increase of 19.4% compared to 2010, the previous largest delivery year.
So what can be expected, in light of these facts? What is to be expected is what happens under similar cyclical situations: capacity growth will plunge, and many existing capacity providers will go bankrupt. From a list of shipping companies, including DryShips (NASDAQ:DRYS), Diana Shipping (NYSE:DSX), Eagle Bulk Shipping (NASDAQ:EGLE), Excel Maritime Carriers (NYSE:EXM), Genco Shipping (NYSE:GNK), Navios Maritime Holdings (NYSE:NM) and Paragon Shipping (PRGN), you can safely expect a few to go bankrupt (which, by the way, might lead to trading opportunities).
Once these bankruptcies start happening, and capacity investment plunges, then the sector might see a sustainable cyclical recovery.
Right now, however …
Short term, however, the news is bad and getting worse. This is how the Baltic Dry Index looks in the last few months (source: Bloomberg):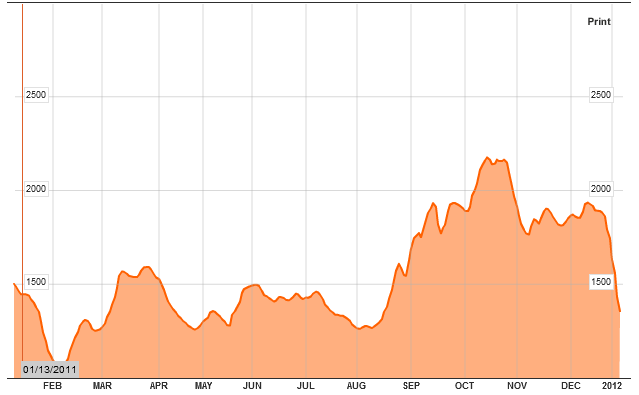 This is another serious plunge, which might well extend until the Chinese New Year (January 23rd).
This plunge also illustrates the present danger that China might be slowing down, due to the popping of its real estate bubble and maybe even its investment bubble in general. This is actually the largest danger the stock market might face during 2012.
Also, the timing of this plunge is coincidental with me expecting short term market weakness based on two other factors (excessive optimism and unfavorable seasonality).
What to do, then?
Given what I stated previously, one should expect short term downward pressure in the sector (along with the market in general), and if one likes to buy cyclical companies, it might be possible to start looking in the shipping sector, knowing that several of those companies will go bankrupt. This means two things:
Care should be taken to only buy companies that can withstand the present downturn;
It's probably safer to buy a basket of those (stronger) companies;
Finally, the best timing probably happens during the weakness provoked by the bankruptcy announcement of several competitors (it's usual for bearish speculation to hit every company in the sector, then).
Conclusion
The shipping sector is under incredible pressure from new capacity coming into an already oversupplied market. It's to be expected that several companies in the sector will go bankrupt. When such happens, a cyclical bottom will probably form. The best timing to buy cyclical companies is when capacity is being withdrawn and not invested in, and companies are going bankrupt. However, care must be taken to choose those companies that can survive, and buy a basket in case one is wrong about any single one of those companies.
The perfect timing to buy has not been reached yet and there is reason to expect further short term downward pressure, both from market-related factors as well as from the BDI recent plunge. The perfect timing will happen when some bankruptcies are announced in the sector.
Disclosure: I have no positions in any stocks mentioned, and no plans to initiate any positions within the next 72 hours.