Time and again, we hear investors and pundits obsess with value stocks. Fortune, in selecting its 10 best stocks for 2012, openly admits that it looks only for value stocks with low price-to-earnings ratios. We think this is a poor way to look for stocks. While it is important to not overpay for a stock, "cheap" and "expensive" are very simplistic ways to look at stocks, and investors need to dig far deeper into companies to see if they present actual value.
To illustrate our point, we will use a department store as an example. If you go to the best merchandise in the store, you will find that it is usually never on sale. And why would any department store put cashmere on sale? If you can find that same piece of cashmere that you saw earlier for 25% off, by all means buy it. It is still the same piece of clothing, only 25% cheaper. Then you wander over to the clearance bin. The department store has a policy that everything in the bin is 75% off. There, you see piles of poorly made clothes that the department store is desperate to sell. They have to slash the prices in order to convince anyone to buy them.
But you are a smart, sophisticated shopper. You know that the reason these clothes are so cheap is because no one wants them. Why would you waste your money on such shoddy merchandise? It is true that the clearance bin has had periods where there are great pieces of clothing in it, such as late 2008 and early 2009. And when you wandered over to it in March 2009, you loved the quality of the merchandise that was on sale. But unless some sales associate gets drunk on the job and puts all the cashmere in the clearance bin, there is rarely anything worthwhile to find there.
While this analogy is simple, we think it illustrates our point quite well. Stocks with low P/E ratios are usually cheap for a reason. If a company has a low P/E ratio, that usually means that it is growing slower than companies with high P/E ratios, or that management has less credibility with investors.
While it is true that there are stocks that do not deserve to trade at low P/E ratios, those are few and far between. An example we would like to use is Chipotle (CMG) and Microsoft (MSFT). Many of the articles on Seeking Alpha about Chipotle have focused on its high price-to-earnings ratio, almost from the very start of its life as a public company. There is no debating it. Chipotle has, almost always, traded at a premium to other restaurants and the broader markets.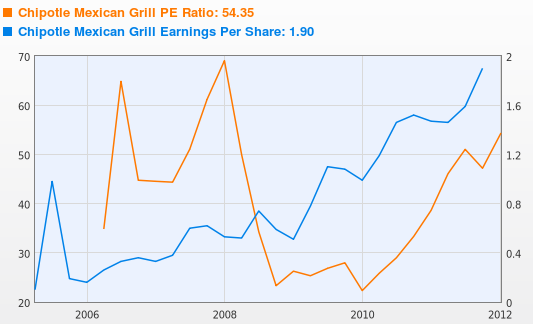 With the exception of the depths of the financial crisis, a period where earnings did not actually fall, Chipotle has always been richly valued. Chipotle bears have spent years pounding the table, arguing that the stock is too expensive to own, that the valuation is not sustainable. On the flip side, Microsoft bulls have spent years arguing that the stock is too cheap to ignore. It was cheap at a P/E ratio of 20, at a P/E ratio of 15, and the arguments have only gotten louder as Microsoft's P/E ratio dropped below 10.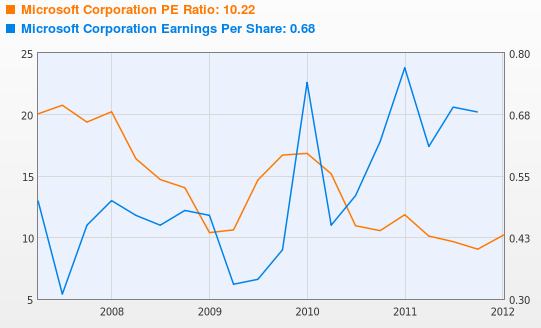 Here on Seeking Alpha, article after article touting Microsoft's appeal as an investment covers its "cheapness." Yet for all of the "value" that has built up in Microsoft's stock over the past 5 years, none of it (dividends aside) has been transferred into the pockets of shareholders.

Chipotle was an "expensive" stock when it doubled. And when it tripled. And when it quadrupled. Microsoft's "value" has only increased over the past 5 years, even as the stock has dropped. (Note: We are not making a recommendation on Chipotle or Microsoft in this article, and are not making assumptions about where the stocks will go from here.) The point we would like to drive home is that obsessing over P/E ratios makes investors miss out on the most successful companies. The best performing companies in the market are those that trade at a premium. Intuitive Surgical (ISRG), Whole Foods (WFM), and Alexion (ALXN) are all companies with high P/E ratios. And all have dramatically outperformed the market.
Are we saying investor need to dump all their value stocks and buy those that are expensive? Of course not. A good portfolio has both. But do not let a desire for "value" blind you to the opportunities out there. Value is a relative term, and we think stocks that generate profits for investors are value stocks, regardless of their P/E ratios. P/E ratios are but one tool an investor should use in determining which companies they should invest in. A high P/E ratio does not mean you are overpaying.
No investment screener should start with an elimination of stocks that you may think are expensive. Doing so will cause you to miss out on the leaders of the market. There are some things in life that people should not be cheap with, such as cars, engagement rings, and appliances. And in the financial world, investors should not cheap out on stocks. To have the finest quality, people almost always have to pay up. A Mercedes may be very expensive, but no one has ever complained that the price was not worth it. Chipotle may be a much more expensive stock than Microsoft, but what Chipotle investor has had any complaints about its performance? And what Microsoft investor is happy with its performance over the past 5 years?
Always remember that value is a relative term. Chipotle may have been a far more expensive stock than Microsoft over the last 5 years, but it has delivered a great deal more value to investors than Microsoft. The best investors are those that invest in the best companies. And the best companies are rarely "cheap" in the traditional sense.