In times of global economic uncertainty, focusing on business predictability can lead to more stable and predictable portfolio performance. Stability and predictability are key underpinnings of Warren Buffett's investment philosophy, and speak to his "circle of competence" concept and his subsequent ability to value the underlying business for these stocks. We performed a stock screen of stocks in our database that we have identified to have a very strong and durable competitive advantage through economies of scale, a network effect, high switching costs, intellectual property, other barriers to entry, or strong brand names. We further weeded out any companies that have yielded an average ROE of less than 20% over the past 5 -years. All of the companies had to be in extremely strong financial health and we confirmed out assessment by only including companies that Morningstar rates as having low intrinsic value uncertainty ratings. Our output was as follows: ABT, JNJ, PEP, CL, WMT, MKC, MCD, and FAST all made the cut.
click to enlarge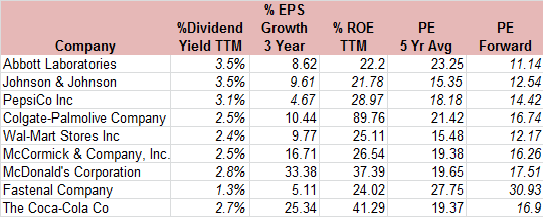 Click to enlarge
As you can see, the screen yielded what may have been termed "recession-proof" stocks a few years ago. As such, it is less likely that Mr. Market would misprice such stocks and, indeed, the majority of these companies are trading within 10% of their intrinsic value. Nevertheless, as a group they tend to have a modest to attractive dividend yields that are both safe and predictable. We will expand into further detail on some of these stocks and also look at some basic charts of long-term operational performance as a means to visualize their performance during the past financial crisis. This, along with their economic moats, should give comfort with respect to future operational performance.
Johnson and Johnson (NYSE:JNJ) is a diversified, global, healthcare company with major business segments in the consumer health, drug, biotechnology and device/diagnostics sectors. Its consumer health products division has many premier brand names with useful asset lives of up to 40 years; providing consistent revenue growth and serving as a hedge against challenges in the patented drug, device/diagnostics and biotechnology segments. Johnson and Johnson spent an average of $7.13 billion on research and development (R&D) in the last 5 years, and achieves a high return on invested R&D spending. JNJ's pharmaceutical division, which has a robust near-term pipeline, currently accounts for 36% of total revenues. Pipeline strength will not make up for upcoming patent expirations and therefore this segment's contribution to the top lines will go down to the high 20's in the next decade. Johnson and Johnson has demonstrated remarkable earnings consistency, with an average 12-14% compounded annual growth rates (CAGR) in earnings over the past 40 years and more than 11% in the last decade.
These factors strongly suggest the existence of a long-term competitive advantage and favorable business economics. Johnson and Johnson has a successful, diversified business model and has been friendly to shareholders by allocating excess free cash flow wisely to acquisitions, share repurchases, expenditures leading to organic growth, and dividend payments. Johnson and Johnson has been actively acquiring other businesses not for the sake of growth itself, but to maximize shareholder returns. A prime example of this is the 2006 acquisition of Pfizer's Consumer Healthcare (PCH) division, for which Johnson and Johnson paid $16.1 billion. The impact of the PCH acquisition was to increase total growth of the consumer health segment by 40.3%. In particular, OTC pharmaceuticals and nutritionals grew 88% to $5.1 billion.
While we recognize the recent stumbles related to product recalls that have damaged its reputation, Johnson and Johnson is a well-managed company with financial strength second to few in industry, and second to none in the pharmaceutical/healthcare industry.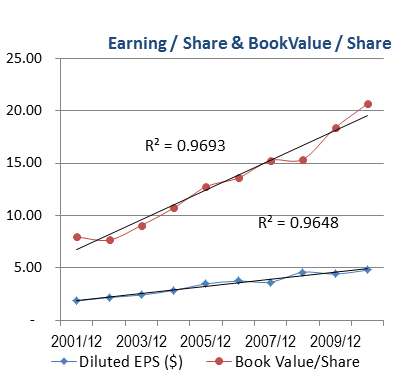 As can be seen on the chart, there had been little deviation from the trendline of 10-year earnings and book value per share. The pace of growth has been steady. With a long-term strategy of growing into untapped markets, and capitalizing on worldwide demographic and epidemiological changes impacting global healthcare trends, Johnson and Johnson is well-poised to continue its slow and steady growth in the years to come. A reliable 3.5% yield will bolster returns for long-term investors.
Abbott Laboratories (NYSE:ABT) faces the same hurdles that all major pharmaceutical companies face: generic competition, tough government laws & regulations, intense competition, and ongoing U.S. healthcare reforms. Several large European markets have announced price cuts in generic and branded drugs and we expect Abbott's pharmaceutical product revenues to be negatively impacted. While Abbott's revenue growth of 6.2% in Europe since FY 2008 has been strong, we do have concerns over the impact of austerity packages in these countries, and the company expects these measures to reduce its FY 2011 revenues by almost $250 million.
On October 19, 2011, Abbott announced a major internal reorganization initiative of splitting itself into two independent entities effective in one years' time. Abbott will continue as a diversified products company, while a new pharmaceutical company (global proprietary offerings) will be formed out of the existing setup. Humira will come under the flagship of the newly formed company. At the start, the combined revenues of the two entities is expected to be over $40 billion with Abbot contributing ~$22 billion. Abbott's stated objective is to unlock value with this move but we remain unconvinced. Abbott will continue to benefit from its existing brand name, long-term growth potential across segments, geographical reach, expected double-digit EPS growth, and leadership position in various segments. With 32 new molecular entities currently in clinical trials, 15 biologics in Phase III, and more than 20 compounds in Phase II and Phase III, the upcoming entity already has an impressive portfolio. Its core strategy will depend on successful clinical trials and launch execution.
We believe that a core historical strength of Abbott has been diversification and, while this move may boost share price in the short term, we believe that long-term investors of the 2 companies will pay the price of lower certainty. With that being said, operational performance will still rate as predictable in comparison to its peer group but, as seen below, its past performance, nor its future performance, is likely to be as steady as JNJ's. It still merits inclusion on this list but we will keep a close watch on the execution of this break-up.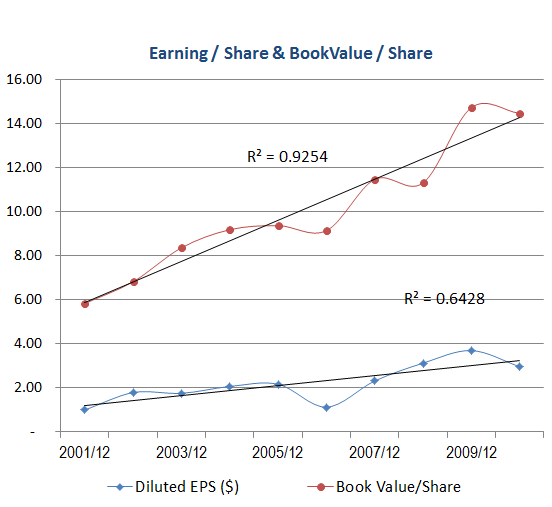 Click to enlarge
PepsiCo (NYSE:PEP) has built a dominating presence in the global snack category, particularly with its Frito-lay division which controls more than 40% of the "salty" snack market in the US. Economies of scale coupled with an efficient distribution network for its snacks and beverages ensures a durable competitive advantage. Bringing less profitable bottling operations onboard and continued dominance of Coke in the beverage segment can be seen as weaknesses for the company. Indeed book value/share took a big dip as a result of the financial crisis and led to a substantial deviation from its long-term trendline, while the EPS trend remained remarkably stable.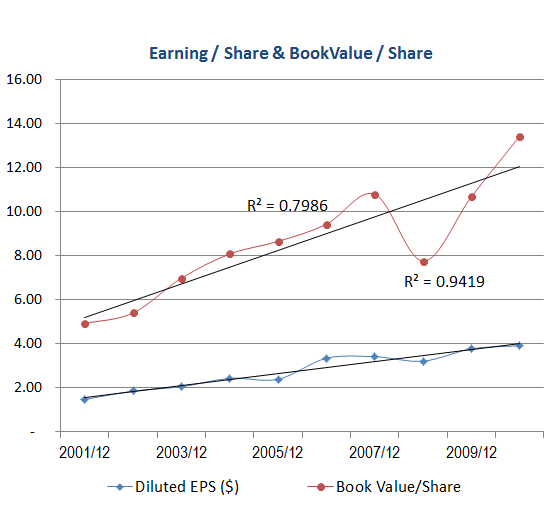 Click to enlarge
We believe that its scale economies, distribution network, and strong brand names will allow the company to deliver consistent growth over the years to come and PesiCo deserves its place as a predictable company. With a 3.1% yield, the stock is attractive for dividend-oriented investors and value investors should look to acquire on any dip below the 60's in share price. Its forward PE of 14.2 compares to a 5-year average near 18 and indicates modestly attractive valuation.
Colgate-Palmolive (NYSE:CL) is a global giant in the consumer products space. It manufactures toothpaste, household detergents, bath and body products, shampoos, shaving products, and specialty pet foods. Colgate has impressive global exposure, with nearly 75% of sales come from outside the United States. We see below that earnings and book value per share have been impacted by the financial crisis and recent global macroeconomic environment. We can see below that while revenues have been quite stable, EPS and BVPS have shown variability.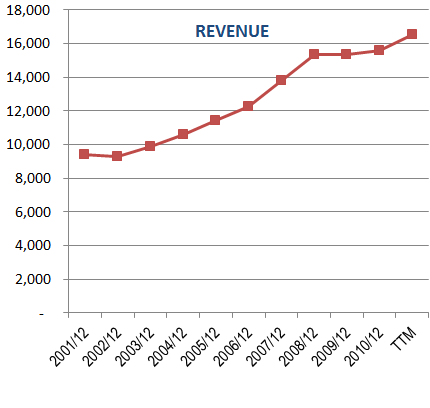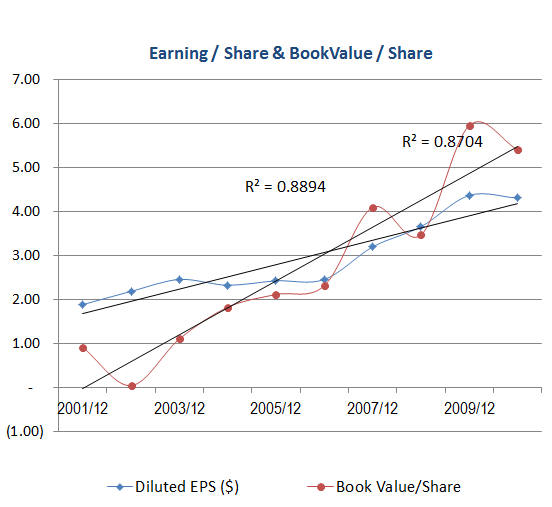 Click to enlarge
With a safe and respectable 2.5% yield, Colgate-Palmolive has been included on our list of stable and predictable companies. With that said, CL, along with the remaining companies outputs from our screen (WMT, KO, FAST, MCD, MKC), appear to be fairly valued.
Juxtaposed with one of our favorite cyclical companies Nucor (NYSE:NUE), we see that the predictability of EPS and BVPS for the aforementioned companies should not be taken for granted.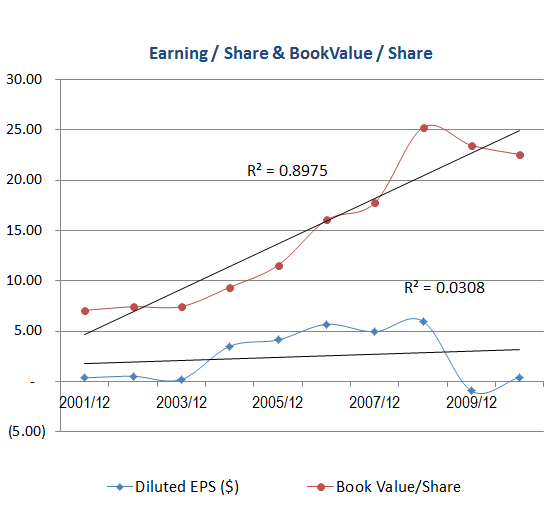 Click to enlarge
Business predictability gives us more confidence in our ability to predict future results and narrows our confidence interval for the stock's intrinsic value. These safe and predictable performers should be considered as core long-term holdings. Our strategy is to buy such issues on weakness and hold for the long-term.
Disclosure: I have no positions in any stocks mentioned, and no plans to initiate any positions within the next 72 hours.