I don't think I am alone when I say this, but I love McDonald's (NYSE:MCD). I don't necessarily mean the food, but the company's financial performance. After digging through a decade's worth of annual reports and twenty years worth of financials, I can safely say that this is a well-oiled machine. Management perfectly balances growth spending with cash returned to shareholders. They target capital spending to produce high teen ROEs, manage their capital structure carefully, and ultimately have grown dividends and earnings steadily over time.
As a result, McDonald's has been a great buy and hold stock for decades. And, even better, in 2011 it was single best performing stock in the Dow Jones, with 30% returns compared to a market that was flat. So I ask, will McDonald's continue to produce outstanding financial returns over the next decade? And is the stock still a buy at $100 a share?
A Decade Ago
McDonald's hasn't always been a stellar performer. It has had its ups and downs like any other company, even one that is seemingly recession-resistant. While the 1990s were a solid decade for McDonald's, with sales more than doubling from $6.7BB in 1990 to $14BB in 2000, it shortly thereafter suffered a setback. In 2001, economies weakened worldwide and the US dollar strengthened dramatically, impacting earnings growth. A breakout of Mad Cow Disease caused consumer concerns about beef safety, adding insult to injury especially in Japan and Europe. Here in the US, 9/11 also made quite a dent as people stopped eating out.
By year end 2001, McDonald's was missing EPS estimates, and showing topline growth of just 4%. The stock fell from over $40 a share in 1999 to roughly $16 by the end of 2002. Sure, much of it had to do with falling markets amidst a painful bear market, but the company also fessed up to declining customer satisfaction scores and weak marketing. Remember how bad their coffee used to be?
As a result, operating margins got clobbered, falling from a peak of 25% throughout most of the 1990's to 19% by 2002. On a P/E basis, the stock traded from 28x to 12x earnings, much lower than the S&P's multiple at the time.
History of Valuation
What I find most interesting about McDonald's, and I have seen this in lots of industries, is the following. When margins reach peak levels, valuations tend to also reach peak levels. That is, as margins are improving, the stock tends to rise. But not only does the stock rise commensurately with the growth in earnings, but it rises faster than its earnings growth. That is, its valuation multiple, as measured by P/E, rises too. In 2011, earnings grew probably 10%, but the stock ran up 30%.
Even in the 1990's this was the case. In the first year of that decade, 1990, McDonald's traded at 13.5x earnings, and did respectable (but not peak) 24% operating margins. By the late 1990s, those operating margins were 300 basis points better at 27%. The stock was then sporting a healthy 25x to 30x earnings ratio.
Well, as I pointed out above, operating margins subsequently fell dramatically, back to 19%. The stock got crushed, trading to a P/E of around 12x earnings.
The Last Decade
In 2002, McDonald's then CEO, the now forgotten Jack Greenburg, was replaced by James Cantalupo. James unfortunately passed away after only 16 months on the job. A successor to him (Charlie Bell) became ill shortly thereafter, also passing away a few months later. The run of bad luck seemed to end after that however, with the appointment of Jim Skinner as the new chief in November 2004.
The "Plan to Win" strategy was implemented in 2003 amidst this period. As a person who managed to eke out a concentration in Marketing at Northwestern, I can tell you that clearly this plan was designed by a committee of marketing MBAs. I am not disparaging this plan, as today I think McDonald's marketing strategy is a big reason it is doing so well today.
While it took some time to improve product, ads, pricing and customer satisfaction, it has seemingly worked. In 2005, with operating margins around 21%, they had already bottomed and were on the verge of moving higher. And under Jim Skinners stewardship, the company has improved margins from 21% in 2004, to 25% by 2008, to record level margins of 32% in 2011.
While that decade saw only 5.4% CAGR in revenue, EPS grew by 12% per year on average. Impressive.
Looking Forward
Over the next 5 to 10 years, I cannot really tell if McDonald's can maintain such high level margins. Improvements in same store sales has been a big driver of margin improvement, but the company has also kept an eye on costs. SG&A in fact has remained exactly flat every year for 5 years, running around $2.3BB since 2006. That alone has added 1.5% to improved margins.
As the company points out in their 10K, every 1% increase in same store sales adds about 3c in EPS. Going back to 2008, same store sales have grown cumulatively by 23%, so that has added roughly 70c in margin improvement to earnings per share. McDonald's will likely report around $5.40 in EPS in 2011, and given that EPS was $3.76 in 2008, it seems that this increase in EPS of $1.64 seems about equally balanced between margin improvement, new store growth, and also refranchising. I'll get to refranchising in a second.
If you were wondering if the weakening dollar has added a lot to growth, then you may be surprised to learn that EPS has only increased $0.08 cumulatively over the last five fiscal years from currency exposure. That's only 1c and change per year, quite a surprise to me given how global MCD is.
You can find this data in their recent annual reports on the company's website. The MD&A section starting on page 9 of their 2010 annual is extremely informative.
Refranchising
As yet unmentioned is a financing tactic that I respect at McDonald's, and likely has done more to drive margin improvement than any marketing tactic. (Score a point for the financial engineers of the world).
That is, the company has been steadily "refranchising" or selling off company owned McDonald's stores to franchisers. This lightens the balance sheet, and also improves margins as franchised stores generate 82% operating margins, compared to 18-19% operating margins on company-owned stores. (For franchised stores, McDonald's typically collects 8% of revenue from the store, then carries the cost of the land and building which it expenses against this 8%.)
It is generally true that a franchised store simply performs better than a non-franchised store. The manager who gets to take home ALL of a store's profits has far more incentive to maximize revenue and profits, compared to a McDonald's owned store that has hired a corporate manager to run things.
1990

2000

2006

2010

% of Restaurants Franchised

68.89%

58.49%

73.70%

80.45%
Above we can see that margins have improved as the company has moved more and more toward a franchise model. As well, margins troughed when the percentage of franchised restaurants troughed in 2000.
Looking back to 2006, McDonald's owned just over 8,100 stores, and today they own less than 6,400 stores. So there are still probably 3,000 to 4,000 stores that the company could offload, or refranchise to drive continued growth in margin over the next five years.
The problem is, management at their analyst day generally talked about refranchising, suggesting that for the most part, the company intends to stay at 80%. While the US is at 90% and generates over 40% plus operating margins, McDonald's doesn't intend to continue to refranchise its non-US owned stores. This likely is a significant change in strategy over the next few years, one that will likely cap margin growth going forward. Future margin growth is attainable, but will have to come from growing topline and cutting costs, as opposed to financial wizardry.
You can read the analyst day transcript here.
Assumptions
Given this, I have outlined 3 potential outcomes 5 years out, using 4% and 5% growth rates in revenue. Over the prior 5 years, average growth in topline was 4.7% at McDonald's. That is down from the 8% revenue growth McDonald's experienced in the 1990s. McCafe's and continued store openings in emerging markets as well as simply raising prices should be enough to achieve this, and I think the company is too large today to achieve prior growth levels.
Margins are tougher to figure out. The refranchising strategy has permanently raised the low end of McDonald's operating margins, so I think the downside case is that margins fall 4-5%. Lots of things can cause problems: commodity prices could spike, the dollar could strengthen if the Euro unravels, 2012 will see higher G&A with Olympic advertising, meaning $100mm in additional costs there. Capex is also going up a lot in 2012. Another recession could reduce customer traffic. It has happened before.
The middle case is that margins remain the same at 32% assuming no additional refranchising, and the upside case is some refranchising plus some margin improvement taking margins up another 4%. To me that is a case that seems less likely given what management is saying about refranchising globally, but possible nonetheless.
The trickiest question is what P/E ratio you can expect in 2016. The 10 year average P/E of McDonald's is 19x. Today the stock trades at 19.5x, up from a 16x multiple just one year ago. The relative valuation, (that is McDonald's P/E ratio less the S&P's P/E ratio) has historically been around 2.5 points.
So if the S&P 500 trades at 14x, McDonald's has traded in the past on average at 16.5x. Today, that ratio is at an all time high of 6.5. The S&P is 13x earnings (on a trailing basis), with the company at 19.5x. I would suggest that it makes sense to buy McDonald's stock when it trades at or below that 2.5 point average. That implies buying at around $83.50 or lower today.
The above chart also tells me that the base case isn't that interesting. I need the upside case, i.e. continued improved margins with no blips along the way, to make a solid return. And as I pointed out, without refranchising driving margin, I am not particularly confidant that McDonald's can get to 38% operating margins over the next five years.
With the markets showing such volatility over the past couple of years, investors have been seeking out safer, dividend paying stocks. The P/E multiple appreciation coupled with market P/E contraction seems to indicate that perhaps McDonald's stock is a little ahead of itself. Without refranchising going forward driving margin, I posit that margins are perhaps nearing a peak, and with that, multiple expansion is likely over.
While McDonald's could run back up 20-25x earnings, the stock last saw those multiples amidst the dotcom go-go era, and it just seems less likely to me. While November same store sales were very robust at 7.4%, I am not sure if this can continue beyond 2012.
FCF Yield
My favorite measure of determining where to buy a stock is simply based on FCF per share and what kind of return I want. Here I would happily buy McDonald's at a 7% FCF yield, which again points to a buy price in the low 80s.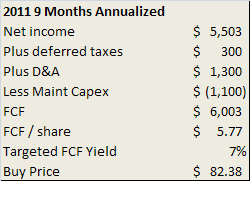 Conclusion
McDonald's is an extremely well managed company that has show very impressive growth, especially for a large cap company. If you own it, I wouldn't sell it. The chart seems somewhat extended however, and relative to the company's valuation just a year or two ago, I don't think it looks like a bargain. Lots of things can go wrong with the stock when everything is going perfectly at the company. Any blip probably equates to a bigger sized pullback. I honestly hope to see an opportunity in the next one to two years, ideally at $85 or lower, to initiate a position. Either way, at least I have a plan in place.
Disclosure: I have no positions in any stocks mentioned, and no plans to initiate any positions within the next 72 hours.