It is difficult to feel enticed by U.S. Real Estate Investment Trusts. After a collapse in 2008, and an unclear market direction for 2011-2012, US real estate must be described as at least a moderate risk. The yield (excluding mortgage REITs), tend to be in the 3% - 5% range, and I am not sure if one should feel compensated for the risk at that price. After all, a number of the dividend-growth stocks pay the same or better yield, and they have a much lower risk profile.
The Canadian universe of real estate companies and REITs is much smaller than its US counterpart – I found 86 publicly traded companies and REITs, and the graph below shows that they cover most sub-sectors. With a few exceptions, all Canadian real estate companies and trusts are small to micro capitalization stocks. Moreover, there are only a few small Mortgage REITs in Canada (which do not have dividend yields remotely comparable to mREITs in the US), so these are generally an investment in real estate - income-generating assets that you can touch.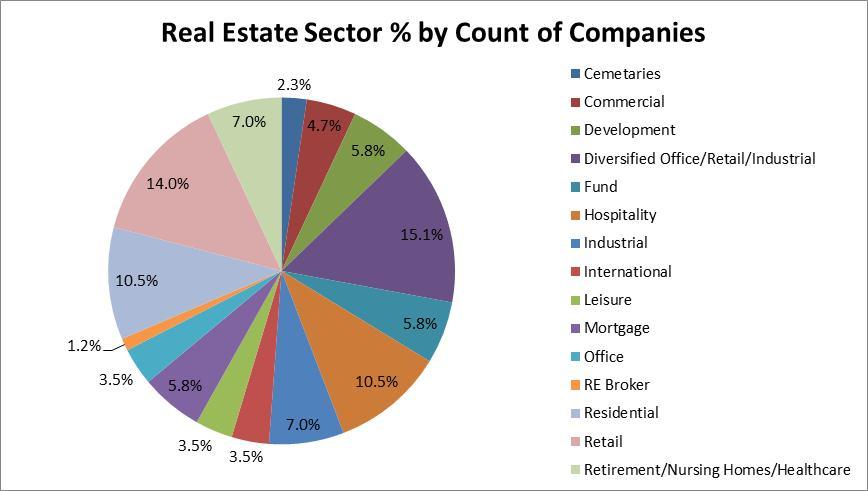 The Canadian REITs did not fall as far from their highs, and have recovered well from their lows over the last few years. Real estate in Canada has recently peaked (again) – this sector is trading near its high – so now is probably not a good time to buy in. My two cents is to wait for some bad news to improve your yield and return.
Canadian REITs share the same "Return Of Capital" (NYSE:ROC) attributes of US and other global REITs, so relatively little of the yield is paid as income. Typically, 30% is income and 70% is an adjustment to the cost base (which results in a capital gain/loss when one sells the security. If you are interested in a history and REIT overview, I propose that you read one of Deloitte's REIT Guide's – here is a link to the 8th edition; although dated, it compares Canadian and US REIT structures and governance. (For disclosure purposes, I worked for Deloitte about 10 years ago, but was only involved in technology consulting, and not investments or audit.)
For non-Canadians, your opportunity is to invest in low-taxation (usually 15% withholding), moderately-high yield and currency-diversified real estate.
I have identified the Canadian REITs and real estate companies – many of them are traded over the counter in New York. There may be a few that I have inadvertently missed. It was difficult to identify the real estate investment securities in Canada, so I have assembled the list and information from disparate sources. I have excluded the equivalent of Canadian OTC securities, as I could not identify definitive sources of information; these are fairly illiquid; and, they tend to be under $5M capitalization companies.
In order to simplify the comparison of similar industry participants, I have structured the series of articles by industry. When looking at market cap instead of the count of securities, one can see that 80% of the $60 billion (publicly traded) industry capitalization in Canada is in 4 sectors: Retail, Diversified, Office, and Residential. I might add that this is not necessarily representative of the overall industry; I have come across estimates that suggest that suggest that 90% of Canadian real estate is held by non-publicly traded companies. For industry information, Realpac is a good source.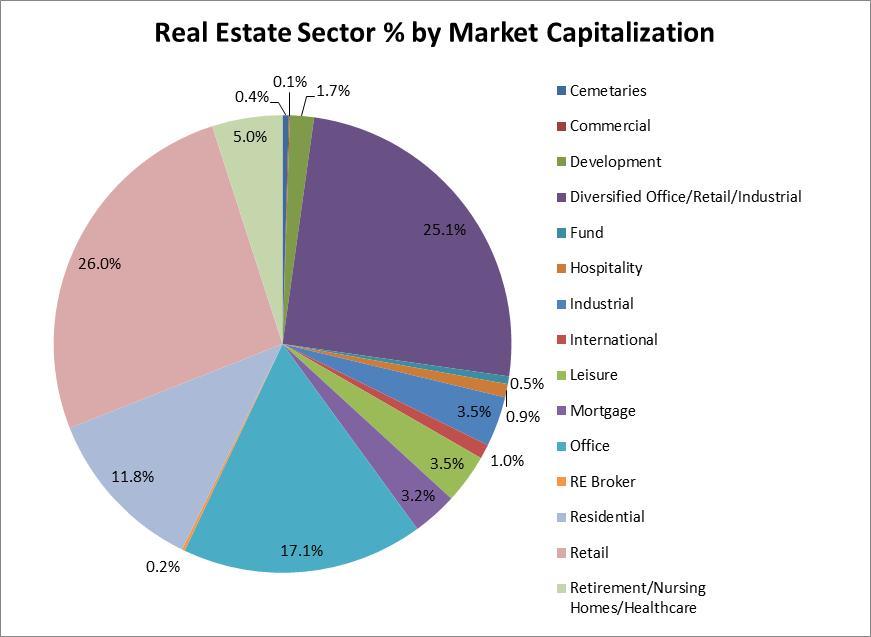 Three of the largest Canadian real estate entities are traded as ADRs on the New York Stock Exchange. Two are controlled by Brookfield Asset Management (NYSE:BAM) – Brookfield Office Properties (NYSE:BPO) and Brookfield Residential Properties (NYSE:BRP). MI Developments (MIM) was formerly part of Frank Stronach's Magna conglomerate. I will provide specific information on these companies in the articles for their respective industry segments. Collectively, these 3 represent $10B of the $60B capitalization of this sector. Therefore, it is possible to have exposure to some of the largest Canadian real estate companies without trading outside of the major US exchange.
Name

U.S. Ticker

Last

52-Wk High

52-Wk Low

Sector

Yield

Market Cap

Brookfield Office Properties

BPO

15.64

20.07

12.8

Office

3.50%

$8.23 B

Brookfield Residential Properties Inc.

BRP

7.81

14.32

6.08

Develop-
ment, Residential

n.a.

$755 M

MI Developments

MIM

31.98

33.49

23.71

Industrial

6.30%

$1.53 B
Brookfield Asset Management is a global asset manager focused on property, renewable power, private equity and infrastructure assets with approximately $150 billion of assets under management. They have several public and private real estate funds and companies – all of which are described on their website. Except for 3 publicly traded companies, these are excluded from this series of articles. Otherwise, this would largely be about the various Brookfield real estate holdings.
Similarly, funds run by various financial institutions, such as the Manulife Canadian Real Estate Funds run by Manulife Financial (NYSE:MFC), are not included in the scope. These are generally not accessible to the non-Canadian investing public, and specific financial information – often yield - is not readily available. More information on their offerings can be found on their website. A sample of a news release - pertaining to it launch, scale, objectives, etc., can also be found on their website.
As with many real estate investments (excluding mREITs in the US), yield is often inversely correlated with market capitalization (in other words, the larger the company, the lower the yield). This is generally the case in the retail sector in Canada, but does not hold true across some of the others. Retirees may find it attractive to diversify into Canadian dollars, and purchase high-yielding Canadian real estate securities for income (and perhaps some small amount of growth).
There are generally very low barriers to entry for non-Canadians to directly purchase Canadian real estate and securities. There are no special taxes such as non-local-owner property taxes and permits (other than withholding taxes when repatriating income). That said, finding and directly buying a commercial property is not for the faint of heart. I examined and discarded this option for myself.
The goal of this series of articles is to familiarize our investing colleagues with atypical real estate securities which are domiciled in Canada, and provide a basis for you to perform your own investment research. Let's face it – if you want to invest in REITs in the US, there are many information sources, and hundreds of author and analyst opinions. For example, there is no shortage of analyses of Annaly Capital (NYSE:NLY), Simon Property Group (NYSE:SPG), and other $10B - $30B US REITs. If you want a comprehensive list of US REITs, then you can go to several authoritative sources – I like the InRealty list, but have found others. I cannot find a complete Canadian list, and there are few real estate securities with over $1B capitalization in Canada, so many of the securities would be unfamiliar to most investors – including Canadians!
I have organized the series of articles from the larger to the smaller segments of Canadian Real Estate Companies and Trusts, and expect to publish 10 parts in total. To help non-Canadian investors, I will provide a brief description of each REIT, and provide (generally Q3/2011) financial results to assist with your investment decisions.
The Q3/2011 financial results were widely available at the time of this publication, and the consistency of the reporting period may make it easier for you to contrast their financial and operational positions. It is often challenging to research securities which are not local to you. To make this easier, I will also provide the company website.
Sources: Edmonton Journal provided most of the Canadian ratios, volumes, etc. CIBC Investor's Edge (this site is only available to their clients): Brief descriptions and Q3/2011 financial synopsis. Company websites, newspaper articles, and press releases for certain information (this is restricted to CIBC clients). You can also look at the news releases and financial information at The Globe and Mail Investor. Barchart.com provided all of the OTC information.
Disclosure: I am long MFC.