Many large companies have recently performed exceedingly well, along with the broader market. Both the Dow Jones Industrial Average and S&P 500 are now up about 19 percent from their 52-week lows.
Numerous equities bottomed out during the second half of 2011 and have since begun to return towards previous Q2 highs. Several reached new highs during 2011 and continue to stay at or near their 52-week highs, and even breaking them.
This is a recent performance review for seven well-known large cap equities that are at or near their recently established 52-week highs, and with the potential to make new highs if this earnings season turns out to be favorable: Automatic Data Processing (NASDAQ:ADP), McDonald's Corp (NYSE:MCD), Abbott Laboratories (NYSE:ABT), Kimberly-Clark (NYSE:KMB), Procter & Gamble (NYSE:PG), McGraw-Hill (MHP) and Wal-Mart Stores (NYSE:WMT), listed by proximity to a new high. Each of these stocks is a member of the S&P 500 and also a Dividend Aristocrat.
In the table, below, I have provided the increase each of these equities has made from its 52-week low, as well as how far off from its 52-week high it now trades. I have also provided the annual dividend yield each offers.
click to enlarge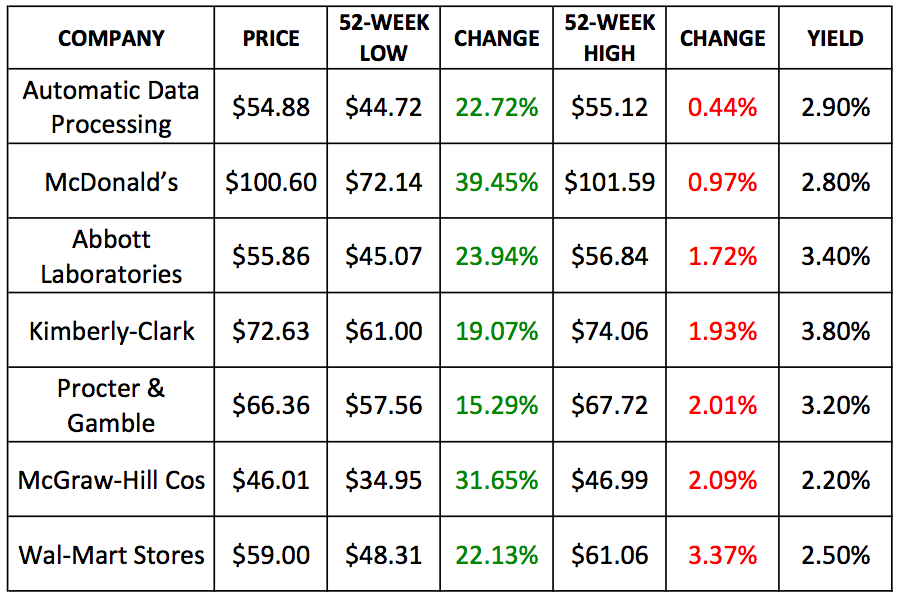 By far, the best performing listed equity from its 52-weel low is McDonald's, which is up nearly 40% and now sits less than 1% from its recently set 52-week high. See MCD's recent chart, below: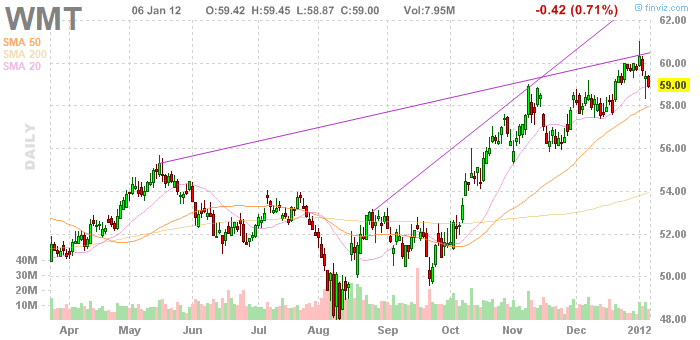 In terms of performance from its recent bottom, McGraw-Hill was also strong, increasing over 31% since August and now about 2% below its recent high. See MHP's recent chart, below: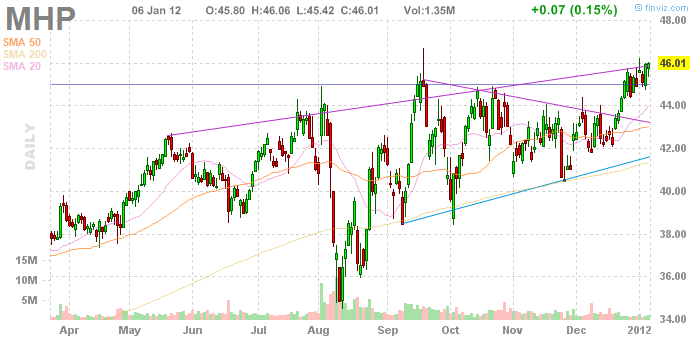 Another company breaking into new 52-weel high territory is ADP, which is now benefitting from better than expected employment statistics. MCD, ADP set a new 52-week high and sits trades than 1% below it going into this earnings season. See ADP's recent chart, below: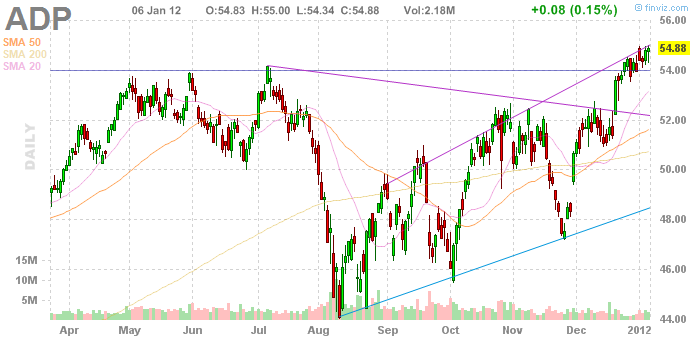 All seven of these companies now trade exceptionally close to their 52-week highs, which were mostly set within the last week or two. With so many companies at or re-approaching 52-week highs, it could also mean that the market is due for a short-term correction. If that does not occur, several of these equities appear poised to move higher on positive numbers and/or dividend increases.
Disclaimer: This article is intended to be informative and should not be construed as personalized advice as it does not take into account your specific situation or objectives.
Disclosure: I have no positions in any stocks mentioned, and no plans to initiate any positions within the next 72 hours.