Business Development Companies (BDCs), with their high yields, have become increasingly popular with dividend investors in recent years. The survivors in this space from the 2008-2009 financial crisis are seeing renewed interest as the recovery continues. As a further indication of investor interest, a number of new BDCs have been established in the last two years.
In this article I will identify a number of resources that I have found helpful in researching BDCs. I will also provide details on my own experiences investing in BDCs, and will offer some suggested guidelines to mitigate the risks. Finally, I will conclude by listing all BDCs of which I am aware, offering my opinion on each BDC as either more attractive, less attractive, or too new to evaluate.
BDCs were authorized by legislation passed in 1980 to encourage the development of small-to-medium sized businesses, by establishing the rules for a new type of company (BDC) which would provide smaller businesses with oversight and capital that they could not obtain from traditional sources. BDCs must register as such and must adhere to a number of restrictions. For investors, one of the most significant features is the requirement to distribute 90% of net investment income to shareholders, which accounts for the high yields. There are advantages to investing in BDCs, but also unique risks. An investor should understand these unique characteristics before proceeding. While there are doubtless many resources available, two that I have located that are helpful in summarizing the background, advantages, and risks of BDCs can be accessed here and here.
Many Seeking Alpha (SA) contributors have written about BDCs, in some cases authoring multiple articles presented as a series. These articles are an excellent resource for an investor seeking to learn more about BDCs. Several authors that have produced articles on BDCs recently are tabulated below. To see the articles, go to the author's profile page, and then list all articles for that author.
Philip Mause – Authored a series of articles which begin with "BDC Review: Part x", where x is 1 through 9. Phil reviewed and categorized nearly all BDCs in this series.
Alan Brochstein – Authored a series of articles with the common theme, "Skin in the Game", which analyzed several BDCs to determine the extent to which the BDC's managers' interests were aligned with the interests of shareholders.
Parsimony Investment Research – A recent article on the topic was "High Yield Market Is Setting Up For A Pullback – Remain Cautious on BDCs".
Nicholas Marshi – Authored numerous articles on BDCs.
Jeffrey Gall – A recent article on the topic was "A Tale Of Two Very Different BDCs".
My investing experiences with BDCs have been mixed at best, as will be seen shortly. I have to believe my results would be better if I had reviewed the types of resources cited above before investing. Going forward, I still believe a dividend investor can justifiably invest in this asset class, as part of an over-all income strategy. The key here is to be aware of the risks and establish some guidelines to limit exposure. As an example, I offer my own guidelines below:
Limit the total portfolio percentage allocation to ultra high-yield stocks, which includes BDCs, along with a few other groups, to a maximum. In my case I have settled on 15%.
Limit the total portfolio percentage allocation to BDCs to a maximum as well. In my case I have settled on 7.5%, which is half of the total to be allocated to ultra high-yield stocks.
Limit the total portfolio percentage allocation to a single BDC to a maximum. In my case it is 1% or less. Diversify by owning smaller positions in a number of BDCs instead of larger positions in just one or two.
Acquire incrementally over time, not only for a single BDC, but for all BDCs. That is, spread out the acquisition phase, taking advantage of market declines to average down. These stocks can fall hard whenever any economic distress appears on the horizon, providing attractive entry prices.
My BDC investment results to-date are presented in the table below. As can be seen, I began buying in 2007, then held off as the financial crisis gained steam. As noted in the footnotes, I added to some of my positions at very low prices during the financial crisis, but succumbed to the temptation to take quick profits instead of holding for the added dividend income. From where things stand today, this was a mistake in some cases but not in others. I will return to the question of when to sell at the conclusion of the article. As the recovery proceeded and BDCs seemed to be gaining strength, I embarked upon a second phase of investing in BDCs in late 2010 and on into 2011, following my (new) guidelines.
While most table columns are self-explanatory, a couple of clarifications are in order. Book Value Per Share is from the MSN Money website. My purchases for each position were usually spread out over several months. For brevity, I have presented only the date of my initial purchase, and then the average cost of all shares held. Again for brevity, only the stock symbols are shown in the table. For reference, the companies and associated symbols are:
Tortoise Capital Resources Corp (TTO)
MCG Capital Corp (NASDAQ:MCGC)
Gladstone Capital Closed Fund (NASDAQ:GLAD)
Ares Capital Corp (NASDAQ:ARCC)
American Capital Ltd (NASDAQ:ACAS)
Allied Capital Corp (ALD) [now defunct – taken over by ARCC in 2010]
Prospect Capital Corp (NASDAQ:PSEC)
Apollo Investment Corp (NASDAQ:AINV)
Main Street Capital Corp (NYSE:MAIN)
Blackrock Kelso Capital Corp (NASDAQ:BKCC)
NGP Capital Resources Co (NGPC)
TICC Capital Corp (NASDAQ:TICC)
Hercules Technology Growth Capital Inc (NASDAQ:HTGC)
Fifth Street Finance Corp (NYSE:FSC)
PennantPark Investment Corp (NASDAQ:PNNT)
Compass Diversified Holdings (NYSE:CODI) [this is actually a Master Limited Partnership ((NYSE:MLP)) operating similarly to a BDC]
Triangle Capital Corp (NYSE:TCAP)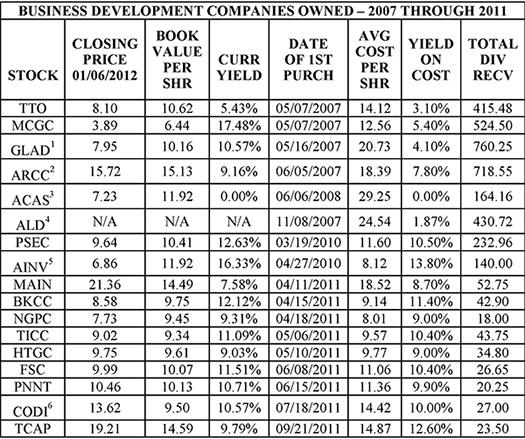 Table Reference Notes:
Bought more at $6.98, sold $12.10. Considering the decline in GLAD since 2010, this sale was probably not a mistake.
Bought more at $5.05, sold $8.01. Should have kept these ARCC shares for a terrific yield on cost.
Bought more at $2.99, sold at $8.50. Still waiting on the ACAS dividend to resume.
My worst BDC experience. I should have listened to David Einhorn's warnings about this BDC. (Einhorn is a noted hedge fund manager that had a long-running conflict with the management of ALD.) ARCC took over ALD at a distress price in 2010. ALD shareholders received .325 shares of ARES for each ALD share. The result is the ARCC shares received from my ALD investment have a cost basis of $76.69/share, with a yield on cost of 1.87%. The total dividends for ALD include all dividends on the ARCC shares received from the merger, as well as dividends ALD paid before suspending payments. I calculate that I should break even in approximately 35 years if I continue to hold.
Exited AINV without a loss before the downturn. Bought at the bottom at $2.35, $4.55, $3.85, and $9.95, sold at $12.40. I had considered that selling was a mistake, but with the recent decline of AINV, maybe not. At any rate, I decided to get back in during 2010, acquiring a new position at the average cost shown.
I did not realize that CODI is a Master Limited Partnership (MLP) until after I bought it. This represents a failure of due diligence on my part. It just did not occur to me that a BDC would be structured as an MLP.
My experience illustrates that caution is certainly in order when investing in BDCs. Still, these companies are too attractive to be ignored for investors seeking yield. I also believe that the managements of these firms have become more conservative, particularly regarding financing, as a consequence of the experiences of the financial crisis. Just keep in mind that buying these stocks is not like buying Exxon (NYSE:XOM) or Johnson & Johnson (NYSE:JNJ), examples of two of the bluest of blue chips. Since the companies that BDCs invest in are smaller, less-established businesses, they can get into trouble quickly if the economy deteriorates, which in turn can threaten the BDC dividends. On the other hand, in the absence of severe economic distress, BDC dividends are likely to continue at a high level, and should be taken advantage of. Risk can be controlled by following the exposure limitation guidelines recommended earlier, and by acquiring or adding to positions during downturns to achieve a lower cost basis. Before buying, always check the book value per share, and avoid paying a large premium over that figure.
Based on my experiences and research, I will list all BDCs that I am aware of, separated into three groups: More Attractive, Less Attractive, and Too New to Evaluate. To formulate my opinions, I reviewed the key ratios for each BDC as provided by the MSN Money website, considered information presented in numerous SA articles as identified at the beginning of this article, and drew upon my own experiences. Before I present the lists, in the interest of full disclosure, note that I am not a financial professional nor am I certified in any way as a financial advisor. I am an independent, small investor managing my own portfolio.
More Attractive BDCs – These have reasonable debt, profitability, and valuation metrics, dividends do not appear to be at risk, and each company either handled the downturn relatively well, or at least survived and is recovering.
Ares Capital Corp (ARCC) – One of the largest BDCs.
Blackrock Kelso Capital Corp (BKCC) – Rebounding after recent decline in 2011.
Fifth Street Finance Corp (FSC)
Gladstone Investment Corp (NASDAQ:GAIN) – Has improved in the past year.
Hercules Technology Growth Capital Inc (HTGC)
Main Street Capital Corp (MAIN) – Currently extended above book value as of 1/6/2012.
PennantPark Investment Corp (PNNT)
Prospect Capital Corp (PSEC)
Solar Capital Ltd (NASDAQ:SLRC) – Not limited to investments in solar companies.
Triangle Capital Corp (TCAP) – Also extended above book value as of 1/6/2012
TICC Capital Corp (TICC)
Kayne Anderson Energy Development Co (NYSE:KED) – Invests in energy MLPs, but is not itself an MLP. It has been in an up trend since March 2009.
Less Attractive BDCs - These each have one or more shortcomings, although none seem to be in immediate danger of bankruptcy, as was often the case for BDCs during the financial crisis. Some of these stocks are at bargain levels, and might be attractive as a speculation – but they definitely represent more risk than the prior listed BDCs, which are themselves risky enough.
American Capital Ltd (ACAS) – Not currently paying a dividend. After a near-death experience during the financial crisis, the company has recovered, and dividends should resume in the next year or two.
Apollo Investment Corp (AINV) – Plagued lately by declining Net Asset Values (NAV) of portfolio holdings. A management shuffle occurred in November. AINV reduced dividends during the crisis, but never stopped paying entirely. I believe there is a risk that AINV may have to reduce its payout further at some point if performance does not improve.
Kohlberg Capital Corporation (NASDAQ:KCAP) – Currently in violation of NASDAQ rule 5250 for failure to file a properly certified and audited 10-Q. It is unclear to me whether this is significant or not, but when added to the latest quarterly results, I see KCAP as a BDC to avoid.
Gladstone Capital Closed Fund (GLAD) – Declining NAV of holdings over the past year indicates a portfolio that is underperforming. See article by Jeffrey Gall on SA, referenced above.
MCG Capital Corp (MCGC) – After a near-death experience during the financial crisis, MCGC seemed to be on the road to recovery, resuming the dividend in 2010. But poor results over the past year have culminated in a management shake-up, which was announced on October 31, 2011. At this point nothing can be assumed for this BDC.
NGP capital resources Co (NGPC) – How can a BDC focusing on energy companies underperform in this environment? NGPC seems to be accomplishing this feat. The delay and rescheduling of the Earnings Conference Call to review the results for the quarter ending September 30, 2011 did not inspire confidence, either.
Saratoga Investment Corp (NYSE:SAR) – While the metrics seem OK, the fact that the dividend is annual (the last two years, anyway) and consists of a combination of stock and cash discourages me from investing in this BDC.
Medallion Financial Corp (TAXI) – The specialized nature of this BDC's holdings are not what I am looking for in a BDC.
Tortoise Capital Resources Corp (TTO) – I have owned this one since 2007, with unexciting results. Even with the depressed price, the yield is only 5.51%, which is low for a BDC.
Compass Diversified Holdings (CODI) – Compass is on the less attractive list because it is an MLP, which to me is not desirable for a BDC.
KKR & Co L.P. (NYSE:KKR) – Unattractive because it is an MLP.
KKR Financial Holdings LLC (KFN) – Managed by a subsidiary of KKR, it is also an MLP
Too New To Evaluate – No financial data / track records are available. These may turn out to be great companies, but there is not enough information available at this time to evaluate them.
Full Circle Capital Corp (FULL)
Golub Capital BDC Inc (NASDAQ:GBDC)
Medley capital Corp (NYSE:MCC)
MVC Capital Corp (NYSE:MVC)
Horizon Technology Finance Corp (NASDAQ:HRZN)
Pennantpark Floating Rate Capital Ltd (NASDAQ:PFLT)
Fidus Investment Corp (NASDAQ:FDUS)
Solar Senior Capital Ltd (NASDAQ:SUNS)
Oxford Lane Capital Corp (NASDAQ:OXLC)
New Mountain Finance Corp (NYSE:NMFC)
In conclusion, I believe that an investor seeking yield should consider allocating a portion of a portfolio into Business Development Companies (BDCs), taking care to limit the exposure to BDCs in general, and to any single BDC in particular, to limit risk. An investor must be prepared for volatility, as these stocks react significantly to economic events. One should seek to acquire positions in these companies near or even below book value, which is often possible upon a market decline, to achieve as low of a cost basis as possible. Determine the desired BDC allocations and position sizes, and then acquire by scaling in over a period of several months, always trying to achieve the lowest cost basis possible. As for when to sell, I don't consider these to be "forever" stocks. Selling should at least be considered when an investor has a significant gain (20% or more), and the market price is extended far beyond the Net Asset Value (NAV = Book Value). Less happily, as with any stock, selling should also be considered if a BDC appears to be headed for the dust bin.
Disclosure: I am long TTO, MCGC, GLAD, ARCC, ACAS, PSEC, AINV, MAIN, BKCC, NGPC, TICC, HTGC, FSC, PNNT, CODI, TCAP.
Additional disclosure: This is my 5th article. Based on the comments on my earlier articles, I believe it will be of interest to a certain segment of SA's readership, non-professional private investors that like to compare their own experiences to an investor in similar circumstances.