For Week Ending Dec. 30th, Economic Cycle Research Institute's Weekly Leading Indicator fell to 120.2 from 120.7, with the growth rate falling to a negative 8.2 from a negative 7.6 for the previous week.
However, the last monthly leading indicator from the Conference Board showed a positive 0.5 for a reading of 5.4 on a 6 month annualized basis.
Click for Larger Image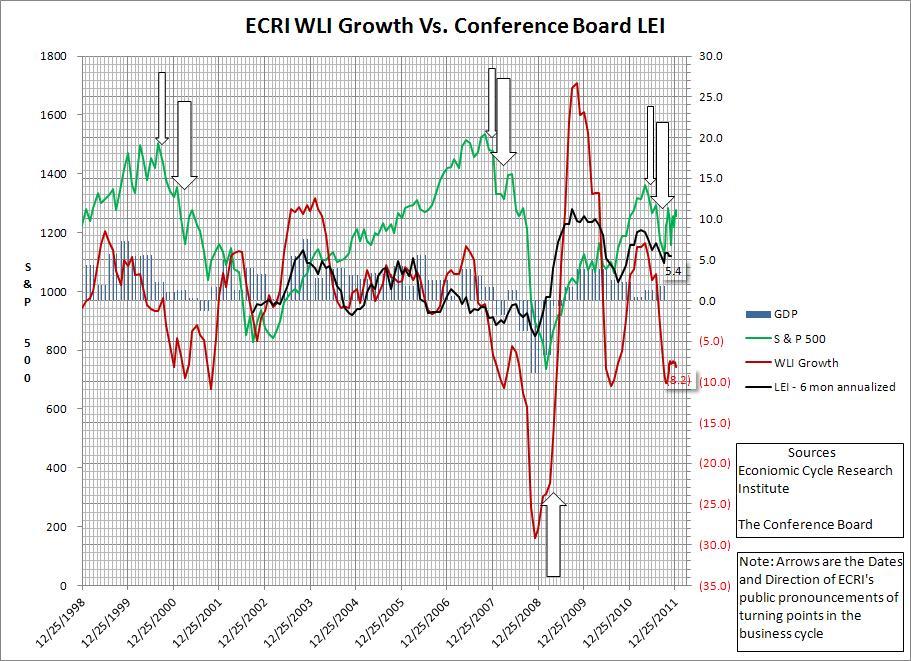 Click to enlarge
Note: LEI 6 month anuualized growth rate calculated as follows = 6 month sum of monthly LEI readings times 2.
As you can see, ECRI WLI growth and the Conference Board's LEI have completely diverged as to the direction of the business cycle. In addition, December's US Manufacturing PMI increased to 53.9 from 52.7 in November along with improving unemployment claims. Admittedly, most companies do not lay off over the XMAS holidays.
The only indicator that modestly supports ECRI's recession call is the semiconductor billings(3 month rolling average) released by the Semiconductor Industry Association group which shows a decrease of 2.4% in November from October and a decrease of 3.1% from last year. This is in addition to a number of 4th quarter profit warnings from semiconductor firms such as Intel (NASDAQ:INTC), Texas Instruments (NYSE:TXN), Altera (NASDAQ:ALTR), Xilinx (NASDAQ:XLNX), Lattice Semiconductor (NASDAQ:LSCC), and Cavium Inc. (NASDAQ:CAVM), along with recent 4Q warnings from the IT software and hardware firms Oracle (NASDAQ:ORCL) and Acme packet (NASDAQ:APKT).
Perhaps the US economy will be dragged down by the European recession in progress, but I am still in a wait and see mode. Earnings season starts next week and should finally provide the direction.
Three ETFs come to mind on how to profit from any downturn. They are the double inverse S&P 500 ETF (NYSEARCA:SDS), the double inverse Nasdaq 100 ETF (NYSEARCA:QID) and for those that can take on more risk, the triple inverse semiconductor ETF (NYSEARCA:SOXS).
Disclosure: I have no positions in any stocks mentioned, and no plans to initiate any positions within the next 72 hours.