An excellent indicator investors use to make investment decisions is by viewing earnings growth rate. Earnings growth enables investors to determine the probability of future earnings; which enables investors to estimate a future share price value. Among other things, after a future share price is determined investors can decide whether to invest in the particular equity.
One complicated investment decision is the relationship between VMware (NYSE:VMW) and EMC (EMC). This duo is difficult to manage because VMware's earnings growth is superior to EMC, but EMC owns roughly 80% of VMware. Therefore, under normal circumstances, VMware's share price will outperform EMC by a substantial margin. In the following note I will detail the reasons why VMware should outperform EMC, followed by an explanation as to why this did not occur in 2011 and what investors should expect in 2012.
At the most basic level, VMware should be outperforming EMC based upon each respective company's revenue growth rate over the past five years. During that time period VMWare's revenue has grown an average of 30.35% per year, while EMC's revenue has grown 11.14% per year. Therefore investors should have seen VMware's share price substantially outperform EMC's over the past five years; which can be confirmed by viewing the charts. I will go into more detail about this later, but for now it is important to note VMware outperformed EMC in 2010 by a wide margin and then underperformed in 2011.
VMware's Revenue Growth
Year
Revenue
Growth

Percentage

2007
$1.32B
2008
$1.88B
41.87%
2009
$2.02B
7.59%
2010
$2.85B
41.17%
2011
$3.73B
30.77%
EMC's Revenue Growth
Year
Revenue
Growth

Percentage

2007
$13.23B
2008
$14.87B
12.44%
2009
$14.02B
-5.71%
2010
$17.01B
21.31%
2011
$19.83B
16.54%
There are two important notes to make regarding the tables above. The first is that I used the bottom line consensus estimates to determine the fourth quarter of 2011 revenue. Therefore, dependent upon actual earnings reported these numbers will likely change. I used the bottom line estimate in order to underestimate each company's revenue in an attempt to steer clear of misguiding investors.
The second important note is the percentage decrease in the revenue growth rate from 2010 to 2011. More specifically, VMware and EMC's revenue growth rate decreased 25.26% and 22.38% respectively from 2010 to 2011. This relationship is important because it indicates VMware's high growth rate can falter exponentially; while, on the other hand, EMC's slightly more stable growth can help to hedge against monumental portfolio losses.
Furthermore investors should expect to see EMC's revenue grow at a slower rate with less volatility compared to VMware. I will discuss how this relationship effects each respective share price later, but it is important to note a higher revenue growth rate ideally leads to higher returns for shareholders; however when the growth rate slows down or ceases the share price stagnates or plummets.
A similar trend can be viewed by comparing quarterly revenue over the past six quarters. In fact VMware's revenue growth rate has outperformed EMC's during the past six quarters; excluding the period from the second quarter to the third quarter of 2011. This should have been reflected in the company's stock, but this did not happen in 2011. Therefore VMware's share price has the potential to outperform EMC in 2012; but I will dive into this in more detail shortly.
VMware's Revenue Growth
Quarter
Revenue
Growth

Percentage

Y/Y Growth

Percentage

Q310
$714.25M
Q410
$835.66M
17%
Q111
$843.72M
0.96%
Q211
$921.21M
9.18%
Q311
$941.86M
2.24%
31.86%
Q411
$1.03B
9.36%
23.25%
EMC's Revenue Growth
Quarter
Revenue
Growth

Percentage

Y/Y Growth

Percentage

Q310
$4.21B
Q410
$4.88B
16.05%
Q111
$4.60B
-5.75%
Q211
$4.84B
5.16%
Q311
$4.98B
2.78%
18.23%
Q411
$5.40B
8.43%
10.46%
Based purely on the relationship between revenue growth and share price we can estimate VMware's share price has outperformed EMC's over the past two years. This is in fact true, but the majority of VMware's share price growth came in 2010. In fact EMC outperformed VMware by 49 basis points in 2011.
On the other hand VMware outperformed EMC by 2.5 times in 2010 due to an incredible 109% run. Therefore what was the difference in 2011 that caused the share price to halt? The difference was VMware's decrease in revenue growth from 2010-2011.
As I mentioned briefly before VMware's revenue growth rate decreased 25% from 2010-2011 compared to 2009-2010 while EMC's growth rate decreased 21%. Also, in 2011 EMC closed the gap on VMware regarding the quarterly revenue growth rate. Investors picked up on this in 2011 and were weary of weakness towards VMware. Moreover, if VMware cannot continue to grow at high rates we will see investors cautiously move the share price higher. And if VMware begins to slow down considerably we will see the share price plummet as investors send the high P/E ratio to normal levels.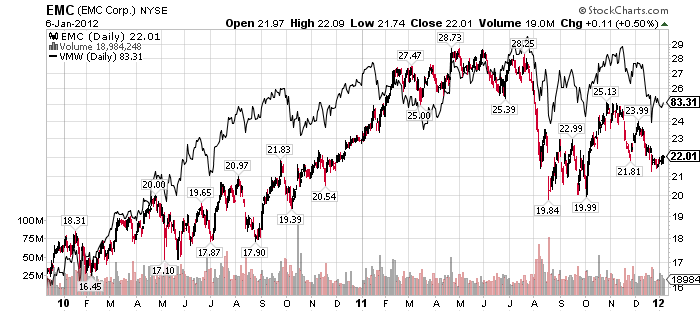 Click to enlarge
(Click to enlarge)
Another important topic to discuss is the 80% stake EMC has in VMware. More often than not previous articles include EMC's 80% stake in VMware into EMC's market capitalization. According to this, EMC's core value (excluding VMware) would be about $16.7 billion. If this were true, EMC's current share price would be 8.21.
These numbers may seem aimless because they are hypothetical, but this shows why it is critical investors view either company as its own entity because it becomes arbitrary and convoluted to break down EMC and VMware's market capitalization in an attempt to determine which is overvalued. By viewing either company as its own entity, investors are able to properly discern which investment best suits their portfolio.
This leads me to the final short discussion about what investors should expect in 2012. Investors should expect to see VMware's stock follow a close pattern with EMC. For instance, if both companies have strong fourth quarter 2011 and first quarter 2012 earnings we can expect to see EMC around 29-30 and VMware around 110-115 or possibly even higher. Keep in mind VMware's share price surges more frequently and more intensely than EMC.
Also, if EMC begins to grow at a faster rate than expected and VMWare slows down, investors should expect to see EMC's stock move higher while VMWare moves lower. Unfortunately this does not work vice versa. Due to EMC's stake in VMware, investors are not willing to send VMware higher unless EMC is performing well because EMC is seen as an IT market indicator. Therefore if EMC is struggling investors will expect VMware to struggle in the short term. This was one of the reasons VMware struggled in 2011.
Is it smart to own EMC and VMware in the same portfolio? Yes and no. It can be a smart play to own both only if you expect VMware and EMC to perform extraordinarily well. In this situation the safest way to go would be to hold one at a much lower percentage in order to stay diversified. Or as mentioned briefly above, one could use EMC to hedge against a weak market because EMC is more stable than VMware. Moreover, it is ideal to stay diversified and holding both equities long may lead to compounded losses if one or the other faces weakness.
Disclosure: I am long EMC.