Merck (NYSE:MRK) shares are currently trading around $38.50, at the high end of its 52-week range of $29.47 to $39.00. Its last 12-month earnings per share of $1.37 places its shares on a trailing price to earnings ratio of 28.12, and forecasts for earnings going forward place the shares on a forward price to earnings ratio of 10.04. This compares with competitors Bayer (OTCPK:BAYRY) at a forward price to earnings ratio of 8.72, GlaxoSmithKline (NYSE:GSK) at 13.23, and Pfizer (NYSE:PFE) at 9.34.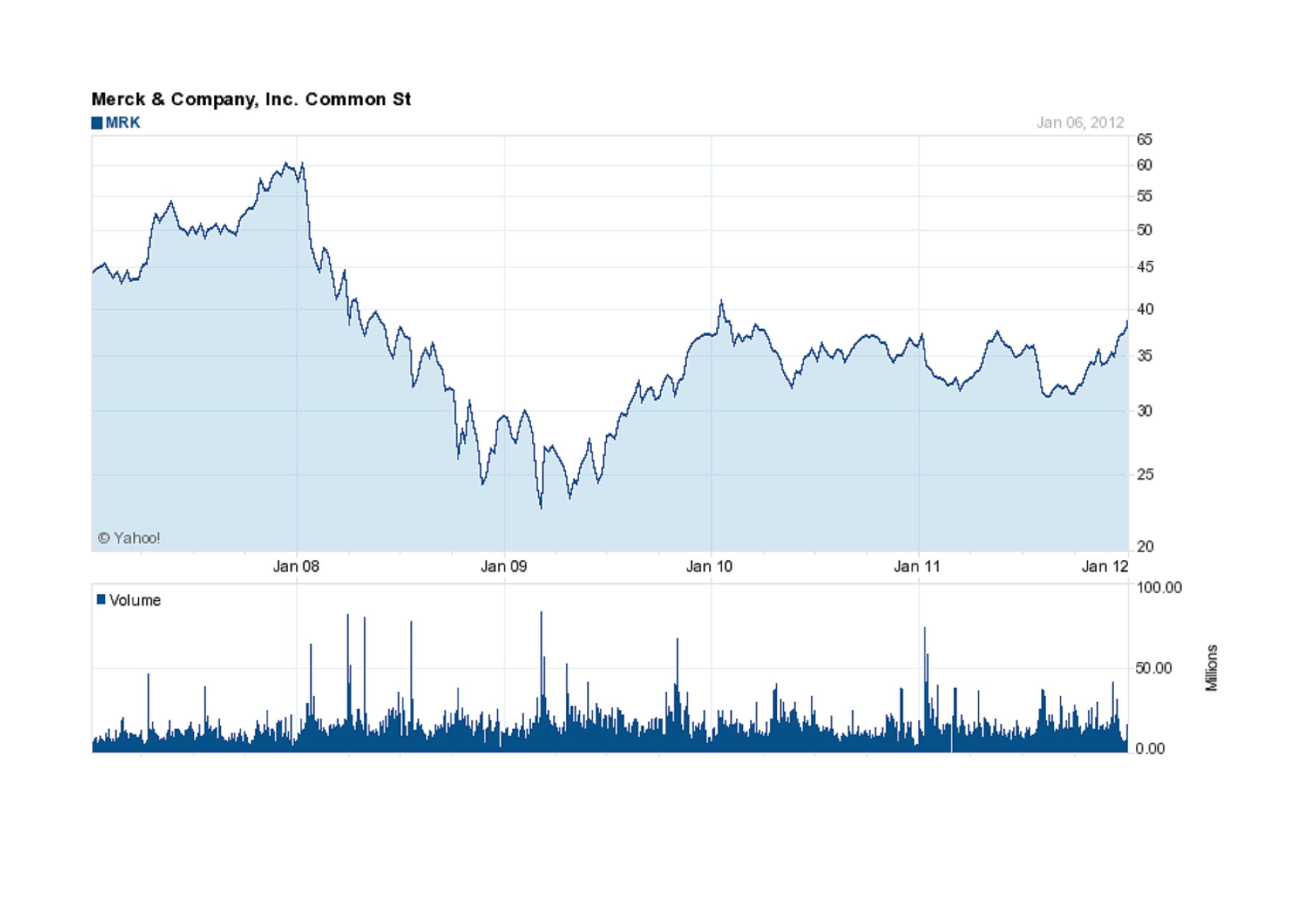 Click to enlarge

Last year, the company was beset with problems. It was forced to pull blood thinner vorapaxar at late stage trials due to risks of blood thinning. Next on the list of disasters was the halt of studies into a vaccine for Staph infections because patients who received the vaccine were proven to be more at risk.
On the upside, Merck managed to resolve a dispute with Johnson and Johnson (NYSE:JNJ) that threatened to cut revenue from its marketing of Remicade and Simponi, and it is making headway toward its target of 25% of its revenues coming from Asia. It recently announced the opening of a R&D headquarters in Beijing, China, as part of a commitment to invest $1.5 billion in the country. This should fit in well with its existing manufacturing plants in China, and is a good move in ambitions to expand in expanding markets.
However, in its fight for market leadership, it seems that Merck will be pursuing a strategy of looking for deals to purchase drugs in late testing to augment its pipeline of drugs likely to come to market this year. This could prove a costly strategy, and could signal a lack of faith in its own drugs pipeline.
An area that Merck is looking to take advantage of is the move by hepatitis patients to once-a-day oral drugs. It has a joint collaboration with Roche to improve treatment and diagnosis of HCV in developed and emerging markets. If this proves successful, it could be earnings lucrative. Indeed, Bristol Myers Squib (NYSE:BMY) has this weekend agreed to pay $26 per share for Inhibitex (NASDAQ:INHX) in order to try to gain a market leading position in the treatment of Hepatiis C. This deal was struck at a huge premium to Inhibitex's $9.87 share price at close of business on Friday, and shows what value there is in the market for Hepatitis C treatment.
The CEO believes that the company will have a better year in 2012 than it did in 2011. In the short term, deals like the Bristol Myers Squib/ Inhibitex one are likely to help push the sector higher, and pull the Merck share price higher too. This may make late stage drugs more expensive than they already are. Whilst the forward price to earnings ratio is not overly challenging, any move to pay prices for late stage drugs that will dilute earnings could put pressure on the share price. Recently, I noted that Sanofi is a better bet than Merck. Taking all into consideration, I would sell into strength.

Disclosure: I have no positions in any stocks mentioned, and no plans to initiate any positions within the next 72 hours.