Each earnings season, we select some of our top picks. Today, we have provided you with a couple of our picks as well as some trades we are doing for earnings season.
We select these stocks based on hours of researching the companies that are offering the best combination of growth and value in the upcoming earnings season. We are looking for companies that are growing sales and earnings heavily along with still offering good value in the marketplace.
Here are our top selections:
Click to enlarge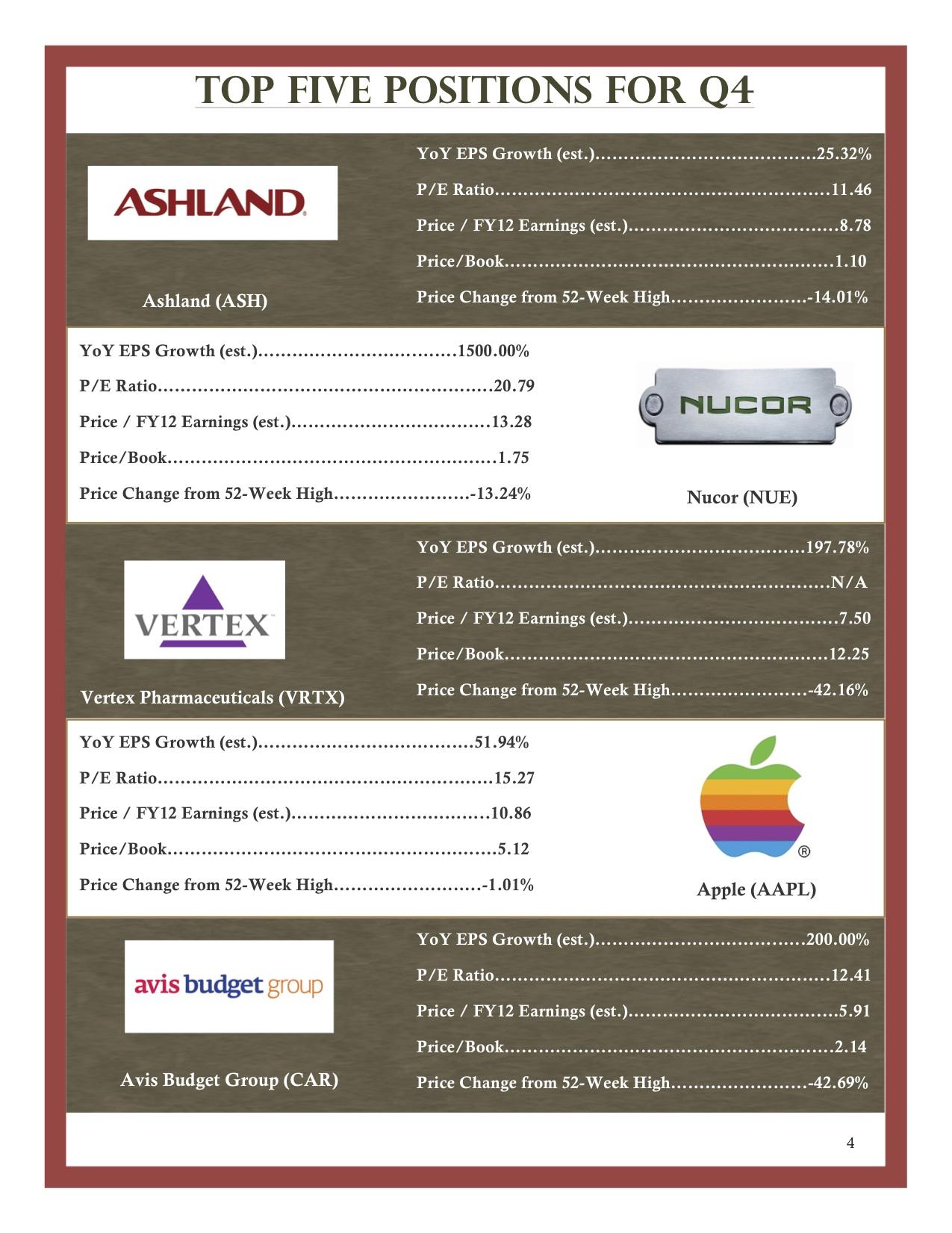 Ashland (NYSE:ASH) -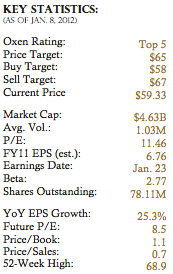 Ashland Chemicals looks like an amazing earnings play for this earnings season. For one, the company is looking at a 25% growth in EPS YoY as well as 40% growth in sales. That is a very significant growth level for a chemical company and highlights the strong sales growth for ASH in 2012.
Another fantastic part of Ashland is the company has done very well in the early part of the year, historically. The company has increased in the Jan. 7 to February options expiration period of earnings eight out of the last 10 years. During those eight years, it has had a max down of just under 10%.
The company looks really solid right now in growth, and its last quarter showed great growth with only a one-time charge hindering the stock. They are benefiting from long-term growth in the chemicals industry, and they have completely transformed the business.
We find their growth extremely appealing and believe that the stock is very undervalued with a future P/E at 8.5. With EPS expected to grow 0.20 YoY, the annual EPS will grow to 3.78. That number times current P/E at 11.5 brings us to 5.38. That number alone shows a price of $62. We believe that the company is very undervalued with the last quarter pension issues. With those resolved, we look for valuations to increase nicely.
Nucor (NYSE:NUE) -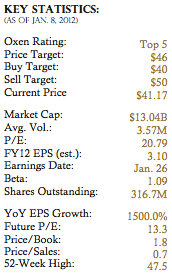 One thing we look for in earnings picks is a move from negative to profits in a solid company with good fundamentals. Nucor is a company that is moving from losses to in the black YoY, and it is going to be a solid buying point. The company is a very solid steel company that is one of the best in the industry. They are expected to move from -0.02 EPS to 0.28 along with 25% increase in sales.
Nucor has done very well in January-February season with 7/10 increases in price in that time frame with maximum drops on losses of 10% during the misses, allowing us to gauge a nice place to sell puts against the stock.
The company looks really solid in 2012 as it has now had four quarters in the black, and with one of the most efficient steel production companies ... margins are moving back in the right direction.
Steel prices have been steadily rising, and steel is one of the best indicators of our economy. We are bullish on the economy and believe that a strong company like NUE can deliver in this quarter as the economy gets its footing back here in the states.
The company is fairly cheap at 0.7x sales and 1.8x book. Its 20.8 PE is pretty fairly valued, but that PE is factoring in the loss from one year ago still.
A shift to profits will do wonders for valuations.
Vertex Pharma (NASDAQ:VRTX) -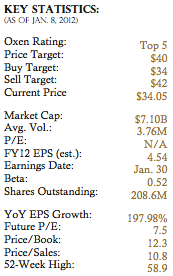 Vertex is another company moving from losses to profits in this quarter. The move is more dramatic as they are a pharmaceutical company that will also be jumping nearly 800% in sales. The reason: Incivek.
The company beat sales expectations, and they released one of the fastest selling drugs ever. The company also has a solid cystic fibrosis industry and has a number of solid drugs in the pipeline. Even with great growth and good sales, they are still only pricing a 7.5 future P/E ratio. The company is expecting nearly 200% growth in EPS along with those sales.
Vertex is one of the best growth stocks of 2012, and if the growth stays high, the stock could really take off. With what should be at least a 15 PE, the company should be at least double in price of what it is right now.
Moving into this earnings report, the company has a lot of upside. Kalydeco is launching in 2012, and that launch gives a floor to VRTX.
The company also has good historical results, up 6/10 January-February seasons. Its down periods were not very strong except in 2008, and we expect this to be another great quarter with very strong targets for 2012.
The stock is cheap right now, and this is the great combination of value and growth.
Apple (NASDAQ:AAPL) -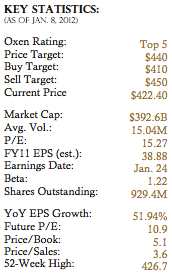 Apple is and will continue to be one of the best vehicles of growth in the stock market. The company is looking at yet another great quarter of growth with over 50% in earnings as well as over 40% growth in sales. We believe that this is going to be a stellar quarter for Apple. The iPhone 4S has been a hit, and last year's earnings were a miss because people shifted from iPhone purchases in Q3 to Q4 for the new phone.
We are also excited by the prospects of a new iPad that is launching in the first half of 2012 that we believe should be talked about in the earnings report. The company has gained a good amount in the past couple weeks, and right now; we would like to see a slight move backwards in price to pick up some calls. We believe the company should move to $440 - $450 after the earnings report. Our full year target is for over $540.
The move up has increased the PE to around 15, which we still believe is a very cheap multiple. Despite the value, the company should also be moving up on the EPS move. A 15 PE x FY EPS at 38.88 is $580. That is $160 above the current price.
Either Apple is about to explode up another 30-40% this year or become even cheaper than they are currently.
We side in the prior camp.
To see our analysis of Avis Budget (NASDAQ:CAR) and more on Top 5 Large-Cap, Top 5 Mid-Cap and Top 5 Small-Cap Picks, visit us here. Our large cap picks are Apple (AAPL), Nucor (NUE), Chevron (NYSE:CVX), Ventas (NYSE:VTR) and Bank of America (NYSE:BAC). Our mid-cap picks are Ashland (ASH), Goodyear (NYSE:GT), Vertex (VRTX), Green Mountain (NASDAQ:GMCR) and Oil States International (NYSE:OIS).
Disclosure: I am long CAR, ASH.
Additional disclosure: I may initiate a position in any stock mentioned in next 72 hours.