StatOil (STO) is a fully integrated oil and gas company headquartered in Norway. It is the world's 13th largest oil and gas company by market capitalization. It is producing oil in eleven countries and has retail operations in eight. Key metrics courtesy of Yahoo Finance as of 1/9/2012:
Statoil ASA (NYSE: STO)
Real Time 25.85

0.06 (0.23%) 10:05AM EST
Last Trade:

25.83

Trade Time:

9:51AM EST

Change:

0.04

(0.16%)

Prev Close:
25.79
Open:
25.94
Bid:

25.82

x

700

Ask:

25.83

x

800

1y Target Est:
26.88
Day's Range:

25.82

-

25.94

52wk Range:

20.12

-

29.67

Volume:

160,569

Avg Vol

(3m)

:
2,326,350
Market Cap:

82.19B

P/E

(ttm)

:
7.88
EPS

(ttm)

:
3.28
Div & Yield:
0.94 (3.60%)
StatOil is a leading supplier of natural gas to the European continent. Long-term this will be a growth story as natural gas transportation takes off in Europe due to the cost and environmental advantages over imported oil. StatOil had the best exploration results of any oil company in 2011. Key discoveries include:
On the NCS the company made the largest oil discovery in the world last year – Aldous. The company estimates between 900 million and 1.5 billion barrels of recoverable oil.
The giant Skrugard discovery in the Barents Sea estimated to hold 400-600 million barrels of recoverable oil with much upside potential to that estimate. The company is projecting a 95,000 BOE/day capacity.
Strategic Acquisition of Brigham Exploration Statoil tendered all Brigham Exploration (BEXP) shares for $36.50, a price so low ($4.4 billion) some BEXP shareholders cried foul. Too bad - done deal. The transaction will provide Statoil with more than 375,000 net acres in the Williston Basin, which holds potential for oil production from the Bakken and Three Forks formations. Brigham also holds interests in 40,000 net acres in other areas. At this early stage of development, the risked resource base is estimated at 300-500 million barrels of oil equivalent (boe), equity. At the time of the takeover announcement, BEXP was producing over 21,000 boe per day. StatOil's new acreage has potential to ramp up to 60,000-100,000 boe per day over a five year period. At the time of the announcement, BEXP was producing over 20,000 BOE/day. This was a major strategic and financial coup by STO. It must have left Conoco-Phillips (NYSE:COP), Occidental Petroleum (NYSE:OXY), Chevron (NYSE:CVX) and Exxon (NYSE:XOM) feeling like jilted wall flowers. One must wonder how long these major oil companies will ignore a company like Whiting Petroleum (NYSE:WLL) . Will they allow StatOil to add this gem to its portfoilio as well?
Great News from the GOM
Under a settlement with the U.S. government, announced Friday, Exxon Mobil and Statoil will get to keep their leases in the Julia deepwater field—which Exxon estimates could hold one billion barrels of recoverable oil. it agreed to build and install an offshore platform and begin producing oil by the middle of 2016. This is one of the largest discoveries in the GOM, and the government had attempted to revoke XOM's lease. XOM subsequently sued, and the settlement was good news for StatOil, which holds a 50% interest in the field.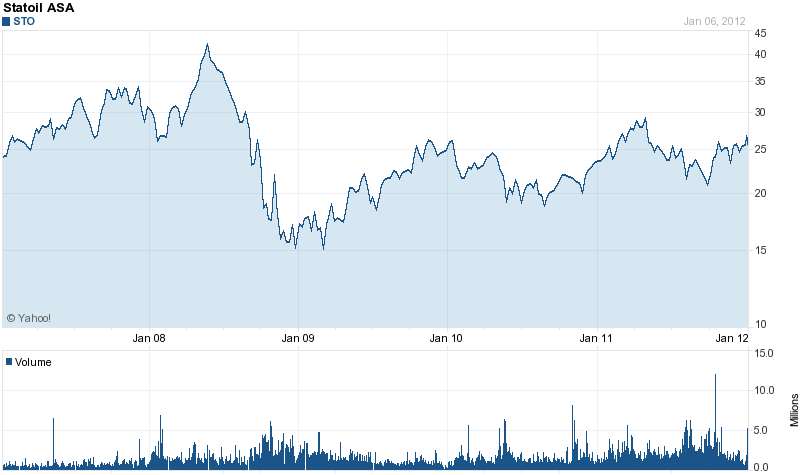 I have just hit the highlights here. There is much more good news on StatOil with even more discoveries already in 2012. Before investing, do some of your own research and be sure to learn about StatOil's important operations in Brazil and Angola. StatOil has announced plans to grow production from 1.9 million BOE/day to 2.5 million BOE/day by 2020. The company has a wonderfully diversified group of assets: the NCS, the Bakken, Eagle Ford, Marcellus, the GOM, Brazil, and Angola. It offers a great dividend (once a year) that has averaged close to 5% the last few years. It is has a PE under 8. The company has long sold at a discount to its peers for two reasons: 1) concern that the NCS was played out (reserve replacement) 2) the large stake held by the Norwegian government.
While I will agree with reason #2, the stock is still selling at a discount despite long-life massive reserve discoveries on the NCS which disprove reason #1. Also, from an income perspective, StatOil has a history of generous payouts. If you believe, as I do, that worldwide supply/demand fundamentals combined with geo-political risks and the U.S.'s inability to embrace natural gas transportation will lead to continued upward pressure on oil prices, what better way to protect your net worth than to invest in the value, income and growth potential of superbly managed company like StatOil? StatOil could easily trade up to $30 in 2012, and approach its historic high of $40 in 2013. Any spike in oil prices due to geo-political events would cause me to raise those targets. And yes, the European situation is already baked into my estimates. Of course, all bets are off if there is a systemic break-down in global finance. As usual, please do your own research before investing. Good luck!
Disclaimer: I am not a professional money manager. I merely express my opinions and analysis. Please conduct your own stock research. Include other sources and opinions before investing in any stock mentioned in this article.
Disclosure: I am long STO, WLL, COP.