I am resuming coverage of Lululemon (NASDAQ:LULU) with an Overweight rating and a DCF-based price target of $60, which values it at 39x 2012e P/E and implies a 15% upside from the closing price of $52.10 on January 4, 2012.
Investment Thesis
A disruptive retail strategy that encompasses quality and education, creating a virtuous cycle that allows LULU to achieve above-average productivity and profitability
International markets and ecommerce offer further upside in revenue growth and store expansion
An attractive acquisition candidate for established sports apparel makers that look to expand their brand portfolio and capitalize on the growing women's sports apparel segment
Valuation: LULU currently values at 44x 2011e P/E, which is at a slight premium to Under Amour (NYSE:UA) [40x 2011e P/E] but double that of Nike (NYSE:NKE) [20x 2011e P/E]
Recommendation: I resume coverage on LULU with an Overweight rating and a DCF-based price target of $60, which values it at 39x 2012e P/E and implies a 15% upside from the current price. The key risks include: (1) weak consumer spending; (2) increasing competitions from Nike and Adidas (OTCQX:ADDYY); (3) misinterpretation of fashion trends; (4) sluggish comparable store sales growth.
Business Overview
LULU is a specialty athletic retailer that designs, manufactures and distributes predominately yoga-inspired apparel under the lululemon athletica and ivviva athletica brands. The company's main target market consists of educated and sophisticated women who pursue an active and healthy lifestyle, and value performance, fit, and comfort in their athletic apparel. In addition to women's segment, LULU also targets the young women's segment with its ivviva brand, and the men's segment. As of 3Q11, LULU operates 165 stores in Canada, the US, and Australia, and plans to use its showrooms in London and Hong Kong as stepping stones to expand into Europe and Asia.
(Click charts to expand)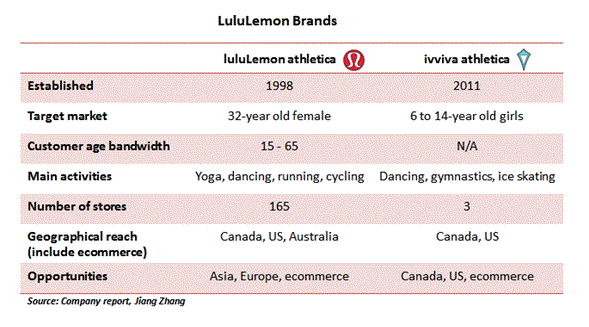 Investment Thesis
Disruptive Retail Strategy Drives Productivity and Profitability
LULU operates under a disruptive retail strategy that emphasizes quality and education, which effectively differentiates it from the other specialty retails, in my view.
To deliver products with superior quality, LULU invests heavily in R&D to ensure comfort, durability, moisture management and temperature control. According to management, trim and fabric account for 70% of the cost, which is significantly higher than the average 55% for its competitors.
Because many women base their purchasing decisions on the shape and the form of the apparel on their bodies, LULU is keen on details such as pockets for credit cards, holes for earphone wires and seam placements that can deliver a slimmer look and feel. Real-time intelligence is critical for LULU's success and the company actively solicits store associates and customers for new design ideas and suggestions. In addition, every fitting room contains a suggestion box that allows customers to provide feedback on the products. Design teams at corporate review the customer feedback every week to make product modifications accordingly, allowing LULU to continuously innovate to meet the evolving trend in fashion and fitness.
Education is also a critical component of LULU's strategy. Unlike the traditional sports apparel makers, such as Nike and Adidas, which rely on the endorsements of star athletes to promote the product's quality, LULU employs a community-based marketing approach that focuses on word-of-mouth and product education by local fitness instructors because management believes that most women base purchasing decision on referrals and magazine editorials rather than sports icons.
Before entering a market, LULU set up showrooms that give customers a first glimpse of the product line while it studies the purchasing behavior and the needs of the local market. Under an "ambassador" program, the company identifies an influential local fitness instructor who can help it establish its credibility and raise the brand recognition within the local market. This marketing technique gives customers a better understanding of the product, establishes brand awareness, and increases the chance of a future sale.
Finally, LULU has a highly effective corporate-owned retail distribution strategy that focuses on premium customer service. This strategy is keen on close-customer interaction in which the store associates not only educate the customers about LULU's products and features but also provide a personalized shopping experience that identifies the most suitable products for the customers. To deliver a fitness-oriented environment and position itself as part of the community, each store provides filtered drinking water to promote a healthier lifestyle, information on local yoga classes and running routes, health and fitness information, and other fitness events within the area. Free alteration is also provided within the store and the company is the only sports apparel marker that provides this service to attract new customers and maintain customer loyalty, according to my observation.
LULU's disruptive retail strategy that focuses on quality and education is delivering above-average profitability compared with its peers in the specialty apparel group.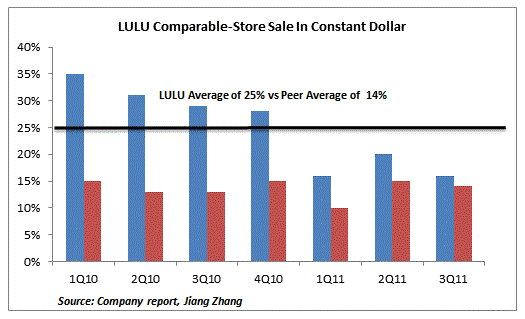 Each LULU store is also highly productive. In 3Q11, the company achieved record comparable sales per square foot of $1,880, a 40% increase from the end of 2009 and that is also more than triple that of the other specialty retailers.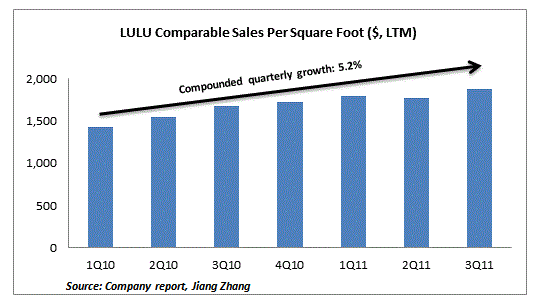 According to management, new store productivity in the US is approximately $1,000 to $1,100 per square foot. Stores in parts of the Midwest can also achieve similar productivity, indicating that LULU has strong brand equity in the US and can command pricing power over health-conscious consumers.
In Australia, productivity is just under $1,000 per square foot but the management believes that LULU can leverage its brand to increase the productivity because the growth trajectory is similar to that of the US business.
In my August 3, 2011 note titled "The Power of Brand Investing" I pointed out that brand is often an overlooked attribute of a company when it comes to investing because it is difficult to quantify. However, brand could be just as important as the other factors when making informed investment decision. LULU's focus on quality and education is creating a virtuous cycle that will likely solidify its brand equity as it increases store productivity and expands into international markets.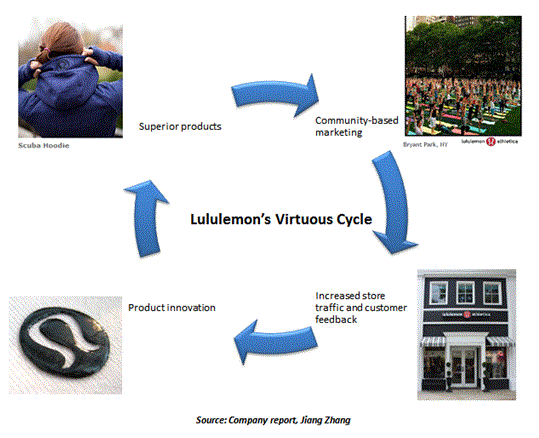 International Markets And Ecommerce Offer Compelling Opportunities
Canada, the US, and Australia are currently LULU's key markets, where it has 165 stores. While the US and Canada could have the potential for another 300 - 400 stores, international markets such as Asia and Europe are becoming highly attractive as another growth channel due to increasing health-awareness and the emergence of fitness-oriented culture.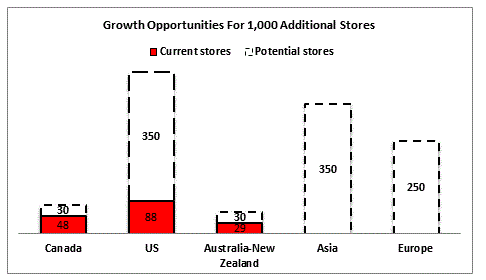 LULU's international strategy involves opening showrooms in a new market to build its brand awareness, study the local market, and lay the foundation for potential entrance into the market. Currently, the company has approximately 50 showrooms with one in Hong Kong and none in Europe.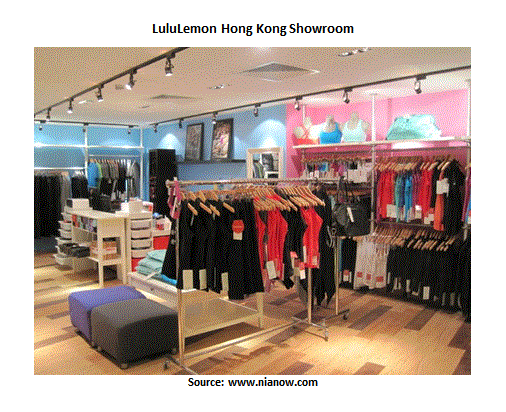 I expect LULU to open another showroom in Hong Kong this year to gather additional data on the market potential in Asia, and at least two showrooms in the UK to build its brand awareness around the summer Olympics.
Hong Kong and China's Tier-1 cities, such as Beijing, Shanghai, Shenzhen and Guangzhou, will offer LULU the most attractive market in terms of store openings. Because of the experience that CEO Ms. Christine Day developed in the region as the former President of Asia Pacific Group at Starbucks and the existing presence LULU has in Hong Kong, Asia will likely be the next destination for LULU to pursue its expansion plan, in my view.
Yoga along with cycling, dance classes and fitness centers are becoming more prevalent in China's top tier cities where white-collared professionals are seeking an active and healthy life style. According to my estimate, each major city in China has approximately 20 fitness centers, such Nirvana Fitness, offering yoga and fitness classes that are comparable to those in North America. These fitness centers are managed by knowledgeable staff and frequented by patrons with high disposable income. LULU can partner with these fitness centers to educate the patrons about its product and to build its brand awareness in the region.
LULU could even market its products at a higher price in China than in North America because foreign products are sold at a premium due to their brand image and quality. Currently, a pair of Juicy Couture yoga pants is priced at $72 on Revolveclothing.com. But on China's ecommerce site Taobao, the same pair is priced at $262. LULU's yoga pants are priced between the equivalent of Rmb 554 and 680 per pair on the company site. In my view, LULU can price the same product at twice the price because it has higher quality and encompasses both fashion and fitness compared with its competitors that emphasize on either fashion or fitness, but not both. Higher retail price ultimately translates to increasing sales and margin expansion.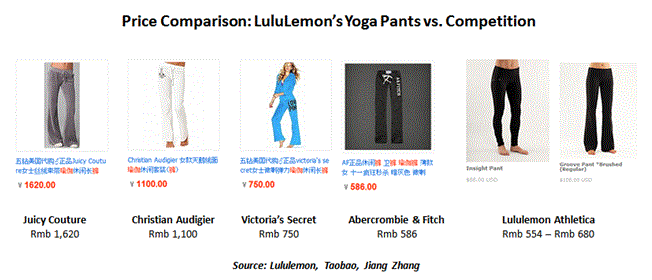 According to LULU website, 8 stores are within reach of the 5.5 million people in the Greater Toronto Area, Canada's largest metropolitan center. The ratio of population to store is 0.7 million people per store, on average. Applying the same population density to store count ratio, LULU has the potential of opening 106 stores in Hong Kong and China's Tier 1 cities, according to my estimate.
Potential New Stores In China's Top Cities

Toronto GTA Pop. (mm)

5.5

Store count

8

Pop. per store (mm)

0.69

Hong Kong

Beijing

Shanghai

Guangzhou

Shenzhen

Municipality pop. (mm)

7

20

23

13

10

Potential stores

10

29

33

18

15

Total

106

Source: City of Toronto, LuluLemon, China Statistic Bureau, Jiang Zhang estimates
Transitioning into Asia and Europe is an inevitable step for LULU because the company is currently overly dependent on North America and Australia. Other athletic apparel makers such as Nike, Adidas, and Under Amour have expanded their top line growth through international expansion and I believe that LULU is poised to follow suit in the foreseeable future because international markets offer more attractive opportunities due to increasing health awareness and disposable income, and consumers' aspiration to premium-brand products.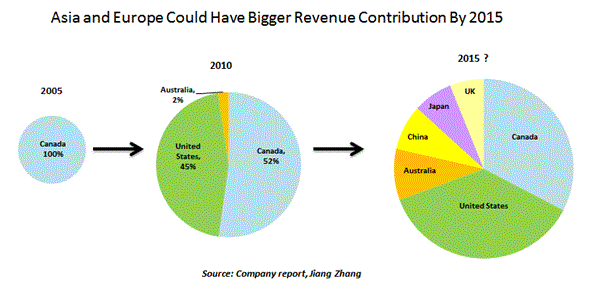 Finally, ecommerce will play a pivotal role in LULU's expansion into the international markets because it allows the company to enter a specific market without investing in direct advertising. According to management, LULU's local website in Germany, the UK, France, Hong Kong, and Japan have generated a lot of interests from consumers, giving LULU the essential data that can be used to map out future store openings in the region. I note that LULU recently launched ivviva.com in the US to gauge consumer interest. The purchasing data will be used to open stores in areas with the most interest and I believe that similar measures will be taken for the international markets.
Attractive M&A Target
LULU's product portfolio and brand are attractive to both Nike and Adidas as they look to expand their brand portfolio and capture the growing and elusive women's segment. In my view, Nike is the most likely acquirer of LULU given its history of high-profile acquisitions.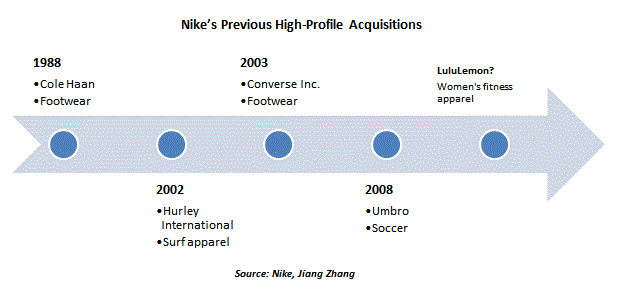 Experienced And Visionary Management To Deliver Flawless Execution
I believe that CEO Christine Day will be critical to LULU's future success for she has the skills and the strategic vision to lead the company on its high growth trajectory and attract key talents to the organization.
As the former President of Asia Pacific Group at Starbucks from 2004 to 2007, Ms. Day understands the significance of international growth, product innovation, and consumer preference. During her tenure at Starbucks, the Asia Pacific Group introduced Starbucks Discoveries, the company's first ready-to-drink coffee, outside of North America in Japan and Taiwan. The product was specifically designed to the local taste and lifestyle of Asian consumers. Starbucks Discoveries' success is a reminder to Ms. Day that innovation, adaptation, and globalization breed robust top line growth, and I am confident that Ms. Day will leverage her experience in Asia to compile the essential pieces for LULU to establish a strong foothold in the region.
Other officers include:
Dennis (Chip) Wilson, Founder and Chairman of the Board
Founded LULU in 1998 and served as CEO until 2005
Founded Westbeach Snowboard and served as CEO from 1980 to 1995
Received a B.A. in Economics from University of Calgary
John E. Currie, Chief Financial Officer
CFO of Intrawest Corporate from 2004 to 2006
Held senior financial position within the BCE Group
Received a B.A. in Commerce from University of British Columbia and is a Chartered Accountant
Delaney Schweitzer, Executive Vice President, Retail Operations North America
Vice President of Retail Operations at Pinnacle Foods Finance LLC prior to LULU
Served as LULU educator, store manager, Director of Training and Culture, and Director of Original Intent
Received an Executive Advanced Management Program from Harvard
Sheree Waterson, Executive Vice President, General Merchandise Management
Has over 25 years of experience in consumer and retail industry
Served as Vice President of Merchandising for women's at Levi Strauss & Co.
Received a B.A. in Psychology from University of California – Berkeley
Financial Analysis
LULU is at the initial stage of expansion and brand proliferation, and its brand and product quality will likely offset near-term weakness, in my view.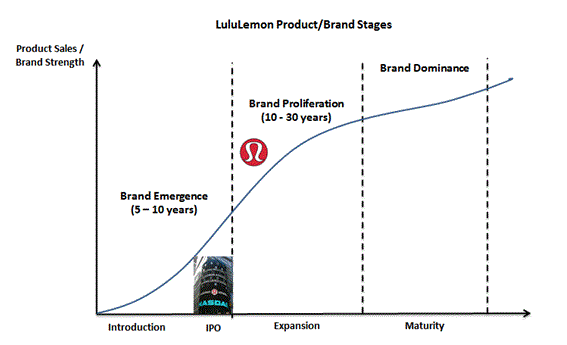 I modeled the net revenue to grow at a CAGR of 33% for 2012e – 2013e, after which I expect sales in Asia and Europe, along with ecommerce to ramp up from 2014e – 2016e, resulting a CAGR of 35% for the next five years.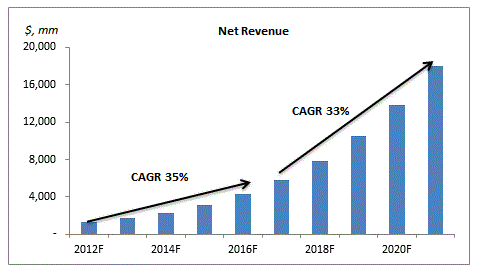 While I am positive on LULU's future growth as it undergoes brand proliferation and expansion in the next 10 to 30 years, I conservatively modeled the revenue to grow at a CAGR of 33% from 2017e – 2021e, taking into effect of brand and product maturity.
Gross margin will remain steady at 57% – 58% of net revenue from 2012e – 2016e, for I don't expect LULU to initiative any price cuts on its merchandise. In the subsequent five years, gross margin could reach to 60% as the company raises its price after strengthening its brand among the consumers.
SG&A margin will remain steady at 29% -30% of net revenue as LULU continues to pursue its current marketing strategy that emphasizes market research and product education. Beyond 2016e, I expect SG&A to reach 25% – 26% of net revenue as brand awareness reaches maturity.
EBITDA margin is projected to be 34% – 35% of net revenue. After 2016e, EBITDA margin is expected to increase to 37% – 38% net revenue due to higher gross margin and lower SG&A expense.
CAPEX will be 9% – 10% of net revenue, which is in line with its historical expansion rate for store openings.
EPS to grow at a CAGR of 33% in the next five years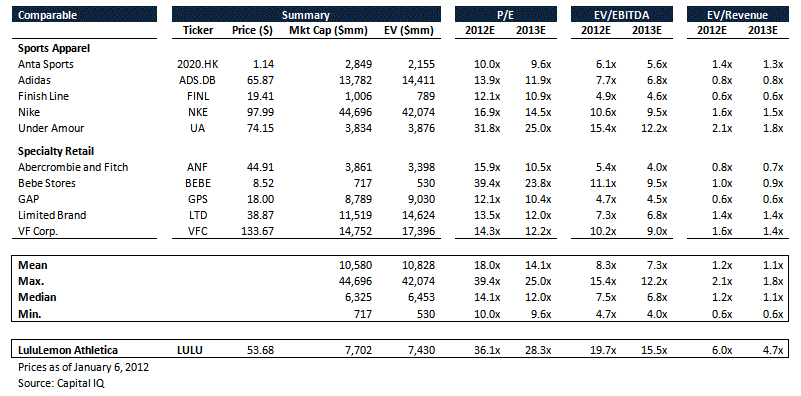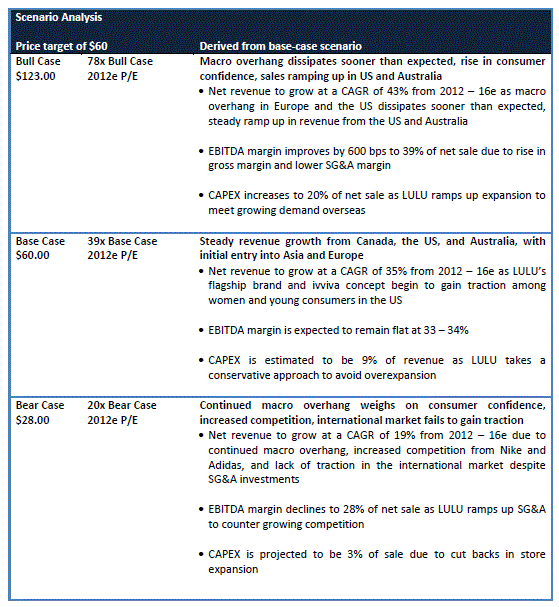 Valuation: DCF-based Price Target of $60.00 Implies a 15% Upside
My DCF-based price target of $60.00 implies a 15% upside from the closing price of $52.10 on January 5, 2012.
DCF Summary

WACC

16%

Terminal growth rate

2%

Sum of FCF (Year 1 - 10)

10,910

Terminal value

21,798

Total enterprise value (mm)

$ 8,324

Net cash (mm)

$ 369

Total equities value (mm)

$ 8,692

Shares outstanding (mm)

145

Price per share (USD)

$ 59.80
DCF Sensitivity Analysis

TGR

WACC

$ 59.80

14%

15%

16%

17%

18%

19%

20%

1.5%

77.16

68.45

61.14

54.95

49.66

45.10

41.14

2.0%

79.33

70.17

62.51

56.06

50.56

45.84

41.76

2.5%

81.69

72.02

63.99

57.24

51.52

46.63

42.41

3.0%

84.26

74.02

65.57

58.51

52.55

47.47

43.10

3.5%

87.08

76.20

67.29

59.88

53.65

48.36

43.83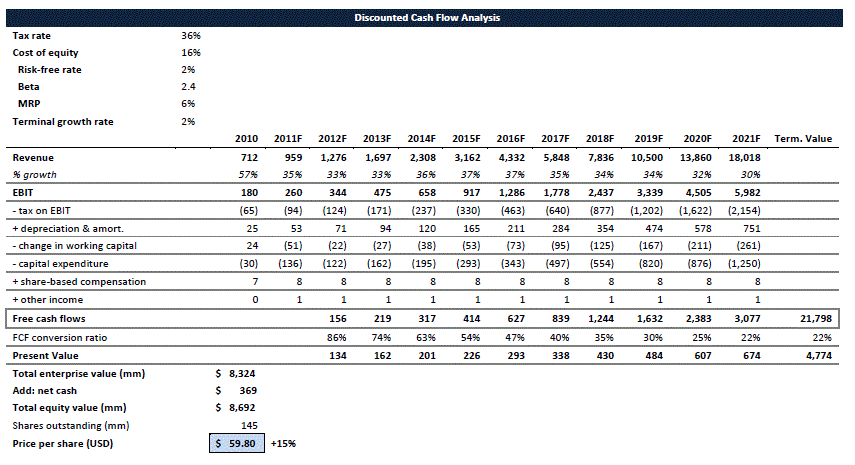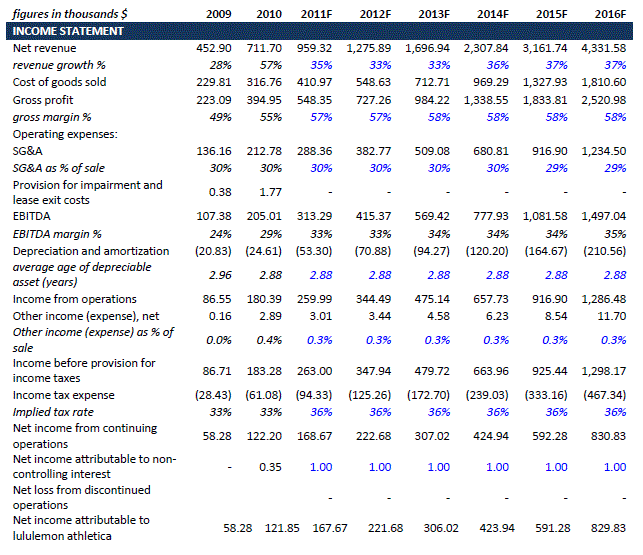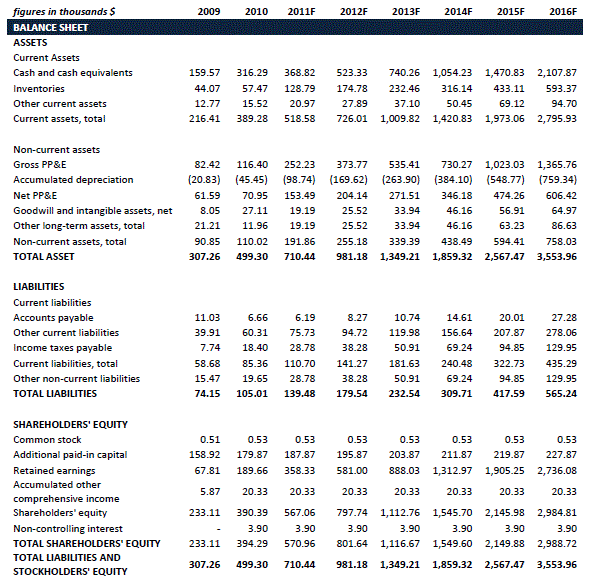 Disclosure: I have no positions in any stocks mentioned, and no plans to initiate any positions within the next 72 hours.