Mortgage REIT Overview
Mortgage REITs take advantage of a tax status to invest in mortgage related real estate assets. REITs can invest in both physical real estate assets and real-estate related securities like mortgage backed securities ("MBS"). REITs electing the take advantage of the tax status must distribute 90% of taxable income as dividends. The primary advantage of using the REIT tax designation is that these companies do not pay state or federal corporate taxes on dividends paid to investors. Instead, the taxes are paid by the REIT equity holders (investors).
A mortgage REIT's principal business objective is to generate income for distribution to its stockholders from the spread between the interest income received on its mortgage-backed securities and the cost of borrowing to finance its acquisition of mortgage-backed securities. In addition, most mREITs utilize leverage to boost shareholder returns.
Below is a table comparing the largest mortgage REITs.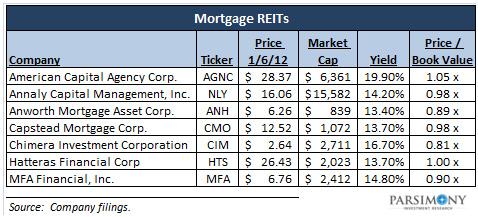 Ideal Environment for mREITs
We believe the U.S. is facing long-term structural issues that will lead to a prolonged period of uneven, subpar growth. The unemployment and housing issues that we face will take years, not quarters, to resolve. Politicians and economists will debate whether we are in or going into recession, but 1%-2% real growth will feel like recession for most Americans, and will not improve unemployment levels.
An unintended consequence of the slow recovery has been a Federal Reserve policy that has remained stuck in the mud. Chairman Bernanke has indicated that he will keep rates at exceptionally low levels until mid-2013. With 10-year Treasury yields hovering around 2.0%, this low interest rate policy is hurting savers that are looking for safe and reasonable nominal yields. Bill Gross at PIMCO believes that central bank policy is "picking the pockets of savers."
We believe that this is an ideal environment for mortgage REITs, which benefit from a steep yield curve with low short-term funding costs.
Are Mortgage REITs Too Risky For Retirees?
Due to the ongoing ultra low interest rate environment, many retirees have been forced to go up the risk curve in search of yield. Generally speaking, higher-yielding asset classes carry more risk. However, that doesn't necessarily mean that these "high-yield" asset classes should be avoided. High-yield stocks and bonds can be appropriate for even the most conservative investors within the context of the right investment strategy.
As discussed in a previous article, we recommend that investors utilize a barbell investment strategy for speculative, high-yield assets. A barbell strategy is a very simple strategy to implement. The strategy involves investing a high percentage of a portfolio in ultra safe short-term investments (like cash and T-Bills) and the remaining portion in risky assets.
While specific asset allocations will vary based on an investor's tolerance for risk, we believe mortgage REITs are a suitable asset class for retirees seeking stable income. However, we caution investors to watch interest rates, prepayment rates and leverage levels very closely if invested in the space.
Agency Mortgage REITs Are The Best Choice For Retirees
We think agency REITs continue to offer investors the best risk-adjusted yield. Agency mortgages are guaranteed by government sponsored entities (implying limited credit risk). Conversely, non-agency securities do not carry a similar implied guarantee, making them inherently more risky due to the higher relative credit risk.
Agency Mortgage REITs provide yield hungry investors access to strong dividend yields. These securities typically perform well in low interest rate environments with steep yield curves. We think they provide investors (especially retirees) a hedge against heavy cash and short-term bond portfolios in the event interest rates stay low for an exceptionally long period of time.
We believe that due to the structural headwinds in the U.S. economy, we think interest rates will remain low for the foreseeable future (next 12-24 months). As such, we believe REITs (particularly agency-focused REITs) offer investors an extremely compelling risk/reward profile and strong dividend yields.
Investors should focus on those managers who have a proven track record of managing their portfolio through various rate cycles. In addition, we think it is prudent to diversify mortgage REIT holdings as managers deploy different strategies within the complex.
Below is a list of agency-focused mortgage REITs (which is a subset of the list above).
Agency REITs with bias toward Fixed Rate Mix
Agency REITs with bias toward Floating Rate Mix
Anworth Mortgage Asset Corp. (NYSE:ANH)
Capstead Mortgage Corp. (NYSE:CMO)
Hatteras Financial Corp. (NYSE:HTS)
We are long-time holders of NLY and AGNC, which continue to be our two favorite mREITs in the space. Please see the links below for further details.