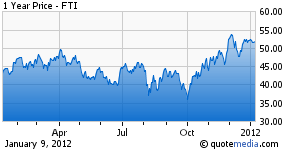 America is curbing its oil import appetite through aggressive shale development and a return to offshore exploration and production. Given Iran's saber continues to rattle, the incentive for the U.S. to in-source its oil supports drilling equipment and services stocks, including FMC Technologies (NYSE:FTI).
FMC's products are widely deployed wherever oil is found. It's particularly strong in deepwater, where its subsea systems hold a 46% market share. The industry has been getting stronger in the wake of a return to Gulf of Mexico post-Macondo. FMC shares have increased 27% since the end of the third quarter. Oceaneering International (NYSE:OII) and Helmerich Payne (NYSE:HP), both also tied to offshore E&P, have seen shares increase 33% and 58%, respectively. Stocks with offshore exposure are likely to enjoy another solid quarter given rig rates remain high.
In November, there were 1,185 active rigs worldwide, 55 more than last year. As of the most recently reported week, 307 more rigs are operating in the U.S. than last year, up 17%. And, important for plays like FMC, Gulf of Mexico rigs are up 64% to 42. Likely the most impressive data point is the North American rig count, which stands at 2,007 - the highest reading since 1985.
Strength in demand for wellhead and subsea systems propelled FMC's energy production system sales 31.5% higher to $1.012 billion in Q3. Orders were strong enough to lift its subsea backlog to $3.8 billion. This brought the company's total backlog to $4.6 billion, up from $3.65 billion last year.
In 2012, FMC expects the number of $100 million plus orders to double. Petrobras (NYSE:PBR), a major customer, is expected to return to the market as its multi-year deals, inked in 2008, will wrap up. FMC thinks Petrobras may order as many as 405 subsea trees by 2016. The company is also investigating opportunities tied to its Marlim project. Petrobras has an additional 70 brownfield opportunities where similar technology could be deployed.
The U.S. offers substantial future offshore growth for FMC. In mid December, the government completed its first post-BP disaster auction, which produced $330 million in winning bids for offshore acreage containing as much as 400 million barrels of oil. From now through 2017, the government plans 10 additional offshore lease sales.
Oil prices (NYSEARCA:USO) remain high, which helps support capital spending growth. As additional leases are bid and developed, demand for FMC products will increase. Last month, Chevron (NYSE:CVX) announced it expects to boost its spending by 17% to $37 billion in 2012. In Africa, another FMC customer, BP (NYSE:BP), expanded its Angola acreage with five new exploration blocks. BP hopes to double its annual E&P spending as it leverages these properties.
But, it's not just offshore lifting sales higher at FMC. Robust shale activity is boosting its energy processing systems segment, where sales rose 48.3% to $285.7 million in Q3 thanks to demand for well service pumps. The higher volume of demand helped segment margins climb to 21.4% from 17.9% last year.
Energy stocks are typically strong performers in the first quarter, suggesting price gains in Q4 should carry over into the summer blend switchover in spring. Even if prices fall on Europe recession risk or a return to some sense of normal diplomacy with Iran, the tail for deepwater exploration is long and short term price fluctuations aren't likely to translate into a short term results. With FMC's sales up a compounded 16% annually since 2001, and its earnings up 24% in the same period, the company offers shareholders a good way of playing the continuing exploration boom.
Disclosure: I have no positions in any stocks mentioned, but may initiate a long position in FTI, OII, HP over the next 72 hours.