Neogenomics (NGNM) is an independent lab testing provider, and it targets the genomic/molecular testing segment with a focus on cancer diagnostics. It is estimated that the genetic/molecular testing segment is growing 20% to 25% per year as new applications are developed and commercialized. The market for cancer testing is also growing rapidly due to the following key factors:
Cancer is the leading cause of death in the US, and one in 4 deaths in the United States is due to cancer. A total of 1,596,670 new cancer cases and 571,950 deaths from cancer are projected to occur in the United States in 2011.
Cancer is primarily a disease of the elderly, and now that the baby boomer generation has started to pass age 60, the U.S. is experiencing a significant increase in the number of senior citizens. The American Cancer Society estimates that one in four senior citizens will develop some form of cancer during the rest of their lifetime.
Every year more and more genes are implicated in development and/or clinical course of cancer. These associations fuel the development of new genetic or molecular tests.
The total cancer testing market is about $10 billion to $12 billion in the US, and grows very rapidly. Neogenomics currently addresses approximately 40%-50% of this market, approximately $4.0 billion to $6.0 billion market opportunity, about half of which is derived from genetic and molecular testing, with the other half derived from more traditional anatomic pathology testing services that are complementary to, and often ordered alongside, the genetic testing services.
Neogenomics' vision is to become America's premier cancer testing laboratory. The company's laboratory network currently offers the following types of testing services:
| | | |
| --- | --- | --- |
| Category of Testing | | Analysis |
| | | |
| Cytogenetics | | Analysis of human chromosomes |
| | | |
| Fluorescence In-Situ Hybridization (FISH) | | Analysis of abnormalities at the chromosomal and gene levels |
| | | |
| Flow Cytometry | | Analysis of gene expression of specific markers inside cells and on cell surfaces |
| | | |
| Immunohistochemistry | | Analysis of the distribution of tumor antigens in specific cell and tissue types |
| | | |
| Molecular Testing | | Analysis of DNA and RNA to diagnose and predict the clinical significance of various genetic sequence disorders |
All of these testing services are widely utilized in the diagnosis and prognosis of various types of cancer, and to help predict a patient's potential response to specific therapies.
Neogenomics' Competitive Advantages
NGNM holds numerous competitive advantages over its competitors. We are especially impressed by its industry-leading turnaround times and unique business model, which are two key factors to attract clients to use its services.
One of Neogenomics key competitive strengths is its industry leading turnaround times to its clients nationwide. The company is the market leader in this regard and provides information so that physicians can provide their patients with the proper treatment as soon as possible.
The company typically returns results from cytogenetics testing services in 4-5 days, versus an estimated industry average of 7-14 days. FISH results are typically delivered in 3-4 days and Flow Cytometry results are usually delivered within 12-24 hours. These turnaround times continue to be industry-leading benchmarks for national laboratories. The timeliness of results continues to increase the usage patterns of clients and acts as a driver for other add-on testing requests to the company.
The company has established a unique business model to better compete in the lab testing market. About 80% of Neogenomics' lab tests are billed off the physician fee schedule, with the remainder billed off the clinical lab fee schedule. Lab tests billed off the physician fee schedule usually have two separable billing components: the technical component consisting of sample treatment and testing, and the professional component for interpretation of the test results.
Realizing the different needs from the market, Neogenomics has developed two reporting solutions to meet different needs of its professional clients. The company currently provides two reporting solutions to its clients: the global reporting solution and the tech-only reporting solution.
Solid Financial Performance, Strong Outlook
Revenue grew from $1.9 million in 2005 to $34.4 million in 2010, a tremendous 78.7% compound annual growth rate for the five year period. We estimate revenue will further grow to $107.5 million in 2015, which implies a CAGR of 25.6% from 2010 to 2015. Average CAGR from 2005 to 2015 will be at 50%. This is amazing considering the relatively short history of the operations and the small size of the company.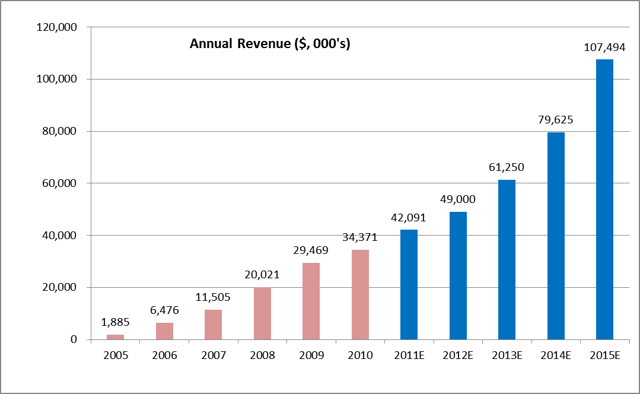 Neogenomics has achieved economies of scale as product offerings continue to expand and revenue continues to grow. This has led to increased operating leverage evidenced by decreased SG&A expense as percentage of total revenue. Quarterly SG&A expense as percentage of revenue has been declining dramatically year over year since 1Q10. The Company has achieved positive EBITDA in the first two quarters of 2011. Neogenomics will achieve profitability in 4Q11 according to our model.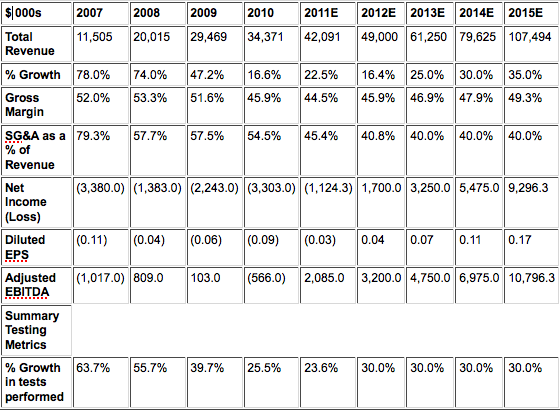 Total revenue will continue to grow dramatically in the next 5 years from 2011 to 2015, while Neogenomics will continue to control SG&A expenses. SG&A expense will continue to decline as a percentage of total revenue in the next 5 years. Cost control will increase productivity and ultimately drive the bottom line, in our view.
Financial Performance for 3Q11 was Strong, Revenue for 4Q11 Upwardly Revised
Revenue for 3Q11 increased $2.6 million, to $11.3 million, from the $8.7 million in the 3Q10. This was a tremendous increase of 30% year over year. On the sequential basis, revenue increased 8.2% from second quarter's $10.5 million.
In spite of a 30% revenue growth and 38% test volume increase, selling, general and administrative (SG&A) expenses increased only by 2.7%, or $130,000, from last year's third quarter. Due to continued operating leverage, SG&A as a percentage of revenue continue to fall to 44.4% from 56.3% last year and from 45.6% from 2Q11.
Net loss for the quarter was $143,000 or ($0.00)/share versus a net loss of $1,198,000 or ($0.03)/share in 3Q10. Adjusted EBITDA for the quarter increased by $1.1 million to $693,000 versus ($398,000) in the third quarter 2010. The balance sheet is strong. As of September 30, 2011, the company had cash and cash equivalents of $3.1 million with little debt. The company also has approximately $3.8 million line of credit backed by accounts receivables.
NGNW also revised upward its previously issued revenue guidance for 4Q11. The company now expects revenue of approximately $12.0 - $12.5 million in the fourth quarter, an increase from the original guidance of $11.4 - $12.0 million released on October 19, 2011. The company also reiterated that it expects to be profitable in Quarter 4 with net income of $0.00 to $0.01 per share.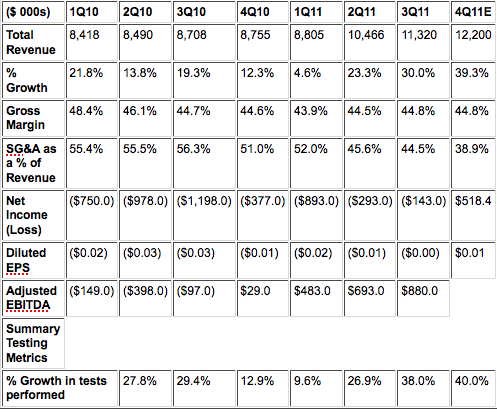 Recent Significant Developments
Neogenomics announced two important events on Jan. 9, 201:
The company appointed Dr. Maher Albitar as chief medical officer and director of research & development; and
The company entered into an agreement with Health Discovery Corporation (HDC), providing the company with exclusive worldwide rights to develop cancer diagnostics and other products using HDC's pattern recognition technologies.
Albitar is worl- renowned for his expertise in hematopathology and molecular oncology. During his career, he has served as medical director for hematopathology and oncology, and chief of research and development, for Quest Diagnostics Nichols Institute. Dr. Albitar has held various faculty positions at the University of Texas MD Anderson Cancer Center, where he also served as director of the leukemia and molecular laboratory in the division of Laboratory Medicine and Pathology Medicine. He was also a tenured full professor in the departments of Leukemia and Pathology. He has been responsible for the development of numerous tests and inventions in molecular testing and plasma-based testing, and is passionate about innovation and molecular test development.
The agreement with HDC is also a milestone event for Neogenomics. With this agreement, Neogenomics has exclusive worldwide rights to utilize HDC's extensive intellectual property portfolio to develop laboratory developed tests and other products relating to hematopoietic and solid-tumor cancers. Initially, the company plans to focus on developing tests for the detection of prostate, pancreatic and colon cancer. The company also plans to develop interpretation software targeted at automating cytogenetics and flow cytometry analysis.
Dr. Albitar recently served as chief medical officer for HDC and has significant experience working with HDC's technology. His leadership, along with the agreement with HDC, will significantly enhance Neogenomics' ability to develop and launch novel new tests targeting a variety of cancers. We believe innovation and the launch of proprietary products is an important driver of future growth for the Neogenomics, and will allow the company to further differentiate itself in the marketplace.
Opportunity to Accumulate NGNM Shares Now?
It looks like NGNM's growth strategy has been well-executed in the past, and we have high confidence in management's ability to lead NGNM to the next level of growth in the next five years. We think at this time, downside risk for NGNM is relatively low, while upside potential is high. One short-term potential catalyst is the possible upgrade of NGNM shares from current OTC trading to major exchange, such as AMEX or Nasdaq. Management indicated that it is making progress toward listing NGNM shares on either exchange. This upgrade will significantly increase the company's visibility and attract institutional investors.
One wild card for NGNM valuation is that the company may be an acquisition target for big players. The genetic/molecular industry is quite fragmented currently, but merger and acquisition activity is looming. Big players LabCorp and Quest Diagnostics are increasingly acquiring smaller players in this field. Qiagen NV, a research service company based in the Netherlands, entered into genetic/molecular testing market in 2007 by acquiring Digene Corp. Since then, Qiagen has been quite aggressive in acquisition of other small genetic/molecular testing companies.
In December 2010, GE Healthcare acquired Neogenomics' largest competitor, Clarient Inc., at 5.8 x EV/LTM Revenue. Clarient Inc. is similar to Neogenomics in terms of business and operations, and is Neogenomics' largest competitor; therefore, Clarient is the closest comparable for Neogenomics. With the increased activity in M&A in the industry, NGNM could be an easy target for acquisition. If acquired by a big player, share price of NGNM may soar.
Disclosure: I have no positions in any stocks mentioned, and no plans to initiate any positions within the next 72 hours.
Disclosure: I/we have no positions in any stocks mentioned, and no plans to initiate any positions within the next 72 hours.
Business relationship disclosure: I work as a Consultant Analyst for Zacks Investment Research. The article is written by me and is 100% my opinion. I receive compensation from Zacks for writing equity research reports and providing valuation analysis on this company's stock and expect to do so in the future. Zacks receives compensation from the company. Please see the Zacks Disclaimer for further information: http://scr.zacks.com/Disclaimer/default.aspx