Today we will list 15 large cap companies from the S&P 500 that we deem to be potential torpedoes. These are companies that rank poorly according to important criteria developed by The Applied Finance Group (AFG), including Economic Margin, Management Quality (MQ) and Valuation Rank. These three criteria have proven through back-tests to identify stocks likely to underperform sector peers and benchmarks. If you own or are considering adding one of these companies to your client portfolios, you may want to take a closer look into these companies and reconsider whether or not they are worth adding/owning.
Three key metrics that are utilized to identify Sell ideas that have proven to underperform sector and index peers are Management Quality, Valuation and Economic Margin improvement. Three key questions listed below help us to identify potential torpedo stocks.
Management Quality - Is management able to create wealth for its shareholders?
Valuation - Is the company currently trading at a discount to its intrinsic value?
Economic Margin (true economic profitability) - Is the company improving its economic profitability (what it earns above its true cost of capital) at a greater rate than its sector peers?
If the answer for a specific company is no to all three of these important questions then you may want to think twice before adding that company to your portfolio as it possesses characteristics that have proven to produce poor returns. In the table below you will find 15 companies from the S&P 500 that look unattractive according to the criteria listed above.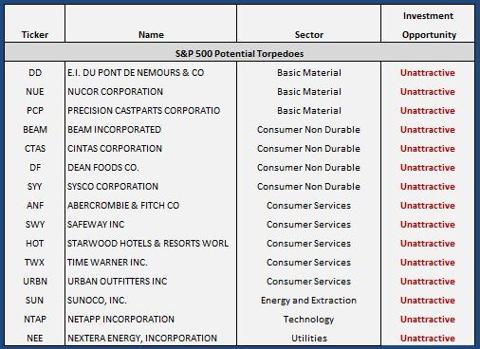 Disclaimer: AFG is not an investment company, it only provides research.