Microsoft (NASDAQ:MSFT) generates a ton of cash from its overseas business. PCs equipped with Windows are sold world-wide and the money is rolling in. Microsoft has become cash rich: $57 billion in cash and short-term investments and $8.6 billion in equities. Cash has more than doubled in 3 years.
Yet, Microsoft has a dilemma: It can't access the vast majority of its money without incurring U.S. hefty taxes. Almost 90% of its cash hoard is stuck off-shore.
Foreign income is taxed at a 35% rate once it's brought into the U.S. Microsoft, like many other multinationals, has elected to keep these profits off-shore.
Being a multinational company isn't easy.
Microsoft began breaking the numbers down in its last 10K. Apparently, the numbers had reached the "Oh My God" point. Last quarter, $51 billion out of its $57.4 billion cash position was held by its foreign subsidiaries.
If you wondered why this cash rich company borrowed $11 billion over the past few years, you've now got your answer: the money was in the wrong place, out of Microsoft's reach without incurring hefty taxation.
Microsoft added a section in its last 10K (under liquidity):
Should we require more capital in the U.S. than is generated by our operations domestically, for example to fund significant discretionary activities, such as business acquisitions and share repurchases, we could elect to repatriate future earnings from foreign jurisdictions or raise capital in the U.S. through debt or equity issuances. These alternatives could result in higher effective tax rates, increased interest expense, or other dilution of our earnings. We have borrowed funds domestically and continue to have the ability to do so at reasonable interest rates.
Ironic, isn't it? Microsoft finds itself needing to borrow billions in the U.S. even as it piles up cash in its foreign markets. The company is feeling a bit of pressure.
The largest implications may actually be for dividend investors. Last year, Microsoft paid $5.4 billion in dividends. Normally, that would easily be covered by a $23 billion net income. However, much of those earnings are overseas. The company only has $5.6 billion available for use within the U.S. It may not be too long before the dividend will need to be paid by borrowed money: Otherwise, Microsoft's rising dividend may have to be curtailed. Dividend investors, take heed!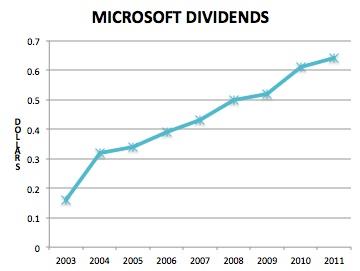 Disclaimer: The opinions in this document are for informational and educational purposes only and should not be construed as a recommendation to buy or sell the stocks mentioned. Past performance of the companies discussed may not continue and the companies may not achieve the earnings growth as predicted. The information in this document is believed to be accurate, but under no circumstances should a person act upon the information contained within. We do not recommend that anyone act upon any investment information without first consulting an investment advisor as to the suitability of such investments for his specific situation.
Disclosure: I have no positions in any stocks mentioned, and no plans to initiate any positions within the next 72 hours.