Many large companies have recently performed exceedingly well, along with the broader market. Both the Dow Jones Industrial Average and S&P 500 are now up about 19 percent from their 52-week lows
Moreover, now that short-term rates are so low, dividend stocks are again in favor. Low beta dividend paying stocks may offer income investors a more stable supplement to their fixed income portfolios, especially if asset volatility is a concern.
Low beta stocks should help reduce a portfolio's market-related volatility. Companies with low betas will tend to be less volatile than the general market, and less correlated to market gyrations that are not related to the company's business. Several low beta stocks now offer yields that are competitive with highly rated bonds and must be seen as compelling supplements or alternatives for income portfolios.
This is a recent performance review for eight well-known S&P 500 components that are have a beta of below 0.5, dividends of at least 2.5% and a history of raising dividends every year for at least 25 years: Consolidated Edison Inc (NYSE:ED), Abbott Laboratories (NYSE:ABT), Kimberly-Clark (NYSE:KMB), Wal-Mart Stores (NYSE:WMT), Clorox Co (NYSE:CLX), McCormick & Co (NYSE:MKC), Colgate-Palmolive Co (NYSE:CL) and McDonald's Corp (NYSE:MCD).
In the table, below, I have provided the 1-month, 3-month, 1-year and 52-week low equity performance rates for each of these equities, as well as the current annual dividend yield.
Click to enlarge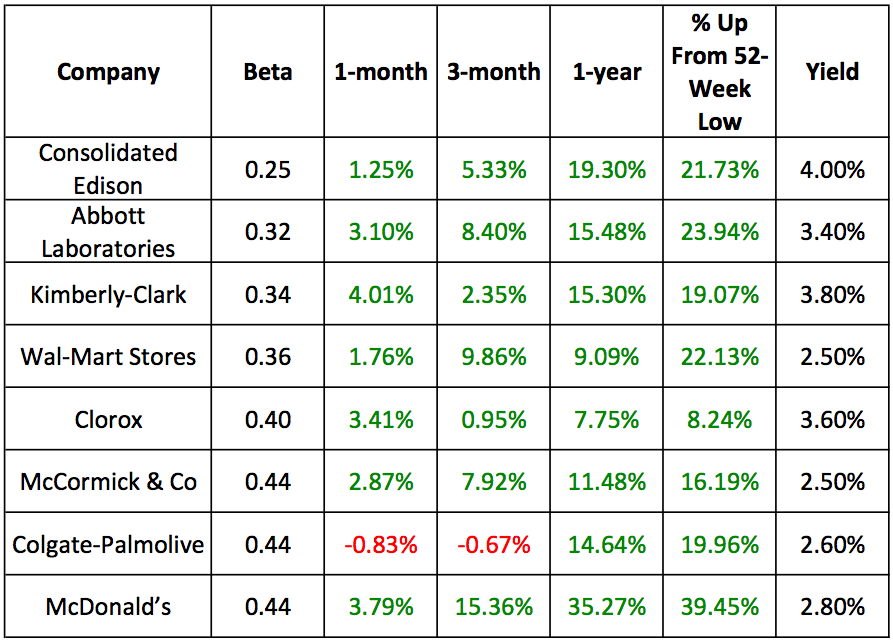 Most of these equities outperformed the broader market in 2011. These low beta companies offer stable and ever-rising dividends that are above market-average and comparable to the yields offered by 10-year or greater Treasuries.
Not only are those yields competitive, but these equities are also Dividend Aristoctrats, which means they have increased their payout every year for at least 25 years. This makes dividend increases in 2012 probable, with half already out-yielding 10 year U.S. Treasuries.
Several of these companies now also trade exceptionally close to their 52-week highs, which were mostly set within the last week or two. This could bode well for these equities, should they have a positive earnings season.
Disclosure: I have no positions in any stocks mentioned, and no plans to initiate any positions within the next 72 hours

Disclaimer: This article is intended to be informative and should not be construed as personalized advice as it does not take into account your specific situation or objectives.


.