The biotech group is among the largest in the market in terms of the number of companies, which number well over 300. Within the group, large-caps (those with market-caps over $5 billion) have well established commercialized product portfolios that generate revenues, and in most cases generate profitability.
Micro-cap biotech companies (those with market-caps of less than $300 million) in contrast generally have no commercial products, but rather a pipeline of product candidates being tested in early- to sometimes mid- or late-stage clinical trials for a variety of disease conditions. In between the two are mid-cap (between $1 billion and $5 billion in market-cap) and small-cap biotech (between $300 million and $1 billion in market-cap) companies, that in the case of small-cap are more biased towards clinical stage product portfolios, and in the case of mid-caps are more biased towards one or more commercialized products in their portfolio and a clinical development pipeline. Both due to the size of the sector, investor interest and the differing characteristics of the constituent companies, we have broken the sector by capitalization, and in this article we discuss the investing activities of the world's largest funds in mid-cap biotech stocks.
The world's largest fund managers, managing between $100 billion and over a trillion dollars, are bullish on mid-cap biotech stocks. During Q3, these mega fund managers together added a net $482 million to their $14.04 billion prior quarter position in the group, selling $1.18 billion and buying $1.66 billion worth of stocks in the group. Furthermore, overall they are under-weight in the group by a factor of 1.3. Taken together, the 30+ mega funds have invested 0.3% of their assets in the group, less than the 0.2% weighting of the group in the overall market.
The following are the mid-cap biotech companies that these mega fund managers are most bullish about (see Table):
Biomarin Pharmaceuticals (NASDAQ:BMRN): BMRN develops enzyme replacement therapies and oral solutions to treat debilitating, life-threatening, chronic genetic disorders and other diseases and conditions. Mega funds taken together added a net $213 million in Q3 to their $1.83 billion prior quarter position in the company, and taken together mega funds hold 48.8% of the outstanding shares, higher than their 41.4% weighting in the group. The top buyers were Capital Research Global Investors ($230 million) and Janus Capital Management ($52 million), and the top holder was Fidelity Investments ($580 million).
BMRN shares have performed well, up almost four-fold from the lows in 2008/09 compared to the 75% increase for the average biotech stock, and the price is within striking range of its all-time high from 2008, driven mostly by its strong pipeline of enzyme replacement therapies for orphan diseases. A number of brokers have recently upgraded and raised their prices on the stock, including Summer Street Research, Deutsche Bank, RBC Capital Markets, and Piper Jaffray just in the last six months alone, with no downgrades.
Alkermes Plc (NASDAQ:ALKS): ALKS, an integrated biotech company, develops injectable and oral products for the treatment of central nervous system (CNS) disorders, addiction, diabetes and autoimmune disorders. Mega funds added their largest (new) position, at $278 million, in this company in Q3. The top buyers were T Rowe Price ($102 million) and Vanguard Group (80 million). Also, since the end of Q3, as we reported earlier in our review of daily and weekly institutional 13D/G 5% ownership filings, Pittsburg, PA-based investment management company Federated Investors, with $352 billion in assets under management, filed SEC Form SC 13G/A indicating that it held 6.6 million or 5.1% of the outstanding shares of ALKS, a new position for them since their 13-F Q3 filing.
ALKS revenues are on a strong growth trajectory, up over 40% year-over-year for the last two quarter, based on rising sales of Risperdal Consta for schizophrenia and bipolar disorder, and they are projected to double in 2011 and then rise over 40% in 2012. However, it is expecting to keep posting losses at least until 2012, and it trades at 6-7 times annual revenue on a TTM basis compared to the average of 235.7 for the biotech group.
Questcor Pharmaceuticals (QCOR): QCOR is an integrated specialty pharmaceutical company focused on the development, acquisition and marketing of innovative, acute care and critical care hospital and specialty pharmaceutical products. Its primary product is H.P. Acthar Gel, an injectable drug that is approved for the treatment of exacerbations associated with multiple sclerosis, infantile spasms, opsoclonus myoclonus syndrome and nephrotic syndrome. Mega funds added a net $76 million in Q3 to their $995 million prior quarter position in the company.
The top buyer by far was Fidelity Investments ($135 million), and the top holders were Fidelity Investments ($366 million), Vanguard Group ($139 million) and Blackrock ($123 million). QCOR shares are among the best recent performers in the biotech group, up a massive almost ten-fold since shares started to rally in early 2010, based on overwhelming success of its Achtar drug. Just in the most recent Q3, the company trounced revenue and earnings estimate, reporting $59.8 million and 37c versus estimates of $53.1 million and 26c, and also up huge year-over-year and sequentially, showing acceleration in both revenue and earnings growth. The stock trades at a premium 22.3 forward P/E and 14.1 P/B compared to 33.2 and 6.1 for its peers in the medical drugs group. However, its projected earnings growth 78.4% (from 60c in 2010 to $1.91 in 2012) is significantly higher than the average 24% growth in the group.
Theravance Inc. (THRX): THRX develops small molecule drugs for respiratory disease, bacterial infections, overactive bladder, and gastrointestinal disorders. Mega funds added $19 million in Q3 to its $438 million prior quarter position in the company. The top buyer was Fidelity Investments ($23 million), also the top holder at $155 million. THRX shares plunged yesterday, down almost by a third intra-day at the time of this writing, after the company and GlaxoSmithKline (NYSE:GSK) together announced initial outcomes from its pivotal phase 3 trial of once-daily Relovair in COPD and Asthma.
The following are select mid-cap biotech companies that these mega fund managers are most bearish about (see Table):
Dendreon Corp. (NASDAQ:DNDN): DNDN develops targeted therapeutics to treat cancer using active immunotherapies, monoclonal antibodies and small molecules. Among investor circles, it is probably best known as the maker of Provenge® for Prostate Cancer. Mega funds unloaded a net $141 million in Q3 from its $679 million prior quarter position in the company. The top seller was by far Ameriprise Financial ($70 million). DNDN shares have rallied strongly recently after the company announced last Thursday Q4 revenues and an update on commercialization.
In what is turning out to be a great gift for shareholders, DNDN shares have now rallied over 80% in the last three trading days since the update was announced. We wrote recently about our view on DNDN's update, opining that while the risk-to-reward balance had definitively shifted in favor of the bulls, the stock was likely to consolidate as it approaches recent highs near $14, and that we would wait now to buy on a dip back towards the $10 range.
Human Genome Sciences (HGSI): HGSI develops gene-based protein and antibody drugs to treat cancer and immunological and infectious diseases. Its principal products in development include BENLYSTA for systemic lupus erythematosus; and raxibacumab for inhalation anthrax. Mega funds cut $29 million in Q3 from their $824 million prior quarter position. The top seller was Bank of New York Mellon Corp. ($29 million). Earlier, in our review of daily and weekly institutional 13D/G 5% ownership filings, we reported that since the end of Q3, Boston-based Loomis Sayles & Co. with $142 billion in assets under management, filed SEC Form SC 13G indicating that it now holds 32.0 million or 13.9% of outstanding shares.
HGSI stock has been weak lately, down almost 70% in the past year, with the latest drop after the company reported disappointing numbers for Q3 on October 25th, followed by the announcement of an offering of $400 million in Convertible Notes the next week on November 2nd. We believe that the long-term blockbuster potential of BENLYSTA, its drug for lupus, remains unchanged, and that its shares are attractively priced at these levels.
Ariad Pharmaceuticals Inc. (NASDAQ:ARIA): ARIA is engaged in the development of drugs that treat aggressive and advanced-stage cancer by regulating cell signaling with small molecules. It is also developing small-molecule drugs that block signal transduction pathways in cells responsible for osteoporosis, and immune and inflammatory diseases. Mega funds cut $10 million in Q3 from their $735 million prior quarter position in the company. The top sellers were Capital World Investors ($24 million) and State Street Corp. ($14 million).
ARIA's lead product Ridaforolimus for the treatment of metastatic soft-tissue or bone sarcomas (in patients who had a favorable response to chemotherapy) currently awaits FDA decision in June next year, and it has two other potential blockbuster oncology drugs in its pipeline, Ponatinib in phase 3 for CML and AP26113 in phase 1 for lung cancer and other tumors. The stock recently ( on December 27th) received a boost after Rodman & Renshaw made bullish statements about the potential of its ponatinib treatment and other drugs in its pipeline, and raised the price target from $15 to $18.
Other mid-cap biotech stocks that mega funds collectively sold in Q3 include Incyte Corp. (NASDAQ:INCY), a developer of small molecule drugs for hematologic and oncology indications, and inflammatory and autoimmune diseases, in which mega funds cut $2 million; Onyx Pharmaceuticals Inc. (NASDAQ:ONXX), a developer of small molecule drugs designed to prevent cancer cell proliferation and angiogenesis, in which they reduced $8 million. Also, other mid-cap biotech stocks that mega funds collectively bought in Q3 include United Therapeutics Corp. (NASDAQ:UTHR), a biotech company focused on developing therapies to treat cardiovascular, inflammatory and infectious diseases, in which they added $73 million; Cubist Pharmaceuticals (CBST), a biopharmaceutical company that develops anti-infective products to treat conditions in the acute care environment, in which they added $50 million; and Seattle Genetics Inc. (NASDAQ:SGEN), a clinical biotech company focusing on the development of monoclonal antibody-based therapeutics for the treatment of cancer and autoimmune diseases, in which they added $30 million.
Table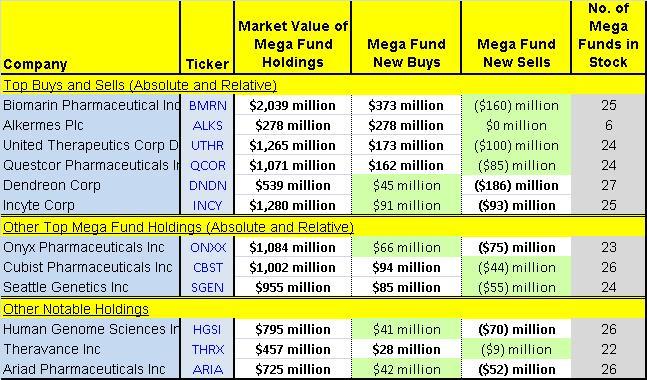 General Methodology and Background Information: The latest available institutional 13-F filings of over 30+ mega hedge fund and mutual fund managers were analyzed to determine their capital allocation among different industry groupings, and to determine their favorite picks and pans in each group. These mega fund managers number less than one percent of all funds and yet they control almost half of the U.S. equity discretionary fund assets. The argument is that mega institutional investors have the resources and the access to information, knowledge and expertise to conduct extensive due diligence in informing their investment decisions. When mega Institutional Investors invest and maybe even converge on a specific investment idea, the idea deserves consideration for further investigation. The savvy investor may then leverage this information either as a starting point to conduct his own due diligence.
Credit: Historical fundamentals including operating metrics and stock ownership information were derived using SEC filings data, I-Metrix® by Edgar Online®, Zacks Investment Research, Thomson Reuters and Briefing.com. The information and data is believed to be accurate, but no guarantees or representations are made.
Disclosure: I have no positions in any stocks mentioned, and no plans to initiate any positions within the next 72 hours.
Disclaimer: Material presented here is for informational purposes only. Nothing in this article should be taken as a solicitation to purchase or sell securities. Before buying or selling any stock you should do your own research and reach your own conclusion. Further, these are our 'opinions' and we may be wrong. We may have positions in securities mentioned in this article. You should take this into consideration before acting on any advice given in this article. If this makes you uncomfortable, then do not listen to our thoughts and opinions. The contents of this article do not take into consideration your individual investment objectives so consult with your own financial adviser before making an investment decision. Investing includes certain risks including loss of principal.