I have started buying shares of foreign companies with an aim to diversify my portfolio. I want to buy into different sectors, invest in different economies, be vested in different currencies, and reduce geopolitical risks. I feel that companies from the developed economies are being punished unfairly due to the unfortunate, albeit real, sovereign debt crisis. I want to be a contrarian and go where most investors wouldn't go given the global market situation and feared European implosion.
In this article, I discuss a few stocks from Switzerland that are listed on U.S. stock exchanges. I am deeply intrigued by the resilience of the Swiss economy and the use of Swiss Franc as a reserve currency (along with US Dollar, Euro, British Pound and Japanese Yen). Recently, in September 2011, the Swiss Central Bank decided to peg the Swiss Franc to the Euro whereby the Swiss National Bank will not allow the Franc to get worth more than €0.83 (which is CHF 1.20 to the Euro). I estimate that this forced weakening of the Swiss Franc will benefit export-oriented Swiss companies boosting their profits in the coming year(s).
I have looked at the following six companies in some detail with a focus on total returns (dividends and price appreciation). The Swiss government has a 35% withholding rate on dividends but due to a tax treaty with the US, only 15% is deducted for US-based investors. This withheld tax is unfortunately lost if the shares are held in a tax deferred account like 401(k), IRA, Roth IRA etc. However, a dollar-for-dollar credit may be claimed on Form 1040 at the time of filing income taxes if the shares are held in a regular brokerage account. As a result, I only recommend holding Swiss stocks in a regular account and not in a tax advantaged account.
| | | | | | | | |
| --- | --- | --- | --- | --- | --- | --- | --- |
| Company | Price | Yield | Div Period | Debt/Equity | Div Payout | 3-yr Div Grw | 5-yr Div Grw |
| | 19.24 | 3.50% | Annual | 0.15 | 55% | 33.95% | n/a |
| | 70.03 | 2.00% | Quarter | 0.14 | 15% | -2.25% | 1.92% |
| | 22.32 | 6.63% | Annual | 4.9 | 55% | -22.20% | -3.90% |
| | 56.7 | 3.67% | Annual | 0.13 | 58% | 23.86% | 9.60% |
| | 57.31 | 3.47% | Annual | 0.21 | 55% | 14.65% | 13.90% |
| | 6.17 | 5.51% | Quarter | 0.11 | 40% | 11.00% | 25.00% |
ABB Group (NYSE:ABB)

ABB is a global leader in power and automation technologies. It operates in more than 100 countries and I feel that it will benefit immensely from public projects in emerging economies. It is an extremely old company formed when ASEA of Sweden and BBC of Switzerland merged in 1988. ABB stopped dividend payments in 2002 and did not start paying them again until 2006. I consider this a bit risky but find their business and financial very attractive right now. I will watch their progress over the next couple of quarters and invest accordingly.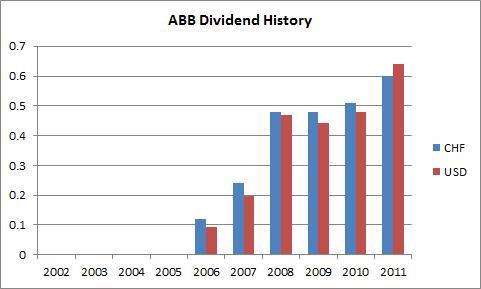 ACE Ltd. (NYSE:ACE)

ACE Group is a global provider of insurance products in all areas – property, accident, health, life insurance, travel and even reinsurance. It is rated AA- by S&P and A+ by A.M. Best. ACE declares quarterly dividends in US Dollars and has been increasing them steadily. The yield is low but the payout ratio is also low giving scope for future growth as well as confidence in current dividend.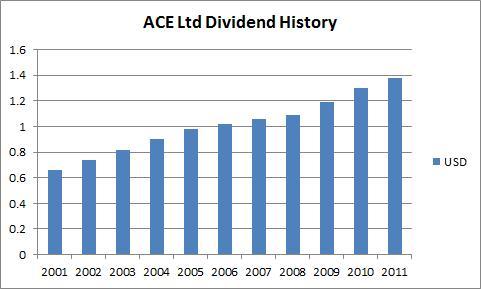 Credit Suisse (NYSE:CS)

Credit Suisse is biggest private banks in the world based out of Zurich, Switzerland. It provides Investment Banking, Private Banking and Asset Management services to clients in more than 50 counties. It reduced the dividend during the financial crisis but I feel that the future looks more promising and the current dividend yield is very enticing. This appears to be a bank too big to fail and there is something about a Swiss Bank (even if I can't or wouldn't possibly have a Swiss Bank account).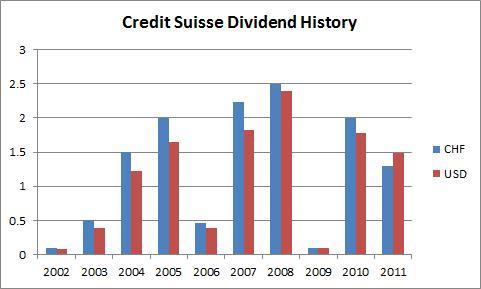 Nestlé S.A. (OTCPK:NSRGY)

Nestlé is the world's largest food and nutrition company based in Vevey, Switzerland. It has thousands of brands and does business around the world and is growing quite well in emerging markets. About 30 of its brands generate more than a billion in revenue every year. The big brands include Nescafe and Nespresso, various bottled water brands (Pure Life, Perrier, Poland Spring), Ice cream (Dreyer's, Movenpick, Haagen Dazs), Petcare (Purina, Beneful), Jenny Craig, Chocolates (Kit Kat, Butterfinger, Crunch), Baby foods (Cerelac, Graduates, Nestum). The company is extremely well managed and has been steadily increasing dividends every year (at least in Swiss Francs).
Nestlé is listed on the OTC Exchange (Pink Sheets). This is perceived by many US investors to be risky and can rightfully be at times. However, Nestle is a global giant and is often in the top-ten list of companies with the highest market capitalization in the world (the others are Exxon Mobil, Petro China, Apple, Petrobras, BHP Billiton, RDS, Chevron, IBM, Microsoft, China Mobile). Nestle reports its financial results as per the internationally accepted accounting principles. Hence, Nestle cannot be listed on the main US exchanges as it is a requirement to report financial numbers as per US GAAP. I presume that Nestle does not want to go through the laborious process of NYSE/Nasdaq listing requirements in addition to complying with various regulations in their home country/exchange.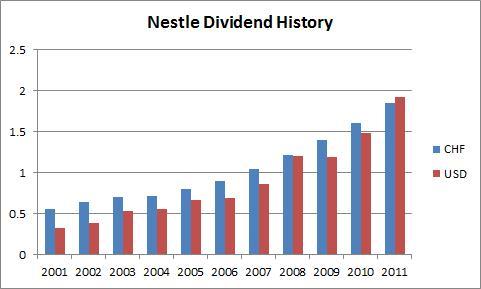 Novartis Pharma (NYSE:NVS)

Novartis is world's second largest pharma company based in Basel, Switzerland. It was formed when Ciba-Geigy merged with Sandoz. Novartis has a few blockbuster patented drugs like Diovan, Gleevec, Zometa among many others. It also has a very strong generics division (Sandoz) as well as a Biotech arm. Novartis has been rapidly growing in the Vaccines and Diagnostics space via its acquisition of Chiron in 2006. In addition, Novartis is growing its presence in various animal health medications as well in OTC market with drugs like Triaminic, Theraflu, Benefiber, Prevacid, Excedrin, Vagistat, Lamisil etc. Novartis completed its purchase of Alcon (from Nestle) and merged its CIBA Vision division. I believe that Alcon eye care will help Novartis grow tremendously given its undisputed leadership position in global eye care for both pharma as well as surgical products. There isn't any significant competition to Alcon and the need for Alcon surgical products (corrective vision, cataract) is growing rapidly. As a result, I am less concerned about loss of revenue from drugs going off-patent in the coming years and have now built Novartis into my largest position.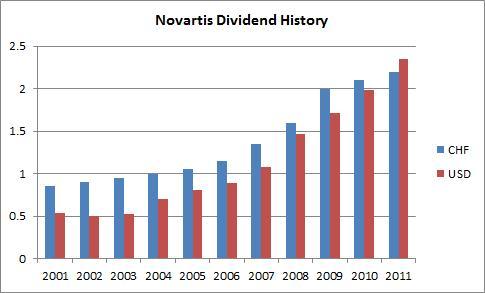 STMicroelectronics (NYSE:STM)
STMicroelectronics is Europe's largest semiconductor company and based out of Geneva, Switzerland. It was formed with the merger of SGS Microelettronica of Italy with Thomson Semiconducteurs of France in 1987. ST designs and manufactures semiconductor chips for the telecom, automotive, consumer, computer, and industrial markets. It has been under pressure over the last few years in the various segments that it operates from competitors like Texas Instruments, Broadcom, Analog Devices, NEC/Renesas. It has a joint venture with Ericsson that unfortunately hasn't done well due to falling marketshare of Ericsson cellphones. I like the current dividend yield of ST and believe that now is a good time to buy into this cyclical industry of semiconductors. I am slowly buying shares hoping that the dividend growth of last 3 years will be maintained in the future as well.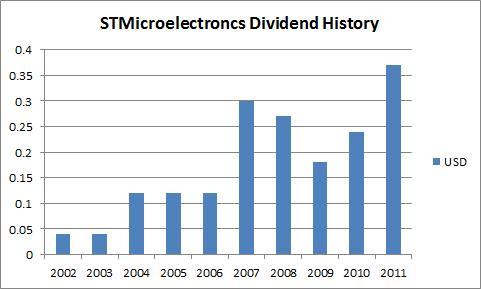 Other Swiss Stocks
There are a few more listed on the U.S. exchanges including Roche Holdings, Syngenta, Logitech, Zurich Financial, UBS AG, Lonza Group and Addeco. However, I found that these either do not pay dividends or I feel that the future dividend yield (my yield on cost) would not justify the risks, or rather simply that I will get better value elsewhere.
Disclosure: I am long NVS, STM and have limit buy orders for ABB, CS, NSRGY.PK. I do not find ACE attractive at current yield.