The Big Move is a series I provide exclusively at Seeking Alpha. Over the past several years, I have studied and played big moves. As evidenced by my public track record, I've got a knack for calling 'em right most of the time – silver, biotech, oil, corn, and now the financials (banks). Results of all my recommendations, from 2009 to current, are reported and updated regularly here.
Bank of America (NYSE:BAC)
Before getting started, I'd like to direct you to Regarded Solutions' article on BAC that was just published yesterday (1/9/12) here at Seeking Alpha. I enjoyed his take and share his sentiment on the banks, namely BAC. A slew of other investors and commentators have covered the merits for and against investing in BAC, ad nauseam. So, I am going to take a different approach, one that I hope other like-minded investors will find helpful.
Like my friend Regarded Solutions, I, too am a contrarian - willing to step up when others are running away - presuming, of course, the circumstances are right. When a potentially good opportunity arises, I gladly pull out my value investor hat and take action. And while trading at 0.3 X book and 0.77 cash values, BAC – in my view – is a solid value bet, presenting investors with what I believe to be a darn good opportunity to generate some [potentially] meaningful gains.
Right now, BAC appears to be gearing up for a big move, one that will likely transpire in the weeks and months ahead.
VALUE AND CONSENSUS
Fair value is reached by consensus of all willing market participants. According to Robin Mesch, the process of reaching fair value occurs in stages, individually and collectively, over a period time. The amount of time required to build consensus, she argues, "depends on how disparate the opinions of individuals in the collective mindset are at the outset of negotiation."
In Investing and the Irrational Mind, Mesch explained,
Markets in which the collective psychology is in strong concurrence will take on a trend and look directional. In markets where participants have (1) strong opposing views of value, a long period of negotiation is required before arriving at agreement. In these situations, the market's back-and-forth fluctuations (negotiations) resemble random activity. Usually, once the market does reach consensus out of (2) prolonged periods of negotiation, (3) an extremely large-scale directional move will ensue.
(1) First, I am going to make a leap and say – investors' views of BAC, over the past year, have been strong on both sides of the trade. For evidence, I offer BAC's weekly chart. It speaks for itself.
click to enlarge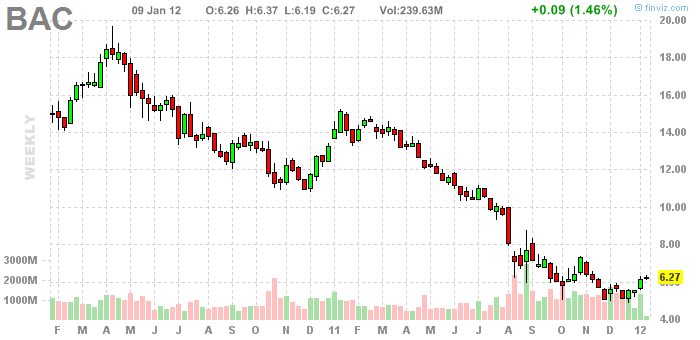 (2) Second, I contend that the market has, in fact, reached a consensus on the value of BAC's common shares. While the weekly chart, supra, clearly established that there's been a prolonged period of negotiation between investors, BAC's monthly chart really says it all. In 2011, BAC's share price fell for seven straight months, March to September 2011. Shares closed in the red or down month over month, for eight months during the year. As result, the monthly chart, infra, has formed a big 'W'. Hmmm.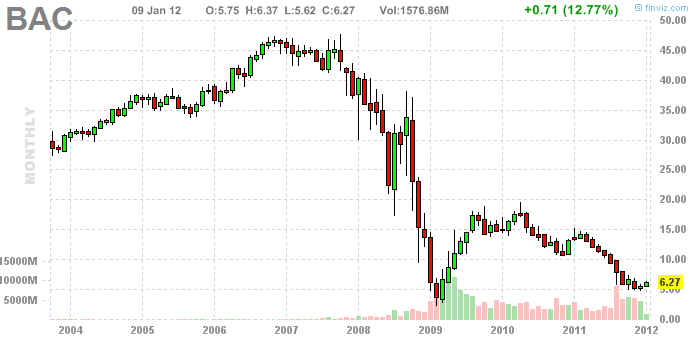 (3) Third, I believe BAC could potentially be setting up for a big move. To support this claim, I'd like to point to BAC 240-minute and daily charts, infra.
Thursday, January 5, 2012: BAC penetrated its sub-$6 trading range that began back on November 18, 2011.

Friday, January 6, 2012: BAC shares trade down modestly, forming a bullish pennant pattern pending confirmation.

Monday, January 9, 2012: shares close up modestly, awaiting confirmation. Notably, BAC hit an intraday high of $6.37, surpassing the January 5 high of $6.35.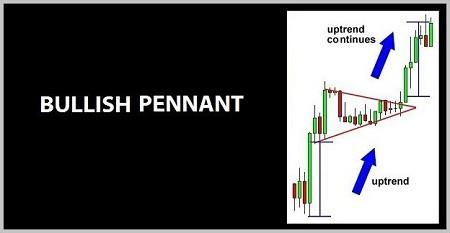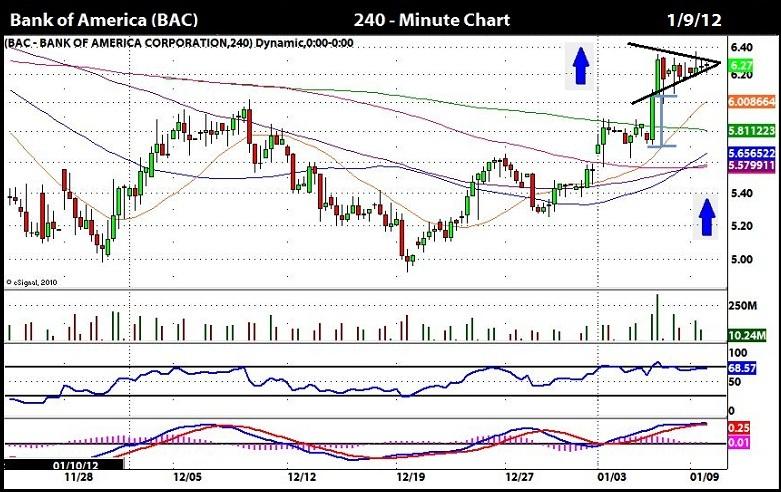 After digging through the archives on my site, I found a daily chart for Spectrum Pharmaceuticals (NASDAQ:SPPI). After forming a bullish pennant in late March 2011, SPPI shares advanced nearly 40% the next month. Take note, the patterns on both charts, BAC and SPPI, are nearly identical. Over the years, I have found that such similarities are worth paying close attention.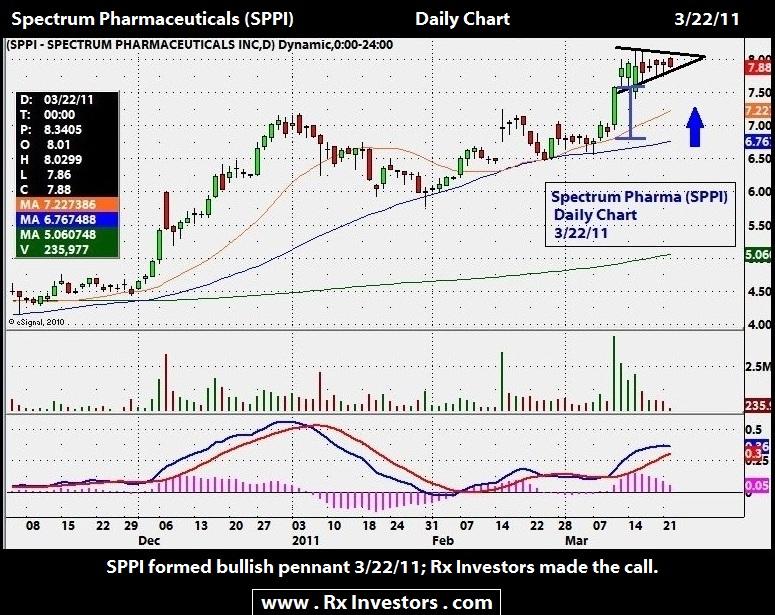 CATALYST
For Mesch's "extremely large-scale directional move" to ensue, we need a catalyst. Since a bullish pattern has already emerged, I believe a big move could be imminent.
Friday, January 13, 2012: JP Morgan (NYSE:JPM) is scheduled to report earnings. The JPM report could potentially have an impact on BAC and some of the other big banks.

Thursday, January 19, 2012: BAC reports Q4 and FY 2011 results prior to the session's open.
Over the past year, BAC shares have taken a real beating and now trade at historically low valuations. Plus, several analysts have cut their estimates and thereby lowered expectations for BAC and some of the other big banks. Ad rem, the bar has been set low.
If anything positive comes out of the earnings report next Thursday, such as better than expected 2012 guidance, an update on stress test requirements or pending litigation, then I believe investors will step in and push BAC's shareprice higher. Such a move would likely be swift and significant, qualifying for Mesch's "extremely large-scale directional move."
Is a big move guaranteed? Nope. Guarantees don't exist. Should you run out and buy up a bunch of near-term calls on BAC? No.
Bottom Line: Investors should remain tempered and play it smart.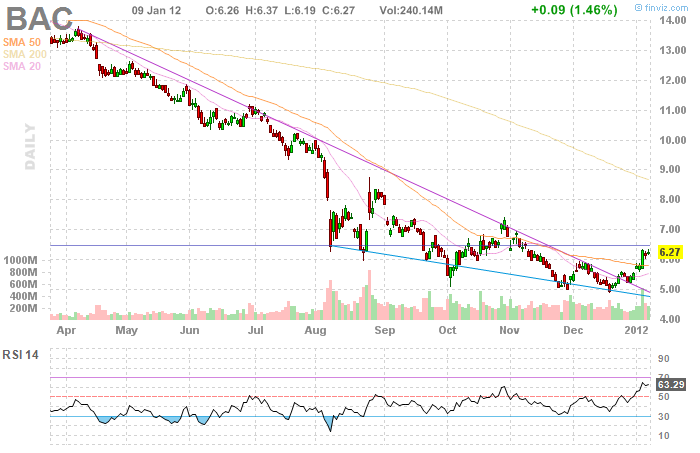 PRICE TARGETS
My January 18, 2013 price target range for shares of BAC is set at $15–$20.

Note: I think BAC could potentially reach a high of $12 on or before May 18, 2012.
RECOMMENDATIONS
I recommend that investors either purchase (1) BAC's common shares at or near the January 9 close of $6.27, OR (2) in and near-the-money BAC January 2013 calls.
While my January 2013 target range for BAC is $15-$20, investors should plan to exit these positions at or near $15.
70 ETFs HOLDING BAC: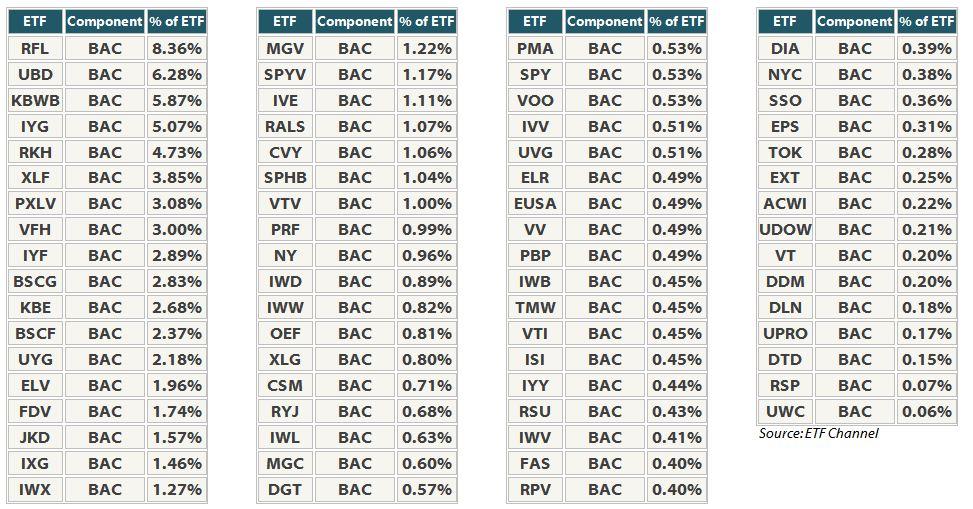 Disclosure: I am long BAC.