Last year, Cabot Oil & Gas Corp. (NYSE:COG) trended strongly upward for a total stock price gain of more than 100% on the year. I would take that every year if I could get it. Most people would. Let's take a close look at it to see if COG has any chance of a repeat in 2012.
Its Shelter Marmaton (Granite Wash) oil play has 61,500 net acres. It has 390 vertical wells. It has produced 14.6 million BO to date (early Dec. 2011). These wells have produced an average of 37K BO per well. COG's Eagle Ford play consists of 60,000 net acres. COG's production from the Eagle Ford increased from 1100 Bopd on Jan. 1, 2011 to 6500 Bopd on Nov. 15, 2011. The Average EUR of COG's Eagle Ford (Buckhorn sub area) wells is 439Mboe with 80-85% of that liquids. Currently COG has 21 wells producing, There is room for a lot more growth here.
In the Marcellus natural gas field current production is 517 Mmcf/d with 106 horizontal wells and 37 vertical wells. With the newer wells COG has been using more fracking stages with far better results. COG had 16 of the top 20 wells in the Marcellus in the first half of 2011. That's impressive. COG has approximately 200,000 net acres in the Marcellus. COG expects its overall production to grow by 45%-55% in 2012 with 70-78 new wells in the Marcellus. It plans 30-40 new Eagle Ford / Marmaton wells.
It plans on funding all of this in 2012 out of its impressive cash flow ($850M to $900M in 2012) The company also managed to book the extra capacity in its new Springville pipeline with a contract from Williams Co. This should allow COG's pipeline business to be highly profitable. This new capacity of approximately 600 Mmcf/d (Q1 2012) adds to COG's existing Laser pipeline capacity of 500 Mmcf/d. Further expansion in its pipeline business is planned for 2012.
All of the above looks great. However, COG only forecasts reserve growth of 10% in 2012. This seems like a good to great figure for an oil company at first glance. However, when you consider that production is forecast to grow at 45%-55% during the same period, you see that this is an unsustainable business model. The norm for a mature E & P oil and gas company is to have the reserve growth equal or exceed the production growth rate. The budget for new land acquisition is only 6% in 2012. This will not begin to keep up with the development rate, and COG has no master plan for acquiring new oil shale leases for little or no money as Chesapeake Energy (NYSE:CHK) has been managing to do.
COG has a next 5 years EPS growth rate per annum of 34.00%, but it trades at a PE of 58.15 and an FPE of 33.47. Since oil E & P oil and gas growth companies generally trade at lower multiples than tech growth companies, this is too high a PE/FPE combination to be sustainable for COG or any other oil E & P company with only a 34% long term growth rate.
By comparison, EOG Resources (NYSE:EOG) has a 71% next 5 years EPS growth rate per annum, yet it trades at a PE of only 26.20 and an FPE of 22.45. CHK trades at a PE of 11.85 and an FPE of 9.94 with a next 5 years EPS growth rate of 11.43% per annum. Plus CHK has over 15 million net acres in oil and gas lease holdings of which over 6 million are prime oil shale leases. This compares to COG's total of less than 0.5 million net acres. Yet CHK has a market cap of 15.07B and an Enterprise Value of only 27.75B. COG with less than a thirtieth of CHK's assets has a market cap of $8.32B and an Enterprise Value of $9.47B. This is a ratio of just 1 to 2 or 1 to 3. In other words CHK's real book value to Enterprise Value ratio is approximately 10 times that of COG's.
In sum, COG is a fast grower, but it is heading down an unsustainable path. It cannot sustain its current growth without incurring a lot of new debts by buying new land, etc. Such debts in themselves would tend to make investors more wary of the stock. It has no plans currently to incur such debts. This puts it even farther behind in the E & P game. The new oil and gas shale fields, which have only recently become profitable due to technological advances, are being snapped up quickly. Large foreign companies are even starting to get into the US oil and gas shale market.
The land lease prices are skyrocketing. Showing good results now to the detriment of a better longer term plan is a losing long term strategy in this market. Plus COG is over valued compared to a high growth competitor such as EOG. It is far over valued compared to a value play such as CHK. Further, COG's growth is forecast to be paid for in 2012 with its cash flow. The coming EU recession could put that cash flow at risk for the near term. This means COG's growth is at risk of slowing in the short term as well as in the longer term. This likely means there will be no repeat of the 100%+ stock price increase COG saw in 2011 during 2012. In fact, investors could see COG fall back from its current lofty valuation in 2012 as the EU recession unfolds.
The two year chart of COG (see below) shows that the 2011 rise was not a long term uptrend, but may have been just a one year phenomenon. At the very least the technicals indicate a significant weakening of COG's uptrend. The slow stochastic sub chart indicates that COG is over bought. A great earnings result could cause a further spike upward, but that is likely to be a short lived event. Technically and fundamentally this stock looks ready for a consolidation phase or possibly even a retreat.
click to enlarge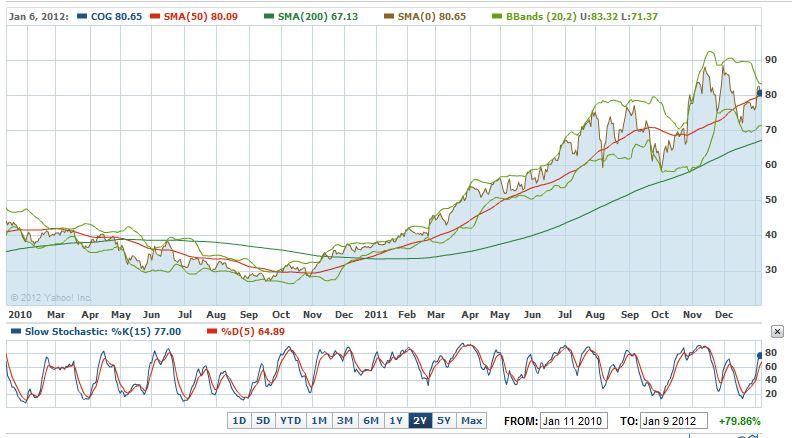 Click to enlarge
Am I saying COG is a bad company? No, I am not. COG has had some of the best engineering execution in the business. However, it does not have the assets, the money, or the plan to continue its recent rapid expansion longer term. The numbers do not add up. With an EU recession coming, it is unlikely that many banks will want to lend huge the huge amounts of money that COG would have to spend to change this picture. Most of the banks would prefer to lend to bigger more established companies with much greater assets.
It is always hard to predict when the fund managers (97% of the float is held by institutions) will change their view of a company. However, in the prior quarter to the most recent quarter institutions net sold almost 8 million shares or nearly 9% of the stock (Yahoo Finance). This is not a good omen for what may be to come. Overall, I would choose a different oil and gas E & P company for 2012.
Good Luck Trading.
Disclosure: I have no positions in any stocks mentioned, and no plans to initiate any positions within the next 72 hours.